Dessie Farrell admits Con O'Callaghan and James McCarthy face "a race against time" to overcome their respective injuries as Dublin turn their attentions towards the All-Ireland SFC semi-finals in two weeks' time.
Farrell saw his side beat Cork 0-21 to 0-10 at Croke Park in Saturday's quarter-final but was without the duo due to hamstring injuries.
The Dubs will face the winner of Sunday's last-eight clash between Kerry and Mayo on 10 July but will be sweating over the availability of triple All-Star O'Callaghan and eight-time All-Ireland winner McCarthy.
"It's a tough one, obviously very disappointing for the lads," Farrell told RTÉ Sport after the victory over the Rebels. "Injuries, unfortunately, they're part and parcel of the landscape at this level,"
"Getting an injury at this time of year is very challenging because the games are coming thick and fast.
"In many ways, it's a race against time now so our medical team are doing everything possible to have both players available."
While Dublin face a shorter wait to discover their semi-final opponents, Farrell insisted that he had no preference between Kerry and Mayo, emphasising that both teams would present formidable foes.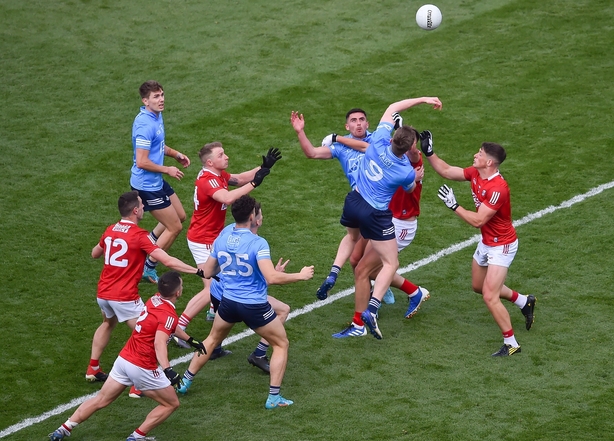 "There's a major step up in class coming and the question for us is are we going to be ready for that," he said.
"We've come through, no disrespect to any opposition, we've had it relatively easy on this side and you're always conscious that you could potentially be sleepwalking into something.
"There's definitely a much bigger test coming in two weeks' time and let's hope we're ready for that."
Farrell also credited Cork for pushing his side close during the first-half - it was 0-10 to 0-07 at the midway point - before Dublin ran through the gears in the second.
"Obviously I'm delighted to be into the next round, into the semi-final," he said.
"That's what today is about. We knew Cork would put up stern resistance. It was a one score game at half-time and Cork had kicked a lot of wides themselves so we definitely knew we had a big improvement required in the second half. Thankfully we saw that."
Meanwhile, Cork interim manager John Cleary thought his side should have been even closer than the three-point interval gap but admitted they couldn't live with Dublin in the second half.
"To be beaten by 11 points, we're bitterly disappointed," he told RTÉ Sport.
"I thought we put up a creditable performance in the first half but the scoreline doesn't lie. We were well beaten in the end.
"I felt we should have maybe had a few more scores on the board in the first half, we missed four or five good scoring chances.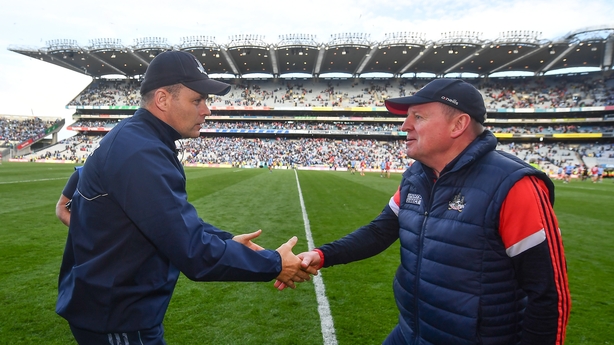 "We maybe needed something to cling on to at half-time. There was a nice breeze there, we had it in the first half but in the second half Dublin stepped up the gears and we just couldn't cope with it.
"We gave away one or two too many frees in scoring distance and Dean Rock put them all over.
"But our lads were getting tired at that stage. Dublin were putting the pressure on and maybe they felt they had to foul."
Cleary hopes that the Rebels will learn a lesson as to what's required at the highest level from what was their first game in Croke Park since 2019.
"Everyone could see the gulf in standards out there today.
"The most important to see it maybe are the players. Hopefully when they come here again, they'll be fitter, faster and stronger.
"This Dublin team didn't arrive overnight. They won six All-Irelands in a row and they're hellbent on trying to win again this year, so that's the standard that the Cork lads have to get to.
"They see there today what's entailed. It'll take time but hopefully they can step up the ladder and maybe get to where the likes of Dublin are at the moment."