Conor Laverty is a busy man.
Down U20s manager. Trinity College GAA officer. Sheep farmer. Father of five.
For the sake of his workload it might be for the best that he didn't end up as the Mournemen's senior boss this season.
Oh, and did we mention the 36-year-old is still playing too? As he explains, the farming is almost a hobby in comparison to his Gaelic football obsession.
"I would say football is serious," he tells RTÉ Sport. "You love doing it but it still breeds pressure whenever you're still playing a thing. You still think about it every minute of every day.
"Farming is where I find that sort of release from it. When you get to the farm it takes your mind off it and you're able to focus on something else.
"Either playing or coaching you're thinking about it. I do like that release of going to the farm, or doing something with the boys or with the family. Then again when you're out with the boys they're asking a million questions about football.
"You ask the family what they want to do and the boys want to go to the field for a kickabout.
"Whenever you're leaving the house the boys like to go with you to games. It's more of a family thing. It's great to see the boys after the game, and it's great for the lads to have their families there.
"For me it's the enjoyment it gives them, playing before or after the match, and the smiles on their faces. That's the one thing that has changed. Creating memories for them that they'll never forget."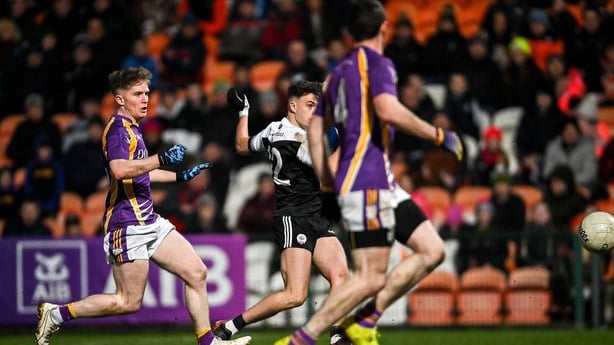 A fortnight ago, Kilcoo comfortably retained the Ulster title. Last November, they won their 10th county crown in 11 years.
But domination in Down was slow arriving. 2009 was their first senior county triumph in 72 years. Provincial success took another decade: they lifted the Seamus McFerran Cup for the first time in 2019 following a maiden final appearance in 2016.
"When I started out we won our first league in 2003 and there were grown men crying on the pitch," says Laverty, now in his 21st season with the club.
"There are lads on the team now whose dads were playing that day.
"A lot of work went into getting Kilcoo into Division 1 because we'd been in the lower divisions for years. 99/00 we came into Division 1 for the first time. Serious work went in.
"To make the breakthrough and realise you could compete with the top teams... it was in Newcastle that day and after it was something like a dream. The pitch was covered with people and it was maybe a building block on our journey to where we are today.
"All we wanted to do was win one championship - that was the dream. We would have done anything to get there. As you progress you re-set your ambitions and re-set your goals."
"We were knocking on the door in Ulster and we just couldn't make that breakthrough. I think that heartbreak and the resilience to keep going back to the well stood to us as a team. It would have been easy to just give up hope."
They'll go to the well once again against St Finbarr's of Cork on Saturday. A place in the All-Ireland final and the chance to atone for the 2019 decider defeat to Corofin is the prize.
Listen to the RTÉ GAA Podcast at Apple Podcasts, Soundcloud, Spotify, or wherever you get your podcasts.