Kilcoo 3-10 Derrygonnelly 0-3
Kilcoo swept to victory in the Ulster Club Football Championship final to retain the Seamus McFerran Cup, comfortably smashing through a wall of resistance assembled by first-time finalists Derrygonnelly.
Their attacking power finally exploded following a difficult opening against a determined Fermanagh side, and goals from Daryl Branagan, Ceilum Doherty and Shealin Johnston saw them ease to victory.
The Down men will face St Finbarr's of Cork in the All-Ireland semi-final following this 16 points rout at the Athletic Grounds in Armagh.
Ryan Jones thumped over an opening score before Derrygonnelly retreated once again into defensive mass, an approach designed to frustrate the pre-match favourites, and successfully so throughout the opening quarter.
They reached the water break just a point adrift, thanks to their refusal to give an inch to their opponents as they pushed forward in numbers.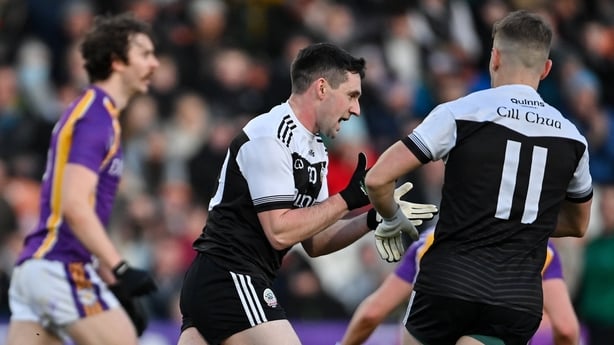 Kilcoo's attempt to gain ground by stretching play to the flanks, by inter-changing, by pushing everyone forward bar corner back Niall Branagan, came to nothing time and again.
Tiarnan Daly made a vital intercept to prevent Shealin Johnston's pass from reaching Daryl Branagan, while challenges by Aaron Jones and 38-year-old Declan Cassidy halted the Down men.
A Ryan McEvoy free, followed by a fine long range effort from Miceal Rooney gave them a narrow lead and it was no less cagey until the final five minutes of the half, when space began to open up.
Goalkeeper Niall Kane stretched the Kilcoo lead from a free, which was cancelled out by a second from Harps skipper Jones.
The cracks began to appear, however, and in the 29th minute, the intricate passing began to pay off for the Mourne champions as Ceilum Doherty and Conor Laverty combined smartly to send Daryl Branagan in to smash his shot to the net.
Two Paul Devlin scores sent Kilcoo in with a hard-earned 1-5 to 0-2 interval lead, and while they struck the first two points of the second half, both from Devlin, it was all about their own defensive steel and powers of resistance as Derrygonnelly had to open up and go in search of scores.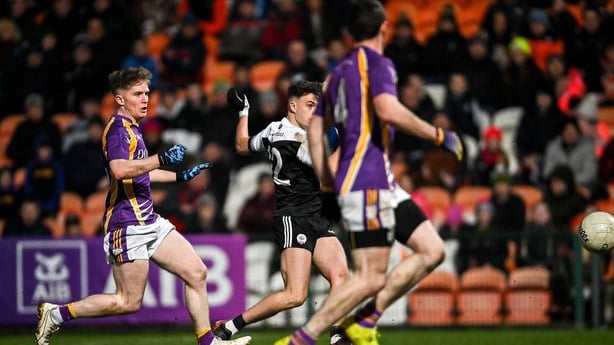 The Fermanagh men had a goal chance when Stephen McGullion got a fist to a Ryan |Jones delivery, but his effort was deflected away for a '45.
Kilcoo also came close to hitting the net as Ryan Johnston picked up a poor clearance to link with Paul Devlin and Laverty for Jerome Johnston to smack in a shot which was saved by Jonathan McGurn.
A spirit of resilience built up over many seasons under the watch and guile of Mickey Moran helped the Magpies hold firm as their opponents pressed in vain for a breakthrough.
And Derrygonnelly's challenge was eventually broken beyond repair by two goals in the space of four minutes.
Ceilum Doherty rifled home his side's second on 23 minutes, and Jerome Johnston sent younger brother Shealin in for a superb third.
It was all over for the Fermanagh men, who scored just once in the second half, from a Conall Jones free, while Kilcoo finished in style with scores from McEvoy, Devlin and Rooney.
Kilcoo: N Kane (0-01, f); N Branagan, R McEvoy (0-02, 2f), A Branagan; M Rooney (0-02), D Branagan (1-00), D Ward, A Morgan; C Doherty (1-00), J Johnston, S Johnston (1-00); C Laverty, R Johnston, P Devlin (0-05, 3f).
Subs: Anthony Morgan for R Johnston (51), A Branagan for Ward (55), F McGreevy for Laverty (55), P Greenan for Aaron Morgan (57), S McCusker for S Johnston (58)
Derrygonnelly: J McGurn; A Jones, T Daly, M Jones; O Smyth, D Cassidy, Lee Jones; S McGullion, R Jones (0-02); E McHugh, G Jones, Leigh Jones; S McGullion, C Jones (0-01, f), G McKenna.
Subs: C Burns for Smyth (45), G McGovern for Leigh Jones (51), Rian McGivern for Lee Jones (54), Ronan McGovern for McKenna (55), P Ward for G Jones (57)
Referee: M McNally (Monaghan)