Paul Murphy has been brushing up on his classic series over lockdown.
And it's to David Simon's Baltimore crime epic that the Kerry captain's mind turns when asked about the lack of a championship back door for the second year running.
The Kingdom were accused of looking past Cork after their shock defeat in Munster last year but Murphy insists minds are firmly on tomorrow evening's provincial quarter-final clash with Clare.
"I was watching the Wire over lockdown and there's a good quote in it: 'The game is the same, it just got more fierce,'" says the Rathmore and East Kerry man.
"That's essentially what it is. You still have to go out and win every game, and whatever safety blanket that might have been there in the provincial is gone.
"Even going back to when there was a back door, we would have prepared for every game individually and we wouldn't have been looking weeks ahead and this is no different.
"We're focusing on Clare, we are guaranteed one match and our hope is that there's a second match."
Kerry are considered by many to have the best chance of stopping Dublin winning a seventh All-Ireland title in a row but the defence has been highlighted as the weakest link in the team.
Wing-back Murphy unsurprisingly disagrees and the stats from the league would seem to back him up at least - Kerry conceded the lowest number of points of any Division 1 side (average 0-16 per game) and full-back Jason Foley was named man-of-the-match in the semi-final destruction of Tyrone.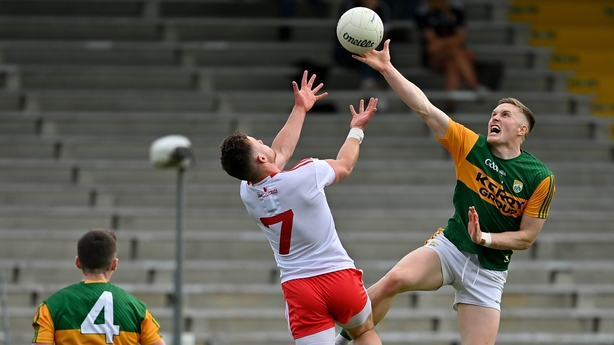 "Rightly or wrongly, the defence has been getting more of the slack but we've always been happy with the defenders we have and the way we are set up," said the skipper.
"We are evolving a defence. A lot of these guys who are playing in the Kerry defence now are in their first two or three years in the panel, so there's a certain amount of bedding in with that.
"It's a group effort, but we are very confident in the defence we have. I saw a photo lately of the national league final in 2017, which is four years ago now but the turnover and change on the panel since then is huge.
"Jason, who got man of the match, Gavin White is playing very well and got a great goal the last day. Mike Breen came in new on the panel and is doing really well.
"With such an evolution in the playing members, there will always be a bit of bedding in and the longer a team can play together and more used to each other, the better they will play as a unit maybe.
"We are happy with what we have, there's an element of team defence in football now where defence is expected to support attack and vice-versa."
The Tyrone win ultimately proved meaningless as the championship schedule allowed no room for a league final but Murphy was delighted to see fans back cheering on their heroes.
"In an ideal world you'd have a league final and you'd have a back door maybe in the championship but these are the cards we've been dealt.
"It's been a pretty intense calendar so far and if you were going into the championship on the back of two weeks in a row, that would be very intense as well.
"On the Tyrone game, obviously I was watching on myself, but it was great to see fans back in the stadium.
"It has been well documented how tough it has been on players over the last six or nine months when there have been no fans there but the fans are suffering as much as anybody else.
"There was a great photo of Paul Geaney and his young fella Páidí afterwards and that's kind of why we do it in a way, representing family and friends. The support has been excellent from a distance and I'd like to thank the Kerry fans for that."