Two of Dublin's greatest strengths in their unbeaten championship run which stretches back to 2014 have been their bench and the smooth operation that runs from the sideline.
In each of their four back-to-back All-Ireland final wins between 2015 and '18 manager Jim Gavin has been able to spring big game players from the stands, men that have made a telling difference in tight games.
Gavin himself hasn't always been faultless, but then again who is? More often than not though he has gotten the big calls right at the most important times and this has helped to ensure the Dubs' Sam Maguire dominance.
So what happened over 80 minutes of football at Croke Park in Sunday's drawn All-Ireland final with Kerry was particularly interesting.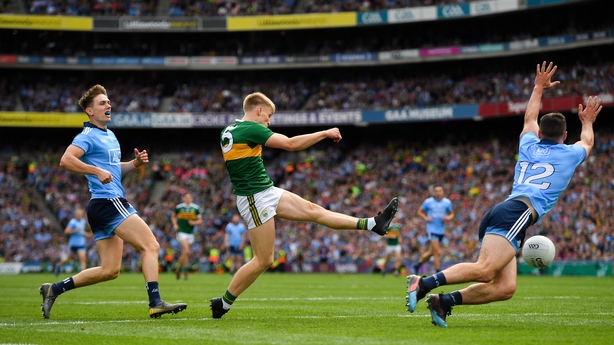 For perhaps the first time the Dublin bench was almost entirely toothless, with Kerry's substitutes the ones making the splash as Tommy Walsh and Killian Spillane came on and contributed a combined 1-02, while Gavin was unusually powerless to pull the strings from the line.
In the 2015 All-Ireland final Alan Brogan came on in a tight game and kicked the insurance score in the 0-12 to 0-09 over Kerry. In the 2016 final draw with Mayo it was Paddy Andrews who contributed 0-02 as a replacement and in the replay Bernard Brogan got one and Cormac Costello was the match-winner with 0-03.
Fast-forward to the 2017 decider with the Green Above the Red and it was Kevin McManamon and Diarmuid Connolly who were the impact subs. The pair came on for the start of the second half, both scored 0-01 and Connolly won the free that Dean Rock kicked to secure a one-point victory.
The 2018 final was a far more routine affair, though McManamon and Michael Darragh Macauley got on the score sheet after coming into the game.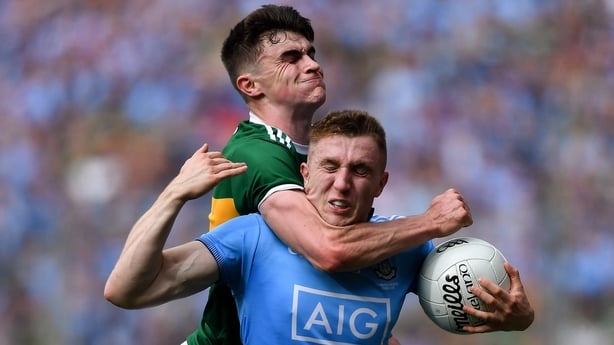 In each of the previous five finals, 2016 draw and replay included, Gavin has used his full compliment of six substitutes. On Sunday he only sent in four permanent replacements, along with blood sub Eoin Murchan, who ended up staying on for the final 19 minutes of play in place of John Small.
Murchan, in fact, was probably the most effective of the Dubs' subs, adding urgency to the half-back line late on.
Paddy Small was the first sub in on 51 minutes and Gavin didn't make another move until three minutes from the end of normal time, springing Connolly and Costello together and then McManamon bang on 70. Connolly and Costello both registered wides and Small put a few in the air. None of them scored.
Under-20 Peadar Ó Cofaigh Byrne was drafted into his first All-Ireland final squad having made one championship appearance to date to offer midfield cover, though he watched the entire game alongside veterans Cian O'Sullivan and Philly McMahon.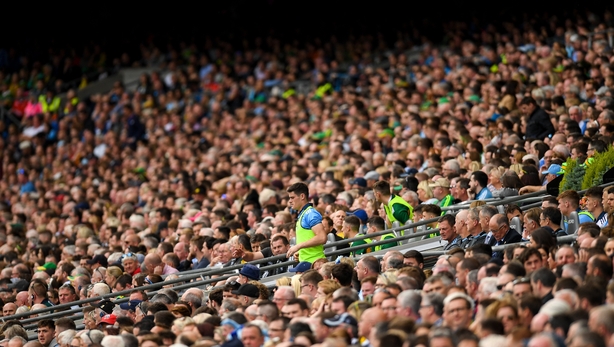 The fact that Gavin didn't turn to either O'Sullivan or McMahon before the end with his defence, already under-staffed after Jonny Cooper's first half red card, under pressure shows they are no-longer the men he turns to in a crisis.
Gavin's management of Cooper has also been called into question. The Na Fianna man is a player the manager clearly trusts completely and their relationship stretches back to the 2010 All-Ireland Under-21 winning campaign, which the defender captained.
Cooper gave away a penalty on 12 minutes, got his first yellow on 16 and then walked when he went into referee David Gough's book just before the break, all for fouls on David Clifford.
He was clearly struggling and with the benefit of hindsight should have been switched to mark another forward or taken off altogether, though the manager didn't give that idea much airtime when asked about it in his post-match media conference.
Plenty went right for Dublin in the Kingdom draw and plenty went wrong too. They'll be looking to move items from the debit column into credit during the Saturday, 14 September replay – and they'll be very glad of having the opportunity to try to do that.