Jim Gavin is delighted that his Dublin team have the chance to rectify what he saw as a sub-standard All-Ireland final performance in Saturday week's replay.
Immediately after their pulsating 1-16 apiece Sam Maguire decider draw with Kerry at Croke Park the Dubs boss reflected on the manner in which his side, reduced to 14 men by Jonny Cooper's red card before half-time, managed to rescue a rematch.
"That performance wasn't good enough to get the result today," he said flatly. "We have the opportunity now to try to rectify that the next day."
Gavin wasn't in the humour to criticise match referee David Gough after he showed Cooper two first-half yellow cards, though is demeanour suggested that he wasn't happy with the sending off.
In the second half Kerry defender Tom O'Sullivan, who was already booked, was lucky to avoid the same fate - something that didn't escape the Dubs boss's attention.
"It's hard to know watching it in real-time," he said about the Cooper decision. "Both players were grappling. We didn't get the rub of the green in that regard and that's the way it is. 
"That happens in games, some days you get those calls and some days you don't. In the second half we could have got a few calls that went our way. We dust ourselves down and prepare as best we can for another game."
When asked directly about Gough's performance, he said: "He is one of the top officials in the game."
Gavin also wasn't about to admit to any mistakes on his own behalf, even though he left Cooper on Kerry forward David Clifford despite the fact he struggled for the first half-an-hour and was booked early on.
"I thought he was doing okay. David Clifford is a fantastic player," was all he would say.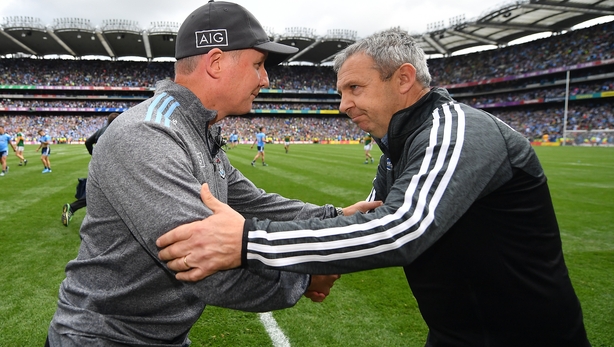 Kerry manager Peter Keane admitted that this was a game that his team could have and maybe should have won. They had a man extra for 40 minutes and were a point up as stoppage time ticked down at the end.
However, he isn't looking at it as an opportunity missed.
If you have two dogs in any race one of the dogs might get a heart attack and the other one could walk home
He said: "At the end of the day we weren't in an All-Ireland final since 2015. You have a young team. What are they going to get only experience out of the game? There is a learning curve. I said all along that we were on a crash course of a learning curve and this is only helping it."
In the build-up to the game not too many people were tipping Kerry to win and this didn't bother the Kingdom management or players.
Keane says they understood their underdog status and didn't pay it too much heed.
"We wouldn't put a whole pile of emphasis on that," he explained. "We're just thinking about ourselves.
"Did we think we had a chance coming here today? Sure of course. If you have two dogs in any race one of the dogs might get a heart attack and the other one could walk home. You have a chance every time you are out there."