Brackets are handy things to have around the house and handy in this instance when it comes to writing a blog.
As a rule, I never go near a keyboard unless I have my brackets by my side. You see the truth (with a cynical edge) in this blog probably lies within the brackets and the views expressed within might be shared by the football intelligentsia, while the other stuff is just my guff, which doesn't add up to a whole hill of beans.
As someone once remarked, football is a funny old game, but you knew that anyway (Credit: Jimmy Greaves).
The tone and mood of a team is set by the latest result. (Actually football is a lot more complex than that.)
In that regard, Bordeaux was a sobering experience (except for the fans, most of whom really gave it socks) and while the performances of players can be scrutinised, the reality is that Belgium had better players and won with a fair bit to spare (a very simplistic analysis of the game).
All the talk was of unrest in the Belgian camp in the wake of the defeat to Italy. It's fair to say that Belgium weren't particularly good in that game in Lyon, but the changes made by Marc Wilmots in Bordeaux had the desired effect.
In contrast to the Sweden game, our players never got on the ball in a meaningful way to control the game. Instead,  the plan was to send it long to Shane Long and he was fighting a losing battle against Vermaelen and co.
Ireland were still in it at half-time (just about), but deep down you could sense it was only a matter of time before all the Belgian probing would bear fruit.
There's no doubt that it's a result that will hurt this Irish squad and Martin O'Neill has a job on his hands to lift morale and weary limbs for a crack off the Italians (yawn, but a valid point).
The initial view, post the draw with Sweden, can be summarised as follows: great display, but it could have been so much more.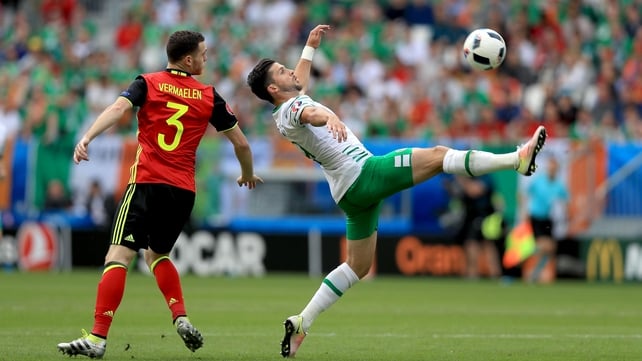 And then, when the dust settled, the broad consensus quickly changed to a more upbeat view with both Martin O'Neill and Roy Keane accentuating the positives about what a joy it was to see players being brave in getting on the ball and being assertive and creative. (It's called creating confidence around the squad.)
It certainly was good to see the Republic of Ireland taking the game to the Swedes, but hey, isn't that what football is supposed to be about 
My own view is that we will ultimately regret our failure to get more than a point against a very modest Swedish outfit.
It was stated before the tournament by all and sundry that the outcome of the first game in the tournament would be vital. Win it and a team could be well on the way to the last 16 and so while the draw with Sweden wasn't a bad result, it meant that in all probability Ireland would need a win in one of the two remaining games (very perceptive). Martin O'Neill said as much in his eve of match press conference and that remains the case.
It looks like the Italians will make a raft of changes for the game in Lille on Wednesday, but they've got a lot of good, and most importantly, fresh players ready to come in and make an impact. The suggestion goes that because Italy are through as group winners they will take their foot off the gas. However it's likely too that those who come in will be bursting a gut to get into a team that could go a long way in the tournament.
Frankly I don't think Italy have enough about them to win it ,especially in attack. (Careful. Might have to eat those words on 10 July).
Martin O'Neill has a lot to ponder ahead of Wednesday's game. Can the players bounce back after such a heavy defeat and will he bring some fresh energy to the team? It would be some result if this team could respond after the setback in Bordeaux and make it through to the last 16. (Can't argue with that!).
(Adrian Eames and Brian Kerr will commentate on RTE Radio 1 for Italy v Ireland in Lille.)