As Brian Kerr came sweeping into the press room at the Stade de France, you could see he was all the business.
Follow Adrian Eames on Twitter during Euro 2016
He had, as they say, his game face on. You could tell that he was focused, concentrated and ready for Ireland's opener at the 2016 European Championships.
He reached into his trusty bag for his iPad, or so I thought, and then swivelled ala Zlatan Ibrahimovic and produced some Tayto crisps and tea bags. 
It's the little things you miss when you're away from home. I had spoken to Brian when he was at Dublin Airport en route to Paris and he asked me if I needed anything and so, thinking I was the funny guy, I said, sure.."Sausages, Taytos and Barry's Tea".
As Zlatan remarked the other day: "Legends always deliver".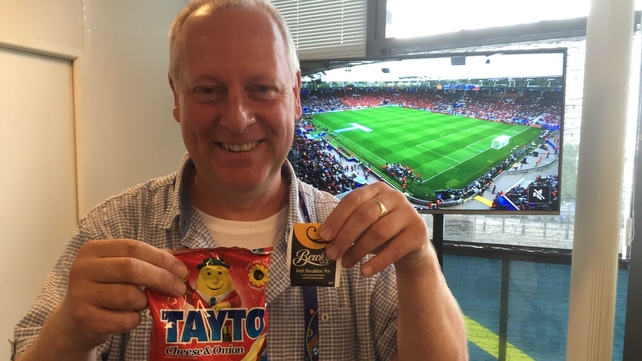 The more observant of you are perhaps wondering about the sausages, but it was something I didn't pursue on health and safety grounds. 
Security was tight for the match at the Stade De France, so much so that most journalists and broadcasters were unfashionably early.
I was there at 12.20pm for a match that kicked off at 6pm local time. But that would be par for the course for me as I always like to get there early to make sure there are no technical issues.  
I was dispatched by Sunday Sport during the League this year to cover Sligo and Limerick and I was at Markievicz Park at 11.30am for a 2pm game.
Nothing remarkable in that I would have thought, but "The man with the keys" didn't share my eagerness.  
The gates were firmly closed and there was nobody inside with keys.
The Limerick kit van arrived shortly afterwards and we wiled away the time chatting about the game in prospect before eventually "The man with the keys" arrived.
I have similar tales from O'Moore Park and various League of Ireland grounds, which I may include in the future in a riveting book of short (but early) stories.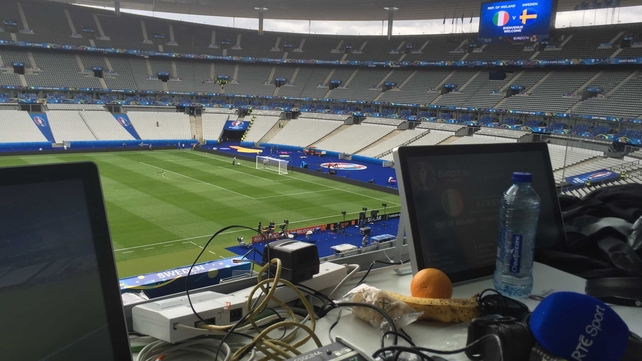 One of the great fears of any broadcasters concerns the commentary lines that have been booked and paid for at grounds.
More often than not all works fine, but there is nothing, and I mean nothing, like the feeling you get when contact is made with RTÉ back in Donnybrook. Everyone should get to feel it!
You breathe a whole lot easier and suddenly all is well with the world. Of course there are no guarantees that the lines will stay up, but when you get to major international tournaments, lines generally work well. There's also the added benefit of having UEFA assigned technical officials on standby. 
We had also booked a position in the Flash Zone. This is where lines of TV and Radio rights holders have been allocated positions to interview players and managers from the competing teams. UEFA officials scurry around trying to fulfil the wishes and demands of various broadcasting stations.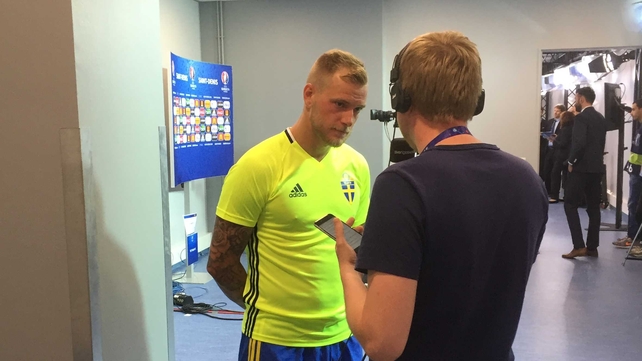 It's the kind of stuff that most players probably don't want to do, but it's part of the requirements of broadcast companies who have paid for the rights and whose viewers and listeners want to hear from those involved. Quite simply, it comes with the territory.
Anyway, a decent start for Ireland. I'm not a glass half-full or half-empty person. I'd be more of a glass three quarters full one minute, and three quarters empty the next, if you know what I mean....
On to Bordeaux now. I can't wait to see what Brian Kerr will deliver there.
PS: The above article is in no way a personal endorsement of Tayto Crisps or Barry's Tea. The Irish media centre in Versailles has Lyons tea and it's lovely too!