Ireland's first professional cycling team will go out of business at the end of the season.
Aqua Blue Sport have announced that they will be wrapping up their operation after two years when the current cycling campaign comes to an end shortly.
The team was backed by Cork-born, Monaco-based businessman Ricky Delaney, who recently claimed that he had sunk €7m of his own money into the project.
Just a few weeks ago it was announced that Aqua Blue Sport had acquired Belgian outfit Verandas Willems-Cerlan at a time when it was thought they were looking for an amalgamation.
It came as a surprise at the time and though the news of another professional cycling team going under is rarely a shock, the timing of Aqua Blue Sport's announcement will raise eyebrows.
"We, Aqua Blue Sport, started this project over two years ago with huge ambition, gusto and optimism that we could actually make a difference," read the statement released on social media.
"This year we have found it increasingly difficult to obtain race invitations and recognition from race organisers in how unique and how well supported our project should be.
"Aqua Blue Sport cycling team have been negotiating tirelessly with another Pro Continental team regarding an acquisition/partnership.
"Over the past weeks we had formed the basis of an agreement many times, but unfortunately common sense did not prevail.
"We believed on numerous occasions that the deal was so far advanced that it was a foregone conclusion that a partnership would be achieved. Today, 27 August, 2018, we now find ourselves in a position where we can categorically state that all negotiations have been terminated."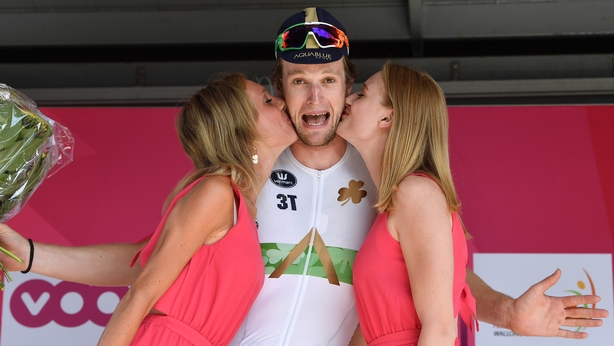 As a team they competed at last year's Vuelta a Espana and made history when Stefan Denifl took stage 17.
Aqua Blue compete in cycling's second division and had to rely on wild card invitations to the biggest races, but they were disappointed not to be asked back this year's Vuelta, the third of cycling's three annual Grand Tours, which started on Saturday.
 "We are extremely proud of our achievements over the past two seasons and made history in being Ireland's first professional cycling team, first Irish team to participate in a Grand Tour and first Irish team to win a stage at a Grand Tour," continued the statement.
"We have had the pleasure of making many friends on the journey.
"I guess it's fair to say that we have made some fundamental mistakes, and errors of judgement, ultimately bringing our 'on road' ambitions to an unfortunate end. We are, of course, not going to give up with our passion of becoming a sustainable cycling team."
A number of promising young Irish riders are currently one Aqua Blue Sport's books,including Eddie Dunbar and current national champion Conor Dunne. The team's director was former world champion Martyn Irvine.