Conor Dunne always stands out in a crowd - and even more in a bike race.
Standing 204cm in his socks, or six-foot-eight in old money, the Irish national road race champion can't really hide.
He rides a custom-made bike and in a sport that's all about aerodynamics and saving energy, he's had to get used to riding in the wind because there simply isn't another member of the peloton big enough for him to shelter behind.
But push beyond the initial surprise at just how tall he is and you'll find one of Ireland's most interesting sportspeople.
It was pretty horrific! But looking back, I loved it all. It was an awesome experience. I was on my last legs a few times, but before the race I committed to going until my legs couldn't go any more - Conor Dunne
He was born in London to a family proud of their Irish roots, though now he also calls Carrick-on-Suir - the town that gave the cycling world Sean Kelly and current sprint sensation Sam Bennett - home.
He lives in Nice during the season, his sister Katy played on centre court in this year's Wimbledon Championship and on his Grand Tour debut he finished in last place - a badge of honour on the professional cycling tour.
On Sunday, he'll be part of the six-strong Ireland men's team taking part in the European Championships road race in Glasgow.
"I was always tall, always the tallest in my class, but even at that I was a late developer," explained the 26-year-old, speaking to RTÉ Sport. "I really started growing at 16 or 17 and I didn't seem to stop!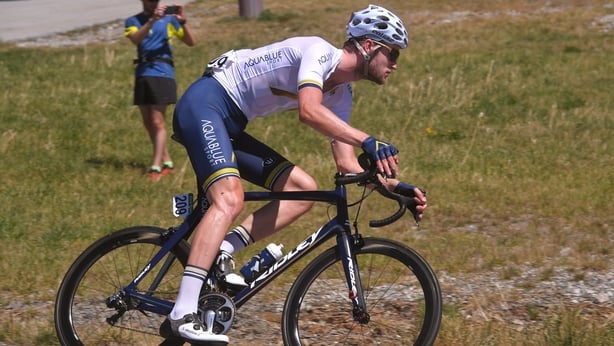 "I used to be school captain in basketball and I played most sports - swimming, tennis, running and I was goalkeeper on the school football team. But all along it was cycling that had me.
"Growing up, I heard all of the stories from my uncle Roger (Dunne) who used to race in Belgium and Luxembourg and from then I had it in my head. I pestered my parents for a bike and my mum wasn't keen because she didn't want me out on the road on my own, but she gave up in the end!
"At the weekend, I'd meet up with the club and head off on a little adventure and then go back to school on Monday shattered!"
When he was 18, Dunne was approached about representing Ireland and immediately said yes. His grandparents Anna and John came from Charlestown and Edenderry respectively and landed in London shortly before his father was born.
As a 19-year-old, he headed to Belgium to race as an amateur for three years with the assistance of the Dave Rayner Fund, which helps young riders from Ireland and the UK make their way on the continent, to the tune of €400 a month.
Dunne got plenty of tough racing, often being bundled into a car with his team-mates to make the trek as far away as Spain for a weekend, before he was picked up by the now defunct An Post Chain Reaction Sean Kelly team, which was a hot-house for emerging Irish talent.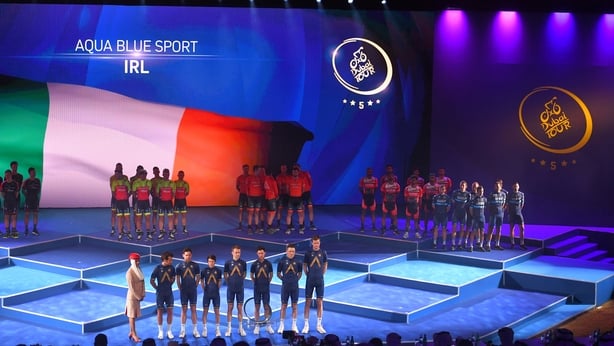 From there he went to Aqua Blue Sport as the Irish pro-continental team, competing one level below the sport's elite, were gearing up for their first Grand Tour following their wild-card invitation to last year's Vuelta a Espana.
He completed the race in 158th and last place, more than five hours down on winner Chris Froome, after 21 gruelling stages around Spain.
Cycling is a sport based on suffering and finishing a Grand Tour as the lantern rouge - the red light, named after the red light that used to shine from the last carriage of a train - is taken as an indicator of true grit
"It was pretty horrific! But looking back, I loved it all," said Dunne, who recently completed an Open University degree in psychology and philosophy.
"It was an awesome experience. I was on my last legs a few times, but before the race I committed to going until my legs couldn't go any more. The first week was the hardest; the nine days until the first rest day.
"I really started to feel it and I was waking up every morning thinking to myself 'woah, I have to do this again today?'. We were in the Pyrenees in the first week, the racing was attacking, it was pretty relentless, but I got into my groove in the middle of the race and my confidence grew.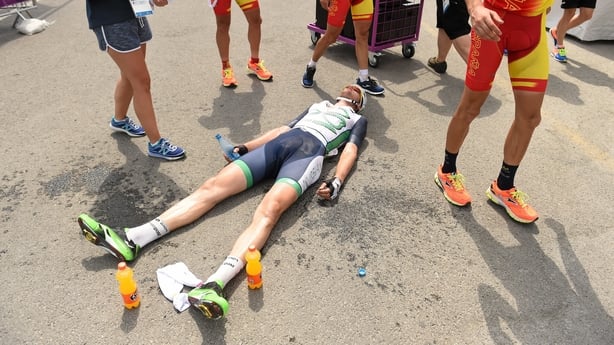 "In the grupetto (the group of cyclists at the back of the race) people think that it's just spinning along having the bantz, but it's like riding in the break every day. I was going as hard as I could - looking at my power outputs, they were some of the biggest numbers I've done.
"It was a battle just to hold on to the wheel in front and I've seen it happen with riders who were struggling, who might have been sick, and as soon as they lose that wheel they pop out the back and that's that. Their race is over."
About finishing last, he says: "I don't think it really matters. I'm quite proud of it actually. The Spanish got to know me, they were cheering my name and painted it on the roads. That was great and really kept me going."
Dunne's girlfriend is Stacey Kelly, who works as a sports therapist with JLT Condor, another pro cycling outfit, who is from Waterford. He refers to Carrick as 'home' and he enjoys heading out for a weekend spin with the local riders whenever he's in town.
As a sporting family, the Dunnes have had a lot to celebrate in recent years. In 2017 there was Conor's Vuelta appearance and then this summer Katy played at centre court in the women's singles at Wimbledon, losing to world number 12 Jelena Ostapenko.
My little sis. Used to come home from school and hit a tennis ball against our house for hours on end.. everyday. Think that wall has been permanently damaged. Drove the neighbors mad 😂 Now she is into main draw of Ladies Wimbledon, her first grand slam. So so soo proud!!! ❤️ pic.twitter.com/KfrCdqj3O1

— Conor Dunne (@conordunnealot) June 20, 2018
"When you're unseeded and playing on centre court you often don't find out until an hour beforehand. She rang me up to tell me and I had to give her a pep talk, tell her to harden up," said Conor, who was unable to make the match as he was preparing for the nationals in Sligo the following day, which he won.
"We're always so competitive against each other, everything turns into a competition.
"We used to have these pedal go karts when we were younger and you'd get them up to a good speed - as fast as you're able to run - and we'd have these races in the back garden around cones, we'd set out the course.
"Basically whoever got around the first cone won the race and she was ruthless - she was always willing to crash to get there first. There were a lot of rows!
"I keep telling her that she's playing for the wrong country! But she's got to do what she's got to do."