Concussion isn't a subject that's spoken about in cycling very often, but that's something Eddie Dunbar would like to see change.
Dunbar is one of Irish cycling's rising stars, as his victory in this year's edition of the prestigious Under-23 Tour of Flanders proved, and given the rich potential he has shown his ambition of competing in Grand Tours over the next decade doesn't seem far-fetched.
But for five months this year he was forced off his bike almost completely and left searching for answers as to why he was no longer himself.
His personality changed, his mood darkened and the 21-year-old admits he endured tough times.
Now he can trace it all back to an incident in the first day of the Under-23 Giro d'Italia, known in the business as the Baby Giro, on 9 June that left him with a serious concussion.
"I completely forgot where I was for almost a minute and then I had this rush, almost like a panic attack"
Dunbar was in good position near the front of the peleton on the final descent coming into the finish when several riders went down in front of him. He had no place to go, ended up flying over the handlebars and his head took the full impact of landing.
The helmet he was wearing may have saved him from further injury, but it wasn't enough to stop him enduring a nightmare five-month period when he was left to wonder would he ever feel up to professional cycling again.
Speaking to RTÉ Sport, he recalled: "I had no cuts really; I had a few on my chin and cheek, but as far as the usual cuts there were none - just pure impact on my head. After that, I can't really remember anything else for an hour and-a-half.
"I remember vaguely walking around aimlessly and getting into the ambulance; I thought I walked into the ambulance, but I've been told I went into it in a stretcher and a neck-brace.
"They took me to hospital, I managed to remember my mother's phone number straight away, don't ask me how, and I rang her. It was all a bit of a blur and my head was killing me."
Cycling's greatest, Eddie Merckx, is credited with coining the phrase: "The race is won by the rider who can suffer the most."
It's a game where pain is a given and the ability to push through it is what separates the champions from the rest.
With no broken bones, Dunbar was asked by his team would be be able to sign on at the start of the second stage the following morning. The Banteer man said no - not a decision he took lightly.
"I raced the first day and it almost felt easy," he explained.
"I wouldn't be much for reading the course handbook, but I had done my work on the course, I had exact moments when I was going to try to win the race, I had stages picked out, and for me it was a case of staying upright and not crashing.
"I'm a competitive person, a very competitive person, and it takes a lot to make me not want to race the next day, but this was the one time I put my foot down and said I couldn't race. I was in a lot of pain. I had a really bad, constant headache.
"I knew something wasn't right and I wanted to race on, but I was worried about the safety of the other guys in the race.
"I didn't want to go into a race after hitting my head at 60km an hour and then put other lads' lives at risk if I blacked-out on a descent. I put my foot down and said I genuinely can't race, which was quite tough."
Remarkably, the initial diagnosis in Italy was that he hadn't been concussed. His own doctor at home confirmed the concussion, though this wasn't enough to keep Dunbar away from the bike for long.
He took a few days off and expected to feel back to his best quickly enough. That didn't happen.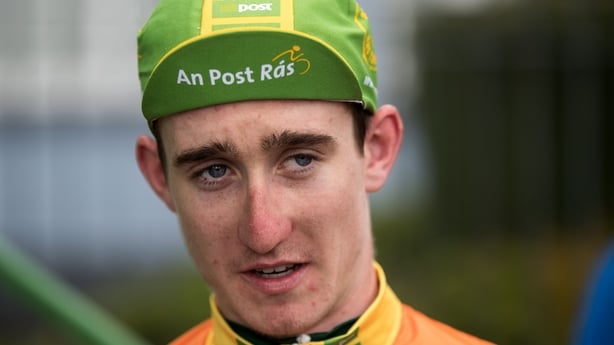 For every three days' training, he'd have one good day, and then there'd be three days off. Every bump in the road - and there's plenty of them around Cork - caused him pain in his head. Without the structure of daily cycling, his mood suffered.
"When I was in a bad mood, which was happening quite often, I felt like I'd changed as a person," he said.
"People are saying to me now that I wasn't myself at all, but they didn't tell me at the time because they didn't want to worry me.
"I couldn't sleep. There were three or four weeks when I was only getting four or five hours sleep a night and when you're trying to train full-time on top of that everything builds up slowly. July was a very bad month, looking back on it now."
August wasn't much better for Dunbar, who regularly found himself crying for no apparent reason.
"Mentally I wasn't in the best of places. I got up in the morning, there was no routine because I had no cycling, and I was wondering what I'd do for the day.
"I wasn't eating properly, I wasn't sleeping properly, there was no structure, which didn't help, and I was down constantly. I probably wasn't the nicest person to be around. It wasn't a nice place to be mentally."
So today I got up at 7am to go training, lashing rain, still dark and had lights on.. Some people would say "whats wrong with you?" But the reality is.. I've recovered and it's good to be back.

— Eddie Dunbar (@EddieDunbar) November 11, 2017
Shortly after the crash he placed well in the Velothon Wales and had intentions of winning the Irish National Under-23 title in June. That led to his first-ever race abandonment after he buried himself, but still couldn't stay on the wheel of the lead group.
Despite his patchy training, in early August he still fancied his chances at the European Under-23 time trial in Denmark.
"I went in, did the TT and it wasn't a bad TT considering my prep, I did go deep and finished that and I was really light-headed. I've been light-headed after time trials before, but this was completely different," said Dunbar.
"I have pushed myself to the limit numerous times and this was just different.
"I went back into the van and I was just staring out the window and I completely forgot where I was for almost a minute and then I had this rush, almost like a panic attack, and I realised then that there was something wrong and that I had to do something about it.
"When I was in the back of the van and was out of it, Dee Quinn from Cycling Ireland was staring at me. She asked me was alright and I just said 'no, I'm not'. She hopped into the back of the van and told me that my eyes had been rolling into the back of my head.
"That was it then and I made a decision that day that I needed to call it a day for a few months."
It was a horrendous year for Dunbar's Axeon Hagens Berman team. In April team mate Chad Young died of head injuries sustained in a crash at the Tour of Gila.
The issue of head injuries in cycling was again to the fore when Tom Skujins crashed at the Tour of California and was put back on his bike despite clearly being seen staggering about the road and walking out in front of the on-coming peleton, narrowly avoiding further harm.
Cade, si rialza, barcolla stordito e rischia di farsi investire: panico al Giro della California!😮#EurosportCICLISMO pic.twitter.com/TXKg9QGAAx

— Eurosport IT (@Eurosport_IT) May 16, 2017
"Lads have helmets on so they think they're safe, but that's not necessarily the case. You can be sure there guys who have crashed over the years and just said nothing so they could get on with it," said Dunbar.
"I remember Axel Mercx, my boss, before I left the Giro, he said 'don't mess with it'. He told me about his old team-mates who had concussion, took no notice of it and they're paying the price for it now. I had to think of my long-term health.
"That video of Tom Skujins, when he crashed and he's walking around aimlessly trying to get back on the bike. He started cycling on and it was blatantly obvious that there was something wrong with him.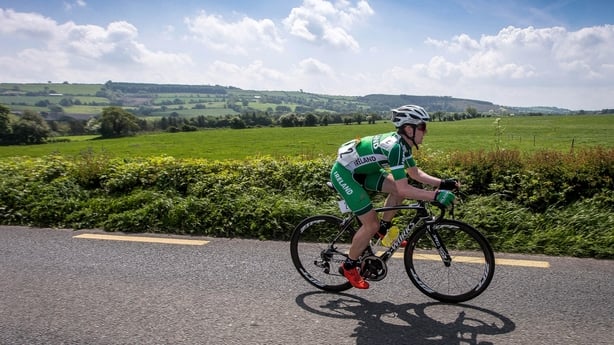 "No one in their right mind is going to walk out aimlessly in front of a bunch of cyclists descending at 80km, and I was like that when I crashed; glassy-eyed.
"In that sense, there is no protocol in cycling at the moment, but you'd hope and expect in the next few years there will be something in place.
"If a guy goes racing a week after hitting his head because there's no protocol, who knows what the outcome of that would be. It's a brain injury and it needs to be treated with respect."
Dunbar thought about going back in a serious way in October, but a meeting with an old friend put paid to that.
His long-time coach and mentor Dan Curtin saw him out riding one day and gave him a piece of his mind.
"He gave out to me for being out on the bike. He said 'would you like to take another month off, or the rest of your life off?'. He was trying to keep me off the bike and I took that onboard," said Dunbar, who was a handy rugby player despite his 56kg (just under nine stone) frame.
Since the middle of November though, he has been feeling well and he is looking forward to the start of the new season in February with his new club, the Irish outfit Aqua Blue Sport.
Listen to the full interview with Eddie Dunbar on SoundCloud below.