Cast your mind back a little over a month. Cork were leading All-Ireland champions Galway in the league decider at one stage by six points.
Amy O'Connor's goal gave the Rebels something of a cushion and new manager Matthew Twomey looked well placed to lead the county to their first league title since 2013.
After the scars of last year's All-Ireland decider against the Tribes, it would have been an early season statement against a team that has reached the last three successive All-Ireland and league finals, winning each competition twice in that period.
By time referee John Dermody blew for full-time, Galway won with four points to spare.
What set the teams apart ultimately was the bench.
Carrie Dolan, player of the match, and Catherine Finnerty both found the back of the net, while Sabina Rabbitte also got in on the scoring act. It meant the replacements contributed 2-05 out of a total of 2-14.
Rebecca Hennelly says it bodes well for the season ahead.
"We learned a lot about our panel," she said at launch of the 2022 Glen Dimplex All-Ireland Camogie Championships.
"We have a really strong panel. A couple of girls came on and won the game for us.
"It's very competitive in training. Your jersey is never secure. Every day you go out training, it's really competitive. That brings out the best in us as a team."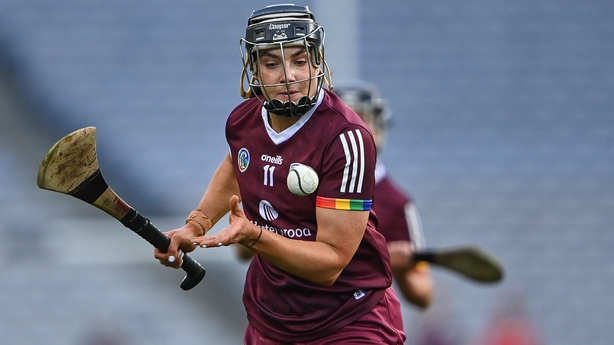 The Tribes are in Group 2 of the championship that gets under way on 21/22 May, with Kilkenny the leading lights in a group that also includes Limerick, Down, Antrim and Offaly.
Top spot would seal a passage directly to a semi-final, with a second or third position finish resulting in a place in the quarter-finals.
As holders of the O'Duffy Cup and the league title, is there any talk of making it back-to-back All-Ireland success?
"Absolutely not. We'd never talk about that. It's just each game as it comes. We've been training hard for Limerick in the first round of the championship and that's all we're focused on."