A nationwide call out for Ireland's most inspirational camogie coach was launched this summer by Liberty Insurance and RTÉ. 
The Liberty Insurance Camogie Made Us competition prompted hundreds of nominations, with stories flooding in of coaches who went above and beyond, men and women who put their heart and soul into their team, their club, their sport. 
More than 200 nominations were submitted from clubs around the country before the judging panel narrowed it down to five worthy finalists. 
De La Salle Camogie Club (Waterford), Good Counsel Camogie Club (Dublin), Edendork GAC (Dungannon), Bredagh GAC (Belfast) and Banner Camogie Club (Ennis) then rallied for public votes to be among the final two teams.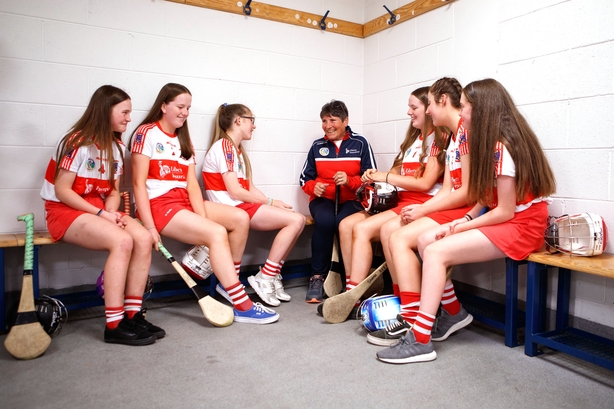 Some 68,000 votes were cast and in the end, De La Salle, Waterford, and Bredagh GAC, Belfast prevailed to compete in a skills test at half time of the Liberty Insurance All Ireland Senior Camogie Final to win €7000 for their club.
In the end, there could only be one winner and De La Salle prevailed with coach Charlotte Brenner Snr being named Ireland's most inspirational camogie coach. 
Charlotte, who has coached for 10 years, was nominated for her tireless work in helping set up De La Salle camogie club and dedicating her time to fundraising, recruiting and training the girls. 
Charlotte said it was a great honour to be nominated.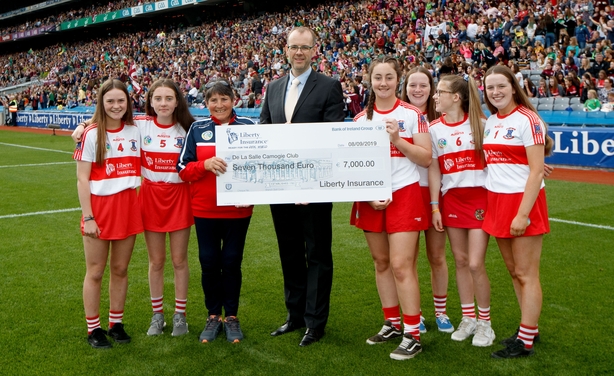 'I normally like to stay behind the scenes so I was shocked to hear I'd be nominated. It means a lot to me after 10 years of coaching,' she said. 
'Stepping out onto the pitch at Croke Park for the final was just fantastic. It was frightening, but fantastic. The girls were absolutely delighted. 
'They're used to playing in front of 20 people, not over 20,000. It was such a great experience for all of us and something that I hope will propel them onwards in camogie, to try harder and keep at it.'
The runners-up team Bredagh GAC and their coach Anne Costello didn't go home empty-handed though, winning €3000 for their club.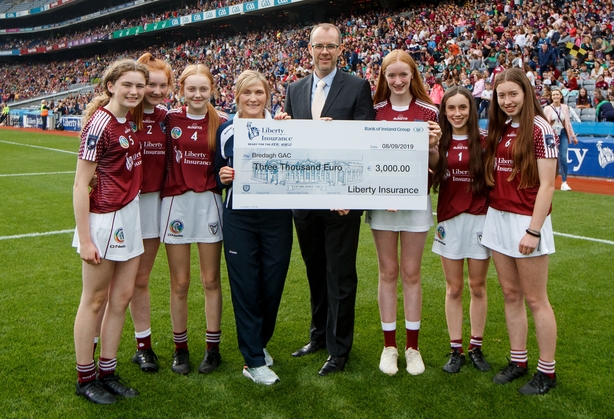 Anne, who has been coaching for 15 years, was nominated by her U-14s team. She described the experience of participating in the Liberty Insurance All-Ireland Camogie Finals as 'magical'. 
'It was phenomenal to get out there and the girls proved they had nerves of steel in front of the massive crowd,' she said. 
'This whole experience and the Liberty Insurance Camogie Made Us competition has really helped gel the team and the club and it has really mobilised the Belfast community. We made thousands of flyers that the girls circulated throughout the community to get votes. We got the word 'camogie' out there to a bigger audience. 
'The response was amazing, everyone wanted to be a part of it and work together towards this common goal.'
Head of Strategic Marketing at Liberty Insurance Sean Brett said the two teams performed extremely well at half time and it was a very close call in the end to crown the winner. 
As proud sponsors of the Liberty Insurance All-Ireland Camogie Championships for the past 6 years, Liberty Insurance understands the importance of strong coaches from grassroots right through to All-Stars, Sean said. 
That's why the insurer opted to focus this year's Camogie Made Us competition on unsung heroes of the sport, the coaches. 
'Coaches are critical, they inspire, motivate, provide positive leadership and importantly give players a reason to turn up for training and matches. They help to build a club ethos, passing their love of the game onto another generation,' Sean said. 
Click here to read more about the Liberty Insurance Camogie Made Us coaches.