Olympic silver medalist Kenneth Egan questioned Katie Taylor's fight tactics in her controversial victory over Delfine Persoon in Madison Square Garden on Saturday night and suggested that a lack of 'one-punch power' was the Bray woman's sole weakness.
Taylor was awarded the victory by majority decision, in the process becoming undisputed world champion in the women's lightweight division but the achievement was somewhat overshadowed in the aftermath by the intense debate over the result.
The 2012 Olympic gold medalist was broadly superior in the early rounds but finished the fight on the back-foot as her Belgian opponent's power began to tell.
Speaking on RTÉ 2fm, Egan admitted bafflement with Taylor's tactics, wondering why the Bray women allowed herself to get sucked into a battle when that perfectly suited her opponent.
"Katie Taylor is a fantastic technician. She's a beautiful boxer, she has all the punches in the book and she's a great mover. Why she gets drawn into a battle or a row is beyond me. I don't understand it.
"When that happens with Katie - and we've seen it in previous fights - she gets beaten up really bad and tries to mix it with people who are heavier handed than her and stronger than her. And that goes against everything Katie Taylor is.
"And that's what happened in this fight. She was boxing well and keeping the angles and moving and keeping her distance.
"But then, whatever switch goes off in her brain, I don't whether she was getting tired and needed to stand and get respect off Delfine. But when she was standing toe to toe, Delfine kept going forward, forward, forward. She was the much stronger of the two and that told in the fight.
"Katie Taylor gets sucked into battles and toe-to-toe stuff when she doesn't need to. She has all the ability, she's a universal fighter. She has all the skills.
"The only thing I'd like to see Katie working on is one-punch power. Because she throws so many shots but there's nothing in them. You aren't really going to get respect off someone if you're not going to hurt them in any kind of way at all.
"You need to land at least one decent shot to let your opponent think 'whoa, what's going on here, I'm going to have to have a second think about this attack.'
"But Katie doesn't do that. She punches in bunches with no real power. It looks good but if you're not hurting someone... It's a pro game at the end of the day, it's not about scoring points."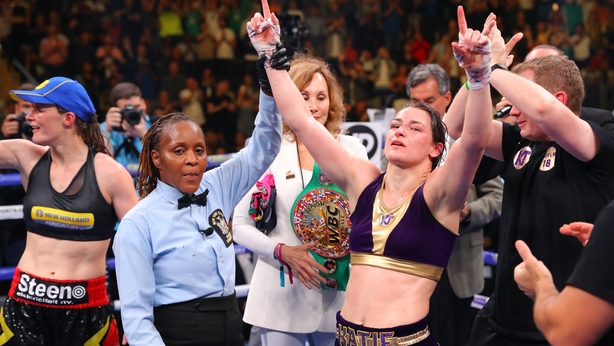 The Belgian today signaled her intention to lodge a complaint over the scoring in the fight, while admitting that this would likely not achieve much. Persoon told Belgian publication Sudpresse that she knew beforehand that she needed to knock out Taylor as the judges would never award her the victory otherwise.
Taylor's promoter Eddie Hearn said she would relish a rematch with the Belgian to "set the record straight" but Egan believes it's the last thing her team will want.
"I'm not going to sit on the fence, I think Delfine shaded it."
"I would have given it to her (Persoon) 7-5 on rounds. Look, If it had have gone to a draw, we'd have said 'fair enough, we'll call it a draw and have a rematch.'
"But I don't think Katie's team will want her to go anywhere near a rematch. They dodged a bullet here and I think they're going to move on.
"If you look at Delfine, this is a girl that works full-time. 8-10-12 hour days. She trains four or five times a week. She's a part-time fighter. And she gets in there with Katie Taylor and tests her right to the limit. And she could have easily caused an upset.
"I don't think if she got the decision, there'd have been too many people causing aggro.
"The question you have to ask yourself is, who wants this rematch more. Because I feel Delfine has learned more from this fight than Katie has."
There was an outraged reaction to the judges' decision in some quarters with Irish former two-weight world champion Carl Frampton labeling it "disgraceful" on BBC Radio Five Live, while ex-WBA heavyweight world champion David Haye also castigated the verdict on Twitter.
While personally giving Persoon the nod, Egan disagrees the decision amounted to "robbery".
"People forget that it's not Katie Taylor that's calling the scores here. When the fight was over, you heard well-known people like Carl Frampton and David Haye causing a stink. So people latch onto that and 'she was robbed' because these guys are saying it.
"But it wasn't a daylight robbery. If Delfine had got the nod, I wouldn't have said it was scandalous. I would have said that was a hard fight. Katie did really, really well but she was pipped. And let's call for a rematch.
"But at the end of the day, it's not Katie that scores the fight."