World champion Katie Taylor has easily outclassed her professional opponents to date, but is still working on improving upon her amateur technique, according to 2012 Olympian Darren O'Neill.
The Bray fighter claimed her first world pro title on Saturday night, defeating Argentina's Anahi Esther Sanchez to take the WBA lightweight strap, and is expected to return to the ring in December before a blockbusting 2018 homecoming bout in Dublin, where she'll be hoping to become a unified world champion.
In her seventh outing as a professional, Taylor saw off her dogged opponent, and has been dominant in all her bouts to date.
Speaking on 2fm's Game On programme, Ireland's 2012 Olympic captain O'Neill says her trajectory is continuing to rise as she develops her technique.
"Katie was an outlier in amateur boxing, she upped the game, and I think we are going to see that in professional boxing," he said.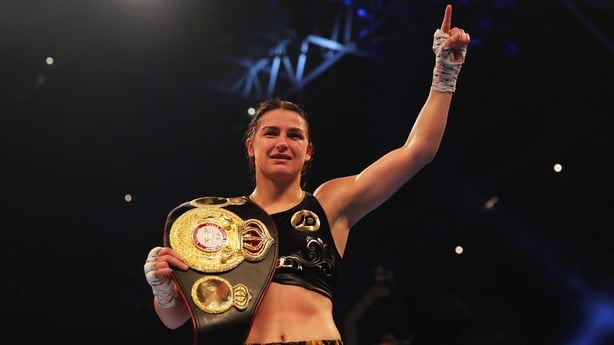 "You can still see that aspect of amateur is still in her.
"While she has got a bit flatter on her feet and she is trying to land better shots...when she does land a sweet shot, she tries to finish it with a flurry rather than take her time with a big shot, which she does have.
"Her skill set is streets ahead of everybody else so far in the professional game."
O'Neill added he has been impressed with the ease in which she has taken to pro boxing.
"She is going to take more punishment, it's a different style of boxing. There's an adjustment period but I think she is transitioning very, very well," he added.