Katie Taylor will return to the ring in December before a blockbusting 2018 homecoming bout in Dublin, where she'll be hoping to become a unified world champion.
The Bray fighter claimed her first world pro title on Saturday night, defeating Argentina's Anahi Esther Sanchez to take the WBA lightweight strap.
There had been suggestions Taylor wouldn't fight again this year after a bruising 10-rounder with Sanchez, but she confirmed today that she will headline a show in England on 15 December, and then prepare for a huge showdown on Irish soil in April.
"I'm really excited. It's been absolutely phenomenal boxing in the UK these last 11 months... but it was always in the pipeline to box at home in Dublin at some stage," Taylor told RTÉ Sport.
"I can't wait for that homecoming fight.
"It has been an incredible journey since I have turned pro. To grab my first world title was a great moment for myself and my family. As I said before, the best is yet to come.
"When I first turned pro, I wanted to unify the division. There's a lot of great champions out there in and around my weight division. There's potentially some super fights out there in the future. Next year in Dublin we plan on unifying the belts and it's going to be a huge night for Irish sport.
"It's something I've always dreamed of."
It will nine years in March since Bernard Dunne became the WBA super-bantamweight world champion with an 11th-round knockout of Ricardo Cordoba at an electric O2 Arena in the capital.
Taylor reflected on one of the great nights in Irish boxing as she shared her dream to emulated Dunne and create her own special memories.
"I remember that night so well, when Bernard captured that world title. What a fight it was as well.
"I would love to follow in his footsteps, unify the belts and bring big, big nights back to Irish sport.
"It's gruelling, professional boxing. There were a lot of head clashes in the fight at the weekend which marked my face.The training is so intense in the pro game. I've just loved every second of it though. I love training so hard, I love the challenge of that.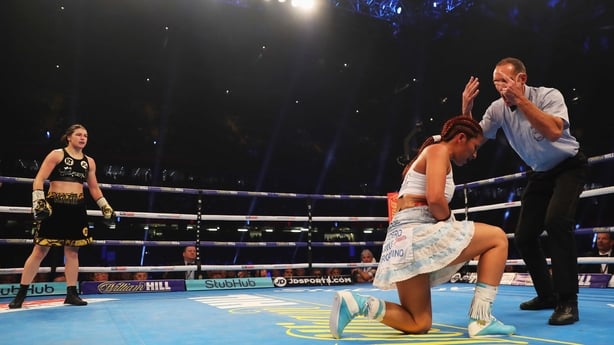 "I love the fact I'm staying busy. I love having a fight to focus on. It's a dream to be headlining my own show in England as well. I always wanted to make history in my sport. To be headlining my own show is a phenomenal achievement. I couldn't have done it without the team of people around me. I can't thank them enough."
Taylor's Olympic Games lightweight quarter-final loss to Finland's Mira Potkonen was a desperately disappointing setback that ultimately set her on the road to the paid ranks.
Fourteen months on, she's top of the world and hungry for more.
"It's great to be a trailblazer," the 31-year-old added.
"This time last year, I was in the lowest point of my career. Coming home from Rio I was so disappointed, but I knew that wasn't the end for me. I'm just delighted now to be crowned world champion.
"It's been a very exciting time for me."