To take stock of where Nadia Power is right now, it is worth winding the clock back just a couple of months. 
The 800 metre runner was ranked 62nd in the world at the beginning of the year and focusing all energies into making the Tokyo Games. 
In January she lowered her indoor PB by three seconds in breaking the 800m national record in Vienna. In February she took victory at the IFAM Gent Indoor meeting in Belgium.
A week later she broke the national record again, though in heady times for the event, Síofra Cléirigh Buttner lowered it to 2 minutes 0.58 seconds days later.
It created more interest ahead of the European Indoor Championships in Poland, though Power, Cléirigh Buttner and Georgie Hartigan all bowed out without making the final of the 800m event.
Power's first senior championships may have ended in disappointment, but as a novice at the elite level, she is pleased with the body of work that preceded it. 
"I did race a lot and maybe I was tired by the Euros, but I had to play the game to get the Olympic points," she told RTÉ Sport. "When opportunities came up to run good races and run fast times, I had to take them as I knew it would help my Olympic chances. It has worked out really well in that way. 
"Overall I'm happy." 
The Olympics remains the target. Qualification can be achieved through either a standard time, or by being among the top 48 in the world by the end of June, based on ranking points. Power is currently 35th in the standings.
"I haven't got an Olympic standard yet, and maybe only half of that 48 will get the standard," she explains. "The rest will go on world ranking points. From my indoor performances, I have moved myself into the quota [top 48], but it's about staying there until the end of June. If I can get an Olympic standard in the meantime, then great.
"I'm keeping it in mind that I have jumped 25 places in the last month, who knows what progress other athletes can make? I'm definitely not resting on that. I know I can do better in summer and I really want to secure that in my first few races outdoors."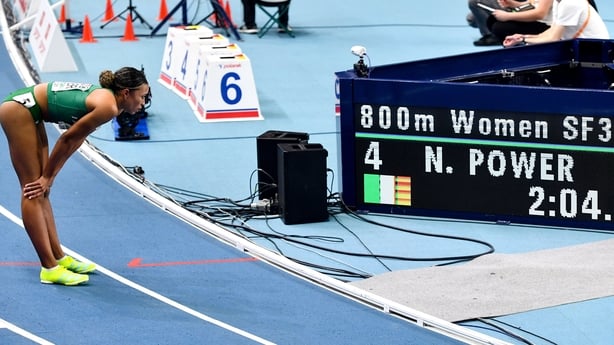 One of the takeaways for the 2019 European U-23 bronze medallist this season is the independence developed in travelling to various events and putting any possible distractions to one side to eke out the best performance. 
"I've realised I can perform well when a lot of things are going on, like managing college." 
Power however couldn't hide her disappointment at failing to make the final at the European Indoor Championships in Toruń. 
After a strong start from lane five, she eased to the front when the field heard the bell, but Great Britain's Ellie Baker responded, along with Poland's Angelika Cichocka who ultimately won the race, with the Irish athlete in fourth. 
Unfortunate timing for what she describes as her worst outing of the season. 
Disappointment for Nadia Power as she finishes 4th in the 800m semi and misses out on the final #Torun2021 pic.twitter.com/uccKdBuQj2

— RTÉ Sport (@RTEsport) March 6, 2021
"It was my first senior championships, and I think it's important to remember that. 
"I had to go for it, and it wasn't there on the day. I think that tactic would have worked for me at a different time frame, I could have finished stronger, but I just didn't have it that day.
"No regrets. I don't really have a strong finishing kick, so I had to go for it." 
And she doesn't feel the growing expectations around her and her 800m rivals - the six fastest 800m times ever run by Irish women were posted in the two months leading into the European Championships – hindered her performance levels. 
My name was being said as a medal hope. I knew I wasn't
Coverage in the media may have been growing, but she feels it wasn't grounded in realism.
"I did feel there was pressure on me. My name was being said as a medal hope. I knew I wasn't. If things went amazing, I could win a medal, but realistically I understood the situation more so than the media and others. That wasn't the pressure I was putting on myself. I don't think it affected my performance at all.
"I need more time to settle at that level.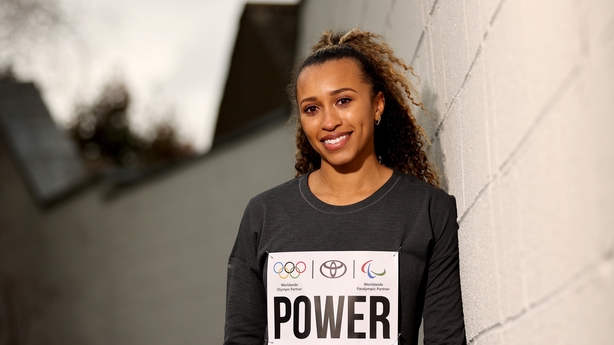 There are no regrets over footwear either, but the 23-year-old will be moving towards the much talked about 'super spikes' when her sponsor Adidas bring out their version. The added foam, and in some cases, a carbon fibre plate, has been hailed as a major reason to the lowering of times across the board in athletics. 
Last month Power said she hopes there will be a "level playing field soon" and reiterated her desire to embrace the new technology once it becomes available to her. 
"There was more talk in the media than there was among the athletes," she says. "I will wear them. Or I'll get left behind!"