Nadia Power says her rivalry with Síofra Cléirigh Buttner can only help the two of them to improve in the long run.
Last Wednesday, the Dublin City Harriers athlete broke the Irish 800m record set by Cléirigh Buttner in 2018.
But her mark of 2'00.98 didn't last long as the Dundrum South Dublin clubwoman hit back to take four tenths of a second off Power's time on Sunday, regaining the national record in the process.
Both were today confirmed as members of the 24-person Irish team for the European Indoor Athletics Championships in Poland, which start on Friday week.
Speaking on RTÉ 2fm's Game On, Power says they can bring the best out of one another.
"I think it's very exciting for any fans of the sport," she says.
"Honestly, I just had to laugh when I woke up this morning! I was shocked enough with the results yesterday thinking, 'Jesus, I barely made this team' after running two flat indoors which would be considered a really good time.
"Then to wake up to that news about Síofra was absolutely crazy. But I've a lot of respect for Síofra and the others girls.
"I just think it boosts you so much. I did training sessions with Síofra over Christmas when she was home from America.
"So it's all good - we'll just push each other to be better."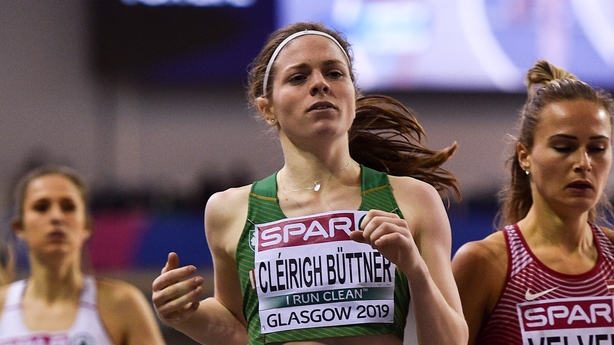 Power has been running at events around Europe since the start of the year, competing in Vienna, Gent as well as her then record-breaking run in Torún.
The Dubliner says it can be a different type of challenge during the current restrictions, with athletes having to be tested for Covid-19, as well as quarantining in different countries when they arrive.
"I won't lie, it was incredibly challenging," she admits.
"People might have been looking at me from home thinking that I was so lucky, but I was away with other athletes and we were all stressed - having sleepless nights.
"It was expensive having to get three Covid tests a week (and) often paying for ourselves. Trying to strategically base ourselves in certain places so that there were less travel restrictions to negotiate.
"It was stressful. I often felt I got to the day before a race and I was planning too much for the next race, and how I would get there. What train will I get? What plane will I get? Will my Covid test come back (positive) and all this kind of thing.
"It was challenging but it was definitely character building."
The busy schedule continues with a World Indoor Tour meeting in Madrid on Wednesday.
Power is already in the Spanish capital and she's hoping, with her selection already confirmed for the European Indoors, that she can run a good time without the pressure of having to think about catching the eye.
"Like many of my races this season, the opportunity came up last minute," she points out.
"I just got an invitation after my good performance last week. I'd kill, at this stage, for an advanced notice on a competition of more than a week
"But it's super exciting and I'm looking forward to it. Pressures off, I've already been selected for Poland, so I can just go out and see what I can do."
One of the big discussion points to come out of the recent spate of records being broken by Irish athletes is the discussion around the carbon fibre plate that some brands have put in their shoes.
The last month has seen the six fastest 800m times ever run by Irish women.
Power points out that she doesn't use the technology yet as her suppliers, Adidas, won't be releasing their version of the running shoe until the summer.
She continues to run using spikes for now, but she admits things might change later in the year.
"They are really good and it's undoubtable that the are making a difference across the events lately.
"I think we're looking at a new landscape for athletics. Maybe times won't mean as much any more, which is a little frustrating for athletes in the past and it takes away from times that were run before.
"Hopefully, it will be a level playing field soon with all brands having their version and it's just going to be the new normal.
"It's been a big topic in the last two days, but it hasn't really much (of a topic) all through this indoor season.
"I will wear them in summer when I can - what else are you supposed to do? It's too late to get rid of them. All the times run in the last year or two are valid.
"It's about all of us changing what we consider a fast time in our heads.
"It is crazy to be honest, but it doesn't explain five of us being in the top 20 in the world either. Everyone has access to them, so that's something else we've got going here, us Irish girls."