Ireland's largest ever team for a major indoor championship will travel to Poland next week for the European Indoors, with 2019 medallists Mark English and Ciara Mageean carrying some of the best hopes of a medal among the 24-strong squad. 
English is currently ranked seventh in Europe over 800 metres but he will bring vast experience to the task of potentially racing three-hard races in three days. 
It's a refined skill to reach a six-man final in such a condensed schedule but his European Indoor medals from 2015 and 2019 are proof of his expertise in gauging how to put himself in position to challenge for a position on the rostrum. 
English showed signs that he may be returning to his very best form by breaking his own Irish indoor record at the ILH Micro Meeting on Saturday last. 
In what turned out to be the race of an extraordinarily high standard over the weekend, the Donegal man needed to dig very deep to defeat Cian McPhillips, the 18-year-old wonder from Longford, by a mere .03 of a second. 
English's new Irish record of 1:46.10 will see him head to the start line in Toruń filled with confidence after running so well in his first race of the season. 
McPhillips has also been selected for the men's 800 metres at the championships having posted the fastest indoor time in the world by an Under 20 athlete in five years in that race behind English - 1:46.13, which sees him ranked eighth in Europe. 
Mageean has similarly raced sparingly over the winter season so far but the 2019 European Indoor medallist indoors has been targeting these championships as part of her Toyko Olympics build-up and she is entered in her strongest event, the women's 1,500 metres. 
Síofra Cléirigh Buttner is the highest-ranked Irish athlete from this winter season heading to the championships after she reclaimed her Irish Indoor 800 metres record in a race in Arkansas yesterday in which she was runner-up in a time of 2:00.58 seconds. 
The woman whose record she broke, Nadia Power, is also on the plane to Poland and she will have one more race to run before she rests up for her European Championship campaign when she runs in the women's 800 metres at the World Indoor Tour Grand Final in Madrid this Wednesday.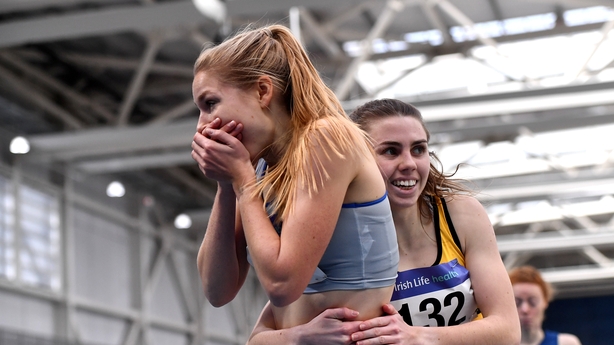 Completing the women's 800 roster for Ireland will be 24-year-old London-based Georgie Hartigan (above) who won yesterday's event at the ILH Micro Meeting in Abbotstown in the third fastest time in the history of the event in Ireland – 2:01.48 secoonds. 
Louise Shanahan and Iseult O'Donnell, who both achieved the qualifying standard, unluckily miss out on selection as there are only three per event allowed at the European Championships. 
Phil Healy's lifetime best performance of 51.99 seconds in winning the 400 metres in Abbotstown yesterday leaves her fifth in the European rankings and having made the semi-finals of her previous two major indoor championships, the Cork sprinter (below) will feel confident that she's in shape to reach the six-woman final in Torun.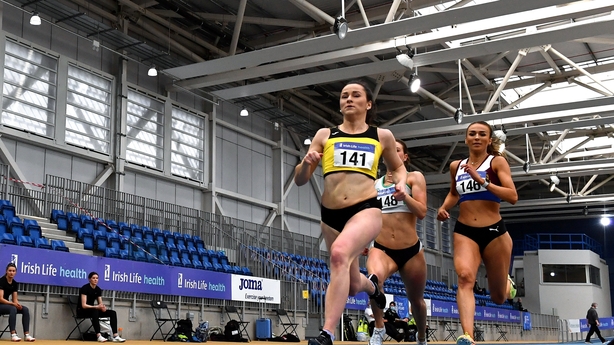 Ireland will have a full complement of athletes involved in both the men's 1,500 metres and the men's 3,000 metres after a brief winter campaign which underlined the revival of domestic male middle distance running. 
Andrew Coscoran is ranked ninth in Europe in the men's 1,500 metres and he will be joined by Paul Robinson and Luke McCann in that event at the championships. 
The men's 3,000 metres Irish team will be led by Sean Tobin who is ranked 12th in Europe this season with his 7:48.01 run in Metz earlier this month.
He will be joined by new Irish Indoor Under-23 record holder Darragh McElhinney, the reigning Irish 5,000 metres champion and twice European finalist, John Travers who posted a lifetime best of 7:50.40 in Abbotstown on Saturday. 
Ireland is well represented in the sprints, with Ciara Neville the fastest of the three female 60 metres sprinters this season in green heading to the championships. 
The 2018 European 200 metres finalist Leon Reid along with 18-year-old UCD student Israel Olatunde, who broke the Irish Under-20 and Under-23 records yesterday with a time of 6.73 seconds, will be joined by Dean Adams in the men's 60 metres. 
In-form sprint hurdler Sarah Lavin, who will be competing in the World Indoor Tour Grand Final this Wednesday, is entered in the 60 metres hurdles in Poland after posting the four fastest times of her career over the last three weeks. 
Irish squad: 
| | | | |
| --- | --- | --- | --- |
|   | Name | Event | Club |
| 1 | Leon Reid | 60m | Menapians AC |
| 2 | Israel Olatunde | 60m | UCD AC |
| 3 | Dean Adams | 60m | Ballymena & Antrim AC |
| 4 | Ciara Neville | 60m | Emerald AC |
| 5 | Joan Healy | 60m | Leevale AC |
| 6 | Molly Scott | 60m | SLOT AC |
| 7 | Phil Healy | 400m | Bandon AC |
| 8 | Sophie Becker | 400m | Raheny Shamrock AC |
| 9 | Sharlene Mawdsley | 400m | Newport AC |
| 10 | Mark English | 800m | Finn Valley A.C. |
| 11 | Cian McPhillips | 800m | Longford A.C. |
| 12 | John Fitzsimons | 800m | Finn Valley A.C. |
| 13 | Nadia Power | 800m | Dublin City Harriers A.C. |
| 14 | Síofra Cléirigh Buttner | 800m | Dundrum South Dublin A.C. |
| 15 | Georgie Hartigan | 800m | Dundrum South Dublin A.C. |
| 16 | Andrew Coscoran | 1,500m | Star of the Sea A.C. |
| 17 | Paul Robinson | 1,500m | St. Coca's AC |
| 18 | Luke McCann | 1,500m | U.C.D. A.C. |
| 19 | Ciara Mageean | 1,500m | City of Lisburn AC |
| 20 | John Travers | 3,000m | Donore Harriers |
| 21 | Séan Tobin | 3,000m | Clonmel AC |
| 22 | Darragh McElhinney | 3,000m | U.C.D. A.C. |
| 23 | Michelle Finn | 3,000m | Leevale A.C. |
| 24 | Sarah Lavin | 60mH | Emerald AC |