The rush of Irish records and personal bests that have filled the sessions of the Elite ILH Micro Meeting at Abbotstown continued into day two with Phil Healy's sub 52-second run in the 400 metres headlining a long list of athletes making significant breakthroughs. 
Healy heads to the European Indoor Championships currently ranked sixth in Europe and with exactly that number making it into the final, she will be filled with the prospect of improving on her achievement of reaching the semi-finals of two major indoor championships in the last three years. 
In her first race of the season, Healy's halfway split of around 24.3 seconds showed adventure to push boundaries and it required a brave show of strength in the home straight to hold on so well after such a fast start. 
Second-placed Sophie Becker (53.20) and third-placed Sharlene Mawdsley (53.56) also achieved the European Indoor mark set down by Athletics Ireland for the event.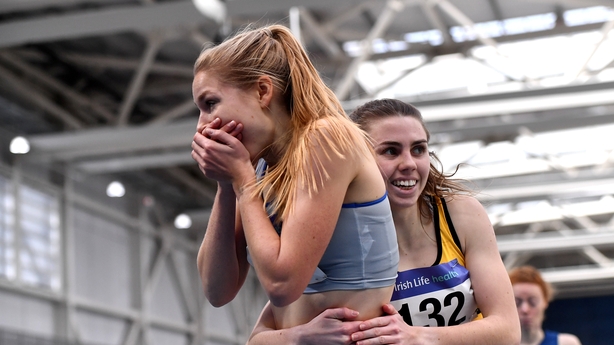 The women's 800 metres was even deeper in standard as London-born 24-year-old Georgie Hartigan, who qualifies for Ireland through her Clare grandparentage, blitzed the first 600 metres holding on strongly in the home straight to clock the second fastest indoor 800 metres in Irish athletic history, 2:01.48. 
Second-placed Louise Shanahan in 2:01.67 seconds earned her place on the plane for the European Indoor Championships in which Ireland will have a full complement of three athletes after Nadia Power's Irish record from last week in Poland secured her spot. 
UCD student Luke McCann found himself alone in the lead off a strong early pace in the men's 1500 metres and he did well to hold off John Travers in a time of 3:40.03 seconds, well inside the European standard. 
Travers had secured his place at what will be his fifth European Indoor Championships by winning the 3,000 metres on Saturday night in 7:50.40 seconds, around five seconds faster than he had ever run for the distance indoors. 
Leon Reid achieved a lifetime best in the 60 metres of 6.68 seconds as did teenage UCD student Israel Olatunde (6.73) and both should be selected for the European Indoors when the team is named tomorrow. 
Likewise, Molly Scott twice achieved the 7.36 second standard right on the button for the women's 60 metres and she will be hopeful of selection for the championships in Torun, Poland, which begin next Thursday week. 
In all there was a total of one Irish senior record, four under-23 records and four junior records over the two days with 20 athletes achieving European qualifying marks in one of the most remarkable domestic athletics meetings - one conducted within rigid Covid-19 rules and guidelines.