A quarter which began with a bang for world equity markets has ended with a whimper.
Record highs gave way to sighs as investors watched major indices including the S&P 500 and the FTSE 100 fall into correction territory, losing more than 10% of their value. Between investors fretting over the consequences of the era of cheap money coming to an end and US President Donald Trump's protectionist rhetoric becoming reality it has been a difficult three months. Unless, of course, this is just the buying opportunity you have been waiting for.
Last year blue chip stocks such as Amazon, Netflix, Apple and PayPal all rose by 50% or more. Many of us fancy that we could easily have seen the investment case for any or all of those household names and just needed to have been brave enough to take a punt. It's particularly galling to think of passing up returns like that while what spare cash you have is earning next to nothing in a deposit account.
But hindsight bias is a wonderful thing. Sportswear brand Under Armour was one of the darlings of the market heading into 2017. A raging buy? Not necessarily. It finished the year as the worst performing stock on the S&P 500, losing more than half its value. Investors who decided to call it a day at that point, however, missed a trick. The shares popped by 17% in a single day in February when the company posted unexpectedly strong quarterly sales. Those are the kind of hairpin market bends that can quickly derail any plans you might have to become the new Warren Buffett.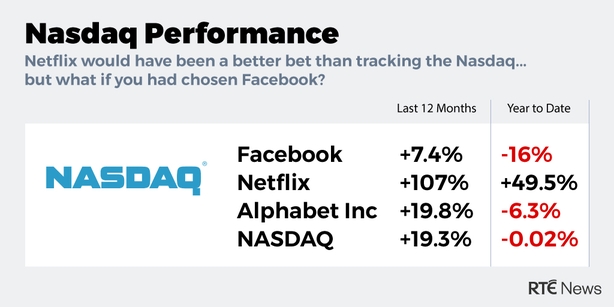 Even Buffett himself knows better than to assume he has all the answers. His holding company Berkshire Hathaway is named after one of the worst investments he ever made, a deliberate reminder that past performance is no guarantee of future success.
So what's the best way to pick stocks? The simple answer may be: don't. Small, or in industry parlance "retail" investors, face significant disadvantages. Transaction costs for buying individual shares are high. Go through a stockbroker and you'll have a whole range of fees and charges to deal with. There are upfront commission charges and then there are the less visible ones such as foreign exchange fees - which can vary considerably from broker to broker - if you're buying non euro-denominated assets.
The potential to earn market-beating returns from picking a winner is offset by the considerable risk that you won't. The best way to manage that risk is to diversify but by the time you have assembled a portfolio broad enough to manage that risk effectively you may find the costs of doing so will take a significant chunk out of any gains you stand to make. In that case you would probably have been better advised to pick a fund off the shelf to begin with.
Paul Sommerville, founder and chief executive of Sommerville Advisory Markets, believes it is possible for the retail investor to win. "Most advisors will say nobody can beat the market but that is not true. Investors that focus on particular sectors or ideas that do better in a higher interest rate and rising inflation environment, for example, may do well relative to the index as a whole," he said.
Somerville is still of the view that it's better for the individual investor buy baskets of stocks through exchange traded funds (ETFs) - market listed entities that track certain indices or sectors - rather than individual stocks. That applies in particular "if they have no experience of investing or are new to investing".
Rather than buying a fund that tracks a particular index such as the Iseq or the Nasdaq, that might mean buying a fund or index that covers a particular sector. "A good example is we would expect international investment bank shares to do well if interest rates are on the rise and volatility in markets is picking up," Sommerville said, pointing out that during the correction in global stock markets in early February bank shares outperformed the indices.
Marc Westlake, chartered financial planner and managing director of Portfoliometrix Ireland, says many would-be Buffets fail to appreciate that "most stocks fail to match the market". He points to a study on the Russell 3000 index, a broad benchmark of US shares, between 1983 and 2006. Over that 23 year time frame the study, by Longboard Asset Management, showed just 25% of the 3,000 stocks were responsible for all the gains. Almost two out of three companies (64%) underperformed the market and 19% of the 3,000 lost at least 75% of their value. "Investors failing to diversify by picking stocks had about a 2 in 5 chance of losing money and a 1 in 5 chance of losing at least 75% of their investment," Westlake says.
Picking winners by selecting individual stocks is a daunting prospect against that backdrop. Westlake cites the tale of Decca Records A&R man Dick Rowe. Even though he later recruited the Rolling Stones to his label, Rowe is still best known for dismissing an eager young band manager with the line "groups with guitars are out, Mr Epstein" as he passed on The Beatles.
"The winners in any walk of life are relatively easy to identify after the fact. Famous Band; The Beatles or famous investor; Warren Buffett. This leads us to believe that spotting winners ahead of time is much easier than it is," he says.