"You're worth more dead than alive," the ruthless banker Mr Potter tells Jimmy Stewart's George Bailey in It's a Wonderful Life.
Thankfully Bailey learns, with the help of his guardian angel, that this not the case. It's generally forgotten that the story is set in motion because of the hero's life assurance policy. George is motivated by a desire to make sure his family are left financially secure in the event of his passing.
Not surprisingly, there aren't too many other examples of life cover as a vital plot point in cinema history. We don't like to think about death.
Therefore we devote very little time to considering financial products which exist solely to provide for a scenario in which we are no longer alive.
Many people only put thought into taking out life cover because they are required to do so in the context of buying a home to make sure the mortgage will be repaid in the event of premature death.
According to certified financial planner Mike Knightson, of KM Financial, many policies are taken out "in a hurry". "Very few people like talking about mortality and therefore rush their purchase," he said.
There's no one policy that fits all circumstances.
Life cover comes four basic types.
Decreasing term provides for a level of cover that falls over the term of the policy which, typically, is matched to cover a liability such as mortgage debt in the event of death during that period.
Level term provides for a set level of cover at a specified amount and ends either at the expiration of the term or on death of the policy holder.
Convertible term is similar to set term but with the exception that the term can be extended without further medical evidence being required of the policyholder.
Whole of life does exactly what the name suggests and provides cover for the whole of the policy holder's life.
For couples, joint cover is a policy that insures the life of both parties but only pays out once. Dual life also applies to both parties but the survivor retains cover in the event of the death of their partner.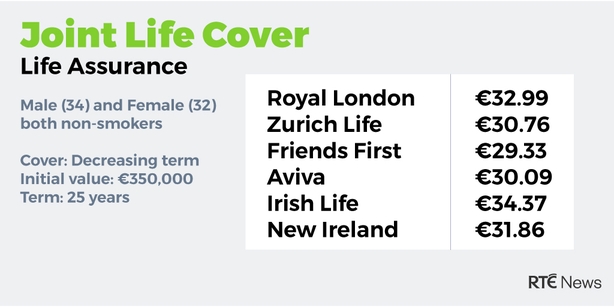 All of these come with different wrinkles, often at an additional cost. Policies can be indexed, for instance, so the level of cover rises in line with inflation. That will also, clearly, be reflected in the premium. Watch out for policies where the premium increases at a faster rate than the cover.
Whole of life policies can come with a guaranteed premium option which is more expensive at the outset at least offers certainty that the premium won't rise during the term.
The monthly premium will vary considerably depending on the options chosen and on the provider. For a male age 34 and a 32 year-old female, both non-smokers, to obtain decreasing term joint life cover to an initial value of €350,000 over 25 years ranges from €29.33 per month with Friends First to €34.37 with Irish Life.
Dual Life Level term policies  for the same cover run from €47.08 with Irish Life to €49.76 with Zurich Life. For convertible term policies you're talking about an extra €2-€3 per month.
In practice many insurers will match the best price on the market rather than lose business to a rival. Some are offering discounts on the advertised rates or will throw in additional benefits, if pressed, at no extra monthly cost. A broker can suss this out on your behalf and handle the negotiating.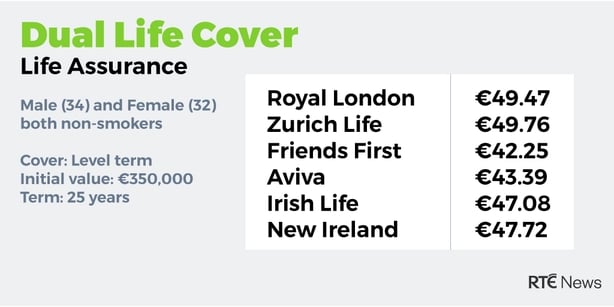 In some circumstances it may be worth taking out more than one type of policy, according to Knightson. "Not because someone is trying to sell it but because your circumstances dictate that you do. For example a couple with two children might require a decreasing term plan for their mortgage and also a term plan or income on death to provide for the family".
Income provision, too, comes in many shapes and sizes. Will the policy pay out a lump sum on death? Will that sum be index-linked, or not? The alternative would be a policy that pays a guaranteed monthly sum to provide an income for a specified term.
Even after settling on the right policy, or policies, it pays to review your cover on a regular basis. Circumstances change, obviously, and life milestones - whether joyful or sad - may impact on your requirement for cover. That includes marriage, starting a family, retirement or even relationship breakdown.
"Inertia is a factor as well," said Knightson. "We meet people on a regular basis that have direct debits going out for mortgage protection policies on houses they no longer own, you should review your finances on a regular basis for that reason alone," he said.
The best advice for navigating your way through the myriad options, said Knightson is, first off, to "plan for what you can afford" and then review your coverage regularly. You can add to your cover if and when you have the additional income to do so but clearly even basic cover is preferable to no cover in the event that the unthinkable happens.