It was still bright on an October evening when Tracey Doyin left her house to go on a grocery run.
In Thika, a busy district on the outskirts of Nairobi, Kenya's capital, people rushed home tired from work. Some stopped to say hello to friends, while others ran last-minute errands.
The trip to the kiosk was one Tracey had taken many times, in an area she was very familiar with.
However, things took a turn for the worse when she felt someone brush up against her.
"I sort of moved to the side to allow him to make his way. But, instead of that, he grabbed me by the throat and started asking for my belongings," Tracey told RTÉ News.
Desperate for help, she called out to a man behind her assailant. But the pair were working together.
Overpowered by the two men, Tracey was dragged into a secluded corner, where the men continued to rob and beat her.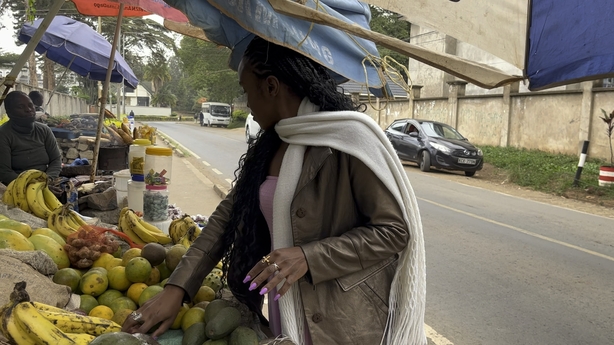 "At this point, they were yelling at me in their native language, and I couldn't understand them. I'm kneeling on the floor and they're hitting me, pulling my hair, and pushing me around," she said.
Tracey tried to fight off the men. But one of them attacked her with a knife. It was at this point that she was raped.
"I know there are times when people can say a person is scared, but imagine ten times more than that. That's how petrifying and scared a person can be at that moment in time," she said.
Two hours later, Tracey was let go.
Bleeding and injured, she managed to get to her friend's house who took her to the police station.
However, her experience with the police and even the hospital staff who attended to her left her even more heartbroken.
She now understands why other sexual assault survivors would be discouraged from reporting their attacks.
According to the Kenya Demographic and Health Survey, more than one in ten women have reported to have experienced sexual violence.
Alberta Wambua is the Executive Director of the Gender Violence Recovery Center.
They provide medical treatment and psychosocial support to over 4,000 survivors of gender-based violence every year.
She believes that the reported number is much higher, adding that the stigma of the assault makes it very difficult for many to come forward.
"You may also find that the response mechanism are not friendly to the survivor, or the process is too long, sometimes the access to justice will take even longer," she told RTÉ News.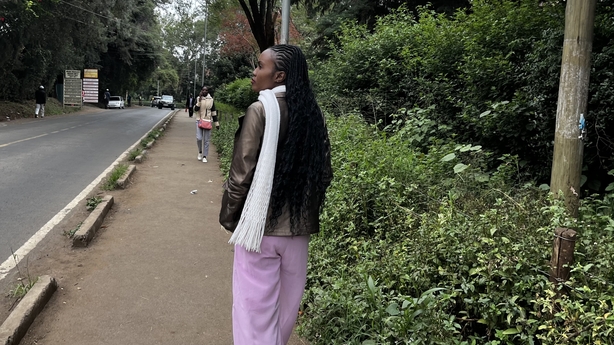 Tracey is very familiar with this process and felt let down at every stage.
After waiting for hours, still dripping with blood, and with soil in her cuts, Tracey was finally seen by a police officer.
However, she was quick to suggest she believed Tracey was at fault - and asked her what she was wearing, and why she was outside so late.
The police officer went so far as to warn Tracey against telling the people in her life that she had been raped.
"She asks me if I am dating anyone, then says, 'I don't think you should tell them about this, this situation at the moment. Because if you tell them there's a likelihood that they would leave you'," she said.
At the hospital, Tracey's ordeal did not get any better.
The private hospital she had initially been sent to refused to handle her case, so she was sent to a government hospital for her samples to be preserved.
There she had to bribe one attendant to take her samples, after he had initially refused, since he did not want to handle a rape case.
Her situation only got worse after a director kept delaying the processing of her paperwork, since they were seeing an important visitor to the hospital.
Tired of waiting to be seen, Tracey interrupted the meeting, leading to the director calling her "inappropriate and disrespectful".
"She scolded me and said I'm not supposed to address her in that way, that she's the one supposed to defend my case in court, and she's not going to do that with what I have done to her," she said.
"At that moment in time, that's when I knew my case is not really going to go anywhere."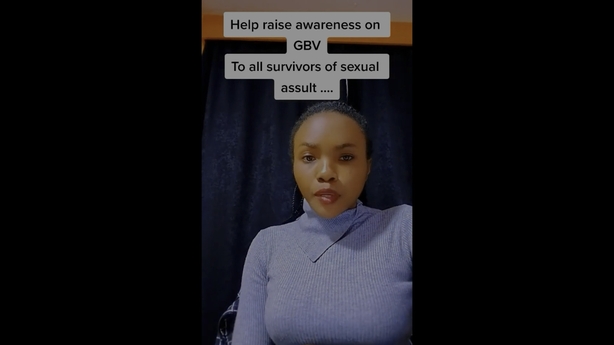 Tracey took to TikTok to bring awareness to the problems that women go through when reporting sexual assault in Kenya. The incident and her struggles were reported by The Guardian in June.
She hopes that, by highlighting her experience, changes can be made and more support given to survivors.
Ms Wambua said the delay in reporting means that many survivors are unable to get treatment, including anti-HIV drugs.
She believes that training at each level is the only way to improve the system.
"This includes addressing unconscious bias, including clinical management and psychological and psychosocial management of the survivors," she said.
The experience has forever changed Tracey. While she has since received counselling, she suffered from panic attacks and nightmares for months after the incident.
However, she hopes that, by spreading her story, she can make the process easier for other women.