'Anything you can do, I can do bleeding.'
This is the slogan that has come to define Senator Gloria Orwoba's campaign to reduce period shaming in Kenya.
The MP made headlines in February after she was kicked out of parliament for attending a session with an apparent blood stain on her trousers.
Critics said her dress code was "inappropriate and indecent".
However, several months on, Senator Orwoba believes her protest has sparked a vital conversation in a country where two out of every three females are unable to afford sanitary pads.
"It should not be a barrier. For me what happened in parliament when I was told to go change was a barrier. Because I was OK sitting there with my stain. I didn't want to go home and change. I was fine. Whoever felt uncomfortable should have gone home."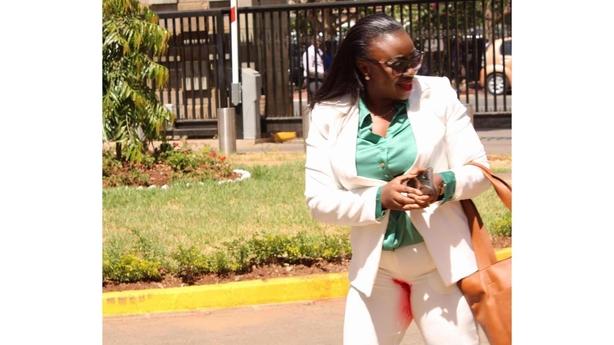 Kenya has seen several damaging incidents of period shaming.
In 2019, a 14-year-old girl killed herself after a teacher reportedly shamed her when she stained her school uniform on her first period.
More recently, Senator Orwoba was contacted by a female employee of a cheese factory, who asked her for help.
The employee told her that women workers had been forced to undress to prove that they were not on their period, after a used sanitary pad was found in the wrong bin.
She said: "That is an issue of dignity. It's an issue of HR, it's an issue of your rights, it crosses a lot of lines."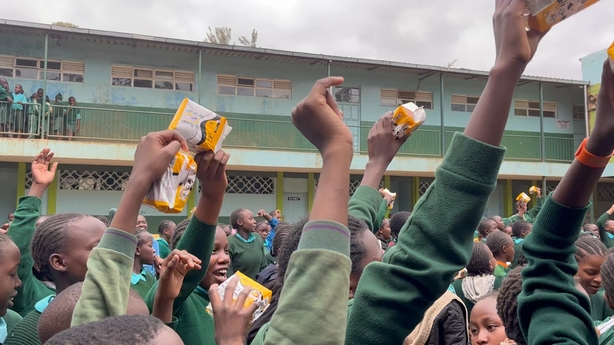 Senator Orwoba says that she has become Kenya's unofficial spokesperson on menstrual health and period poverty.
She leads pad donation drives at schools and believes that educating young people helps to dispel myths and taboos around periods.
"They are so shy about everything. Like it was even difficult for them to say menstruation or even to say sanitary pads. The first thing is if they're not talking about the issue, if they're not even talking about menstruation, they can't even talk about the challenges around menstruation."
This observation strikes a chord with Semengur Gideon Leshan, the principal of a small school in Magadi attended by more girls than boys. Many pupils regularly miss school because of their periods.
He said: "In most cases, our community does not really open up about periods and menstruation. You can get girls who cannot open up to their parents that they have already started their period. Girls are missing school because they cannot even ask for a pad."
Stories like this fuel Senator Orwoba's fight to implement Kenya's Menstrual Hygiene Policy, which was the first of its kind in Africa.
The policy aims to ensure that all women and girls in Kenya can manage menstruation, hygienically, freely and with dignity.
As she speaks to young girls in Kawangware primary school, she tells them that they should celebrate it too.
"Even today, I am on my period. But I am not ashamed. I celebrate because it means I have the power to give life."