World Ocean Day is celebrated today to raise awareness of the importance of the ocean and how we can treat it sustainably.
In a workshop on the outskirts of the Kenyan capital Nairobi, a group of artists are quietly working, each focused on the task in front of them.
One of the artists, Rafael Musau, first started sculpting with wood in 2007.
Nowadays, he works with an entirely different medium – discarded flip flops.
The cheap plastic shoes can be found littering Kenyan beaches and waterways.
Mr Musau uses them to create beautiful sculptures of endangered animals.
"I had to venture into flip flops after the government withdrew licenses for cutting trees," he explained to RTÉ News.
"It is easier, because you can get the materials, as many people are using flip flops all over the world."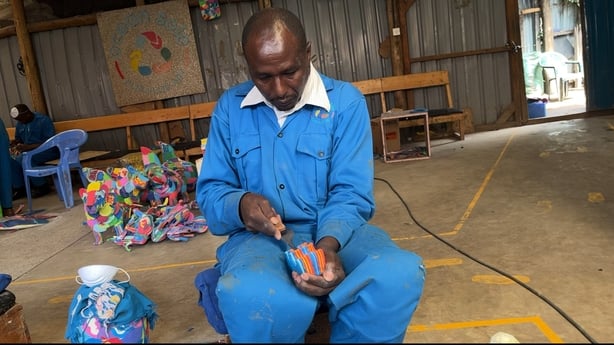 Mr Musau works for a non-profit organisation called Ocean Sole.
Every year, it recycles over 500 tonnes of flip flops.
Discarded shoes are collected during beach and river cleanups.
They are then weighed, cleaned, and disinfected before each artist picks what they need to make their sculpture.
Mr Musau's favourite animal to sculpt is the lion.
"In this craft, I've met so many people, learned so many things, and I have been able to support my family," he said.
The UN estimates that eight million tonnes of plastic waste end up in the sea every year, harming wildlife, damaging ecosystems, and contaminating the food chain.
In Kenya, marine wildlife is protected by law. However, animals and birds are vulnerable to a number of threats, including plastic pollution.
Ocean Sole says its mission is "to spread conservation awareness in a fun, creative way".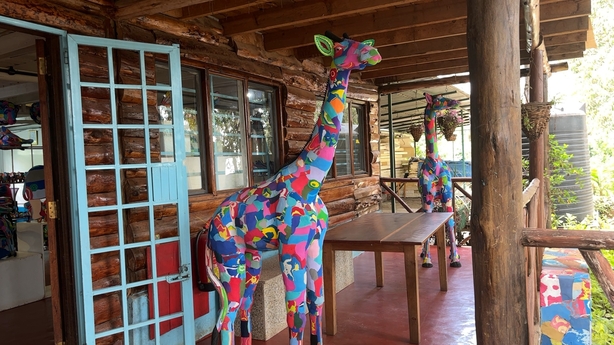 Maureen Simba has worked for the company for a number of years.
"Over 40,000 species of animals have become endangered. This is very alarming. They have become endangered because of human action," Ms Simba said.
"We have been able to mobilise the community into taking care of their environment."
The success of the project means artists like Mr Musau have been able to evolve their craft, while doing their bit to clean up the environment.
"When we started with wood, we were spoiling forests," he said.
"But now we are conserving the environment when we are using these materials."
Ocean Sole sculptures are sold both locally and internationally.
A percentage of proceeds from sales goes towards conservation efforts and raising awareness.
Ms Simba said: "We are billions of people in the world, but we only have one earth. It is on us to play our part in taking care of it."