Kosovo and Serbia have reached an agreement on implementing a European Union-backed deal to normalise ties, EU foreign policy chief Josep Borrell said late last night, though the two leaders said disagreements remain.
Kosovo and Serbia have been in EU-backed talks for nearly 10 years since Kosovo declared independence in 2008, almost a decade after war ended Serbian rule.
But Serbia still regards Kosovo as a breakaway province and flare-ups between the Balkan neighbours have stoked fears of a return to conflict.
The agreement today came after 12-hour talks between Kosovo Prime Minister Albin Kurti, Serbian President Aleksandar Vucic and EU officials on implementing the deal, which both sides had agreed to in Brussels last month.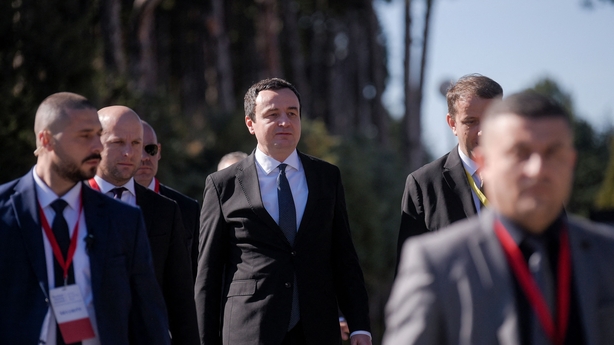 ---
15 years after independence, Kosovo awaits breakthrough
---
The two leaders held separate meetings with Mr Borrell before a three-way session in North Macedonia.
"Kosovo and Serbia have agreed on the implementation annex of the agreement on the path to normalisation of relations between them," he told reporters after meeting both leaders in the North Macedonian town of Ohrid.
We have a deal

Kosovo and Serbia have agreed on the Implementation Annex of the Agreement on the path to normalisation of relations

The parties have fully committed to honour all articles of the agreement and implement their respective obligations expediently and in good faith. pic.twitter.com/p3CUBdcd8A

— Josep Borrell Fontelles (@JosepBorrellF) March 18, 2023
Mr Vucic told a news conference the parties have not agreed on all points.
"Despite differences, we had decent conversation," he said.
Speaking at a different news conference, Mr Kurti said, "This is a de facto recognition between Kosovo and Serbia" since Serbia has not yet signed the agreement.
Mr Borrell said the EU will now forcefully demand both sides to fulfil obligations if they want to join the bloc, warning there would be consequences otherwise.
He also touched upon a proposed association of Serb municipalities in Kosovo, which would give greater autonomy to Serb majority municipalities, a long-disputed topic.
"Kosovo has agreed to launch immediately - and when I am saying immediately, I mean immediately - negotiations with the European Union facilitated dialogue on establishing a specific arrangement and guarantees to ensure an appropriated level ofself-management for the Serbian communities in Kosovo," the EU top diplomat said.
In the annex on the implementation of the agreement published on Saturday evening, the EU committed to organising a donor conference within 150 days to set up an investment and financial aid package for Kosovo and Serbia.