It's more ugly this time.
That is the appraisal of relations between Palestinians and the Israeli security forces by one resident of Aida refugee camp in Bethlehem.
Mahmoud Abusrour, 35, was born in Aida. A refugee camp typical of the West Bank, but very different to settlements for displaced persons elsewhere. Rather than tents, residents live in permanent structures albeit ones that are clearly added to in stages, and one on top of another.
Aida has been in existence for 75 years, and is on land leased by UNRWA, the United Nations Relief and Works Agency for Palestine Refugees.
In 2004, when Mahmoud was just 16, he was jailed for two years for throwing a stone at an Israeli soldier.
It happened during the second intifada, or uprising, which lasted for over four years. Some predict Palestine is on the cusp of a third intifada.
"Here in Aida camp, it's a sensitive area, it's just beside the wall."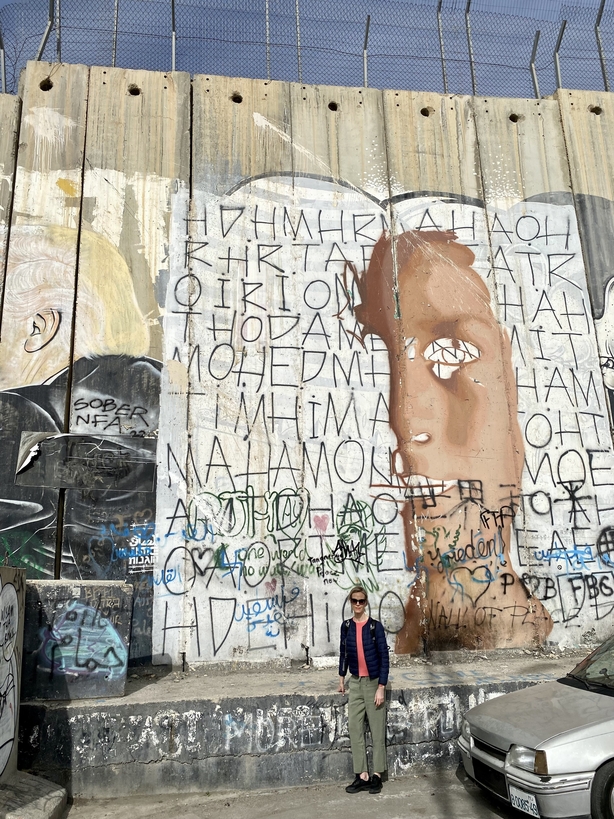 The wall he refers to is the Separation Wall built by Israel to prevent violent attacks. According to the United Nations Office for the Coordination of Humanitarian Affairs (UNOCHA), "most of the Barrier's route is located within the West Bank, rather than on the 1949 Armistice 'Green' Line".
Standing beside it in Bethlehem, it's incredibly oppressive. Here, it's around 10m tall and dotted with observation towers sometimes manned by snipers, sometimes remotely.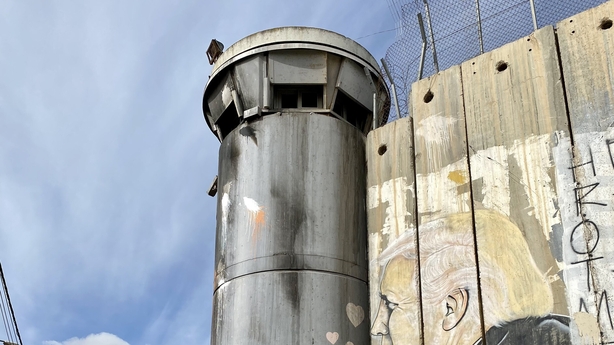 Thinking back to 2004, Mahmoud says, "there were a lot of Israeli soldiers coming into the camp, to arrest a lot of people, and there were a lot of clashes. When you see the soldiers come in front of your house, and they destroy the door... you feel you have to resist a little bit, because [it's] your house, your family. We started throwing stones."
At first, nothing happened, but then one week later, they came to his house, handcuffed him, blindfolded him, and took him to jail.
Asked what prison was like for a 16-year-old, Mahmoud is surprisingly sanguine. He smiles and says "it was prison. Not like in Sweden or Denmark", he adds by way of explanation.
"I hear the jail in Denmark is a very good jail. Not like here. I would like to test it," he laughs.
When you say you're from Ireland, it doesn't always resonate with people who've never been outside the Holy Land.
An electrician, Mahmoud is not permitted to work in Israel, where it would be more lucrative, because he spent time in jail. But he says he can survive; some weeks are better than others.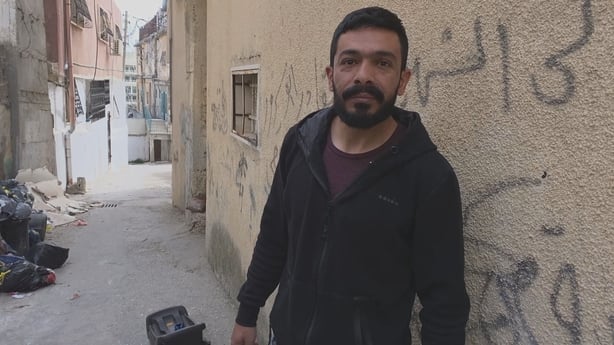 With Israel and the Occupied Palestinian Territories experiencing an upswing in violence, we ask Mahmoud if he's noticed a change. He says it's different, the situation is not like before. "When they enter, they don't think, they shoot. Because of that, it's different... more ugly."
Would he resist again?
"We have many ways to resist, it's not just to throw stones, you are free, you have to choose your way."
It's a sentiment we hear expressed several times. Palestinians are angry at the language used in the West to describe recent violence. When condemning the fatal attack by Israeli settlers on the village of Hawara, the EU described it as "settler violence". When the same organisations criticise Palestinians for killing Israelis, it's described as "Palestinian terrorism".
In February, hundreds of Israeli settlers went on the rampage in the northern village of Hawara, killing one Palestinian man and setting fire to property. Around 100 homes were burned down.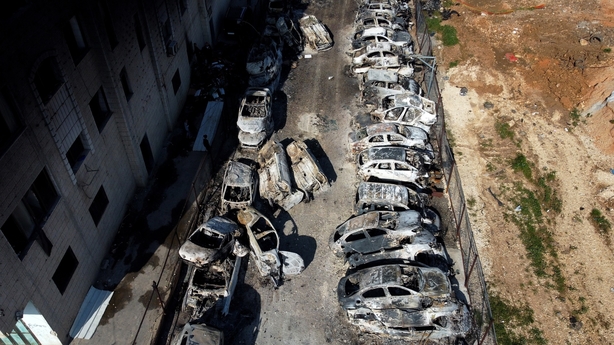 It followed the shooting dead of two Israeli brothers by a Palestinian days before.
Issam Aruri from the Jerusalem Legal Aid and Human Rights Centre says they are on course for the worst year ever for settler violence. He's angry at what he calls the double standards regarding Israel and Palestine.
"If you put a family on fire, inside their home, that's violence? And if a Palestinian throws a stone at an Israeli military battalion, it is terror. Those double standards. This lack of political will to name things as [they are] encourages the continuation of such crimes, [with Israel] enjoying full impunity."
Allison Kaplan Somer is a correspondent with Haaretz newspaper and presents the Haaretz Weekly Podcast. She has lived in Israel for 30 years.
Asked whether Israelis are afraid about the increased violence, she said: "They're always afraid. You know, Israel is really looking internally over the past few weeks and has not been focused on its external conflicts in the middle of everything. When Tel Aviv was crowded with protesters over this judicial revolution that people fear will undermine Israeli democracy, there was a shooting...right in the middle of Tel Aviv, blocks away from crowds of demonstrators."
She said the protests against judicial reform and the wider conflict between Israel and Palestine feed into each other.
"It's a cycle because the more terror happens, the more Israelis fear, the more they turn to law and order right-wing politicians, in order to keep them safe, therefore the more right-wing the government is the harder that they crack down on the Palestinians."
She is at pains to say that there is not support among the wider Israeli community for settler attacks.
"There is widespread, across the board condemnation of the vigilante settler violence recently in the town of Hawara against Palestinians, you know, homes were burned and trucks were burned and, you know, terrible, terrible things happened. And that was a pure act of revenge."
But she said: "there is a strong support in the Israeli population for actions in the West Bank, which are aimed at protecting them, that they view as necessary security."
Palestinians we met, even those who advocate non-violent resistance, decline to label shootings, stabbings and car-ramming as terrorism. They often describe the perpetrators as "freedom fighters". It doesn't help that Palestinian NGOs we meet which are working to help children or in the legal sphere are labelled by Israel as "terrorist organisations".
Sahar Francis is Director of Addameer Prisoner Support and Human Rights Association. She warns of a mass hunger strike by prisoners next month. 17 April is Palestinian Prisoners Day, and it also falls during the holy month of Ramadan. "It's expected to be a very serious period, with a lot of violence," she says of the likely hunger strike.
Francis, a lawyer, describes imprisonment as the main tool of the occupiers to keep the oppression and control over the Palestinian community. There are currently 4,700 in prison, but last year, 7,000 Palestinians were arrested.
She, and others, point to the retention of the bodies of 11 deceased prisoners to finish serving out their life sentence.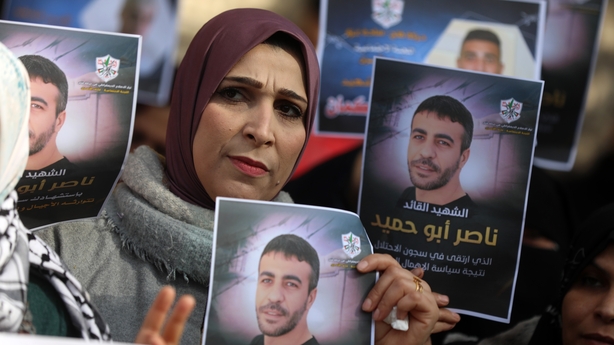 The activists say it has also happened with the bodies of 13 children being retained by Israeli authorities. Shawan Jabarin of Al Haq, says one mother told him how every time she opens the fridge at home, she thinks of her son. "I remember my son, that he is maybe in this situation, in the fridge, because they put them in the fridge."
Activists we speak to, most of whom are moderates educated abroad, all point towards the escalating violence.
But what about a third Intifada, which some observers say is already under way?
"I think the Israelis are pushing us, of course, to a full-scale uprising because people cannot tolerate the situation."
That's the warning from Dr Mustafa Barghouthi, a former MP and director of the Palestine National Initiative. It describes itself as a democratic movement of non-violent resistance to the occupation.
"I don't mind if it takes ten years, 20 years, 30 years, I want to be free and I want my children to be free and I want my country to be free. Whatever it takes. I will not give up," he says.
When pressed if he is advocating violence with his choice of words, he says not at all, but some people cannot see another way.
"I can't prevent them from seeing it [violence as a way of resistance]. That is the result of Israeli policy, it is their responsibility that some people think the only way is the military way."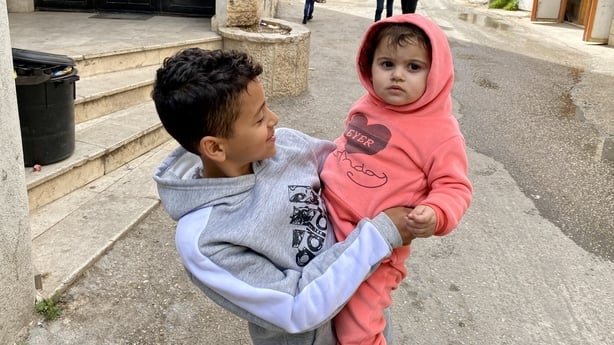 He says some people feel hopeless, they believe that "nothing else works. Israel only understands the language of force".
However, he believes that force can take non-violent means, like boycott, divestment and popular resistance.
Over the past year, Israeli forces have carried out near-daily raids in the West Bank as part of a crackdown started in the wake of a spate of deadly attacks in Israel by Palestinians.
More than 200 Palestinians, including both militants and civilians have been killed - about 80 this year alone - while over 40 Israelis and foreign nationals have been killed in attacks by Palestinians in Israel, the West Bank or around Jerusalem.
As the Muslim holy month of Ramadan and the Jewish Passover approach, fears of more violence have grown.
---
Juliette Gash travelled to Palestine as part of a group funded by EUPOL COPPS (the EU Coordinating Office for Palestinian Police Support) which is the European Union Police and Rule of Law Mission for the Palestinian Territory. EUPOL COPPS is one of several EU bodies working in the territory. This visit did not include meetings with Israeli officials.