Anything can happen, anywhere, any time. That's the warning from a security adviser to the EU Coordinating Office for Palestinian Police Support (EUPOL COPPS) the morning we begin our visit to Ramallah in the West Bank.
It's a fitting summation of life in the Occupied Palestinian Territories (OPT).
There are daily shootings in multiple locations here, sometimes twice a day.
As night falls in east Jerusalem, where we're staying for security reasons, there are distant "pop pop pops", tonight they sound like gunfire, last night they sounded more like firecrackers. I'm told by EU staff they could be either.
The security situation in the OPT is impacted by several factors.
The Israeli-Palestinian conflict is what garners the most international attention, but there is also conflict among Palestinians, and the new, ultra-conservative Israeli government has brought significant protest from Israelis themselves.
Our security adviser also explains that criminality in Israel is quite active, there are gangs in operation that rarely make the local news, let alone the international media.
The last year has been the worst for Israeli-Palestinian violence in two decades and the situation appears to be worsening.
Over 70 Palestinians have lost their lives since the start of 2023, while 13 Israelis have also been killed.
Last Tuesday, six Palestinians were killed when Israeli forces raided the Jenin refugee camp.
Israel says all six were gunmen, including a Hamas member suspected of shooting dead two brothers aged 20 and 22 from a Jewish settlement near the village of Hawara last month.
Those killings saw a revenge attack on Hawara by a group of Israeli settlers on 26 February.
One Palestinian man was killed and around 100 injured in the rampage, which saw homes and cars torched.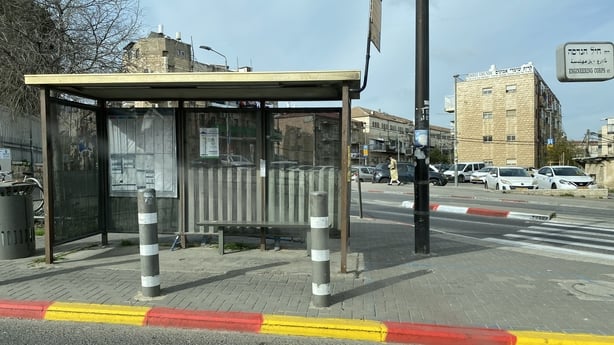 The incident drew international condemnation, which only grew louder when the ultra-nationalist Israeli Finance Minister Bezalel Smotrich, who has responsibility for aspects of the West Bank administration, said Hawara should be "erased".
Major General Yehuda Fuchs, who commands the Israeli military in the area, said his forces had prepared for attempted settler retribution but had been surprised by the intensity of the violence, which he said was perpetrated by dozens of people.
"The incident in Hawara was a pogrom carried out by outlaws," he told local channel N12 News.
A "pogrom" is a mob attack, often approved by authorities, against a religious, racial, or national minority.
The term is usually applied to attacks on Jews in the Russian Empire in the late 19th and early 20th centuries and later in Germany during the rise of the Nazi party.
General Fuchs is likely to have chosen his words carefully.
While Smotrich later offered a partial retraction, the US State Department said the comments were "repugnant, irresponsible and disgusting".
Back to our security adviser in Ramallah, he explained that such high-profile incidents attract the most attention, but there are also ramming incidents, which are very often fatal, and stone-throwing is common.
At the beginning of February, two young Israeli brothers and a 20-year-old Israeli man were killed when they were rammed at a bus stop.
The driver of the car, a Palestinian, was "neutralised" by Israeli police.
It's a not-so-subtle term for shot dead. Our security adviser tells us that these are regarded as suicide attacks, because the perpetrator knows he, and it nearly always is he, will be killed.
As you drive around east Jerusalem, which is officially part of the OPT, although that's disputed by Israel, you see bus stops surrounded by bollards.
At first, it's not that surprising, until you realise why they're there.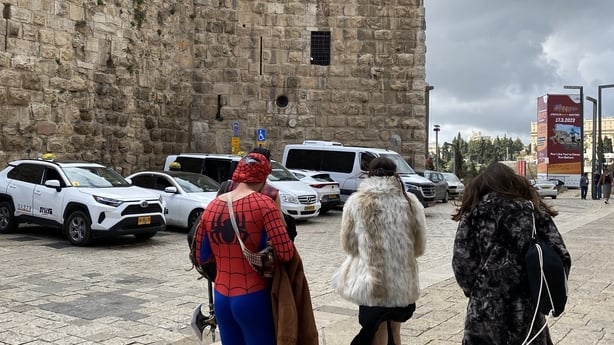 Jerusalem has so many contradictions.
Visiting the Old City, the day after the Jewish festival of Purim, there are young people everywhere, dressed up in costume, after a night on the town.
It sort of looks like Halloween, but with an older crowd, the morning after.
It's a surprise to see a pair of young men dressed as nuns, walking through the streets believed by Christians to have been walked by Jesus thousands of years ago.
But colleagues said the Purim costume du jour in Tel Aviv, which is much more liberal than Jerusalem, saw young people dressing up in pairs; one as an Israeli soldier, the other dressed as their Palestinian prisoner.
Speaking about this with a local Palestinian woman, she guffawed, admitting that if you can't laugh about such things, you'd cry.
There were no tears among the many Palestinians we met and interviewed. But they speak with passion and fervour and many of them say the same thing.
The two-state solution is dead.
Dr Mustafa Barghouthi is an activist and former member of the Palestinian Parliament, as well as a medical doctor.
He's upfront, saying he cannot be neutral, but that he tries to be as objective as possible.
He says Israeli Prime Minister Benyamin Netanyahu made it his goal to stop the two-state solution.
He is horrified by what happened in Hawara and describes as a "mob" the settlers who attacked the village.
He says the IDF just stood by while some 500 settlers went on the rampage.
He says what happened in Hawara really represents the real threat of what might happen everywhere in Pales.
"It happened because the Israeli government includes far-right elements."
Dr Barghouthi goes on to say that Minister Bezalel Smotrich believes Palestinians shouldn't live in the OPT.
"He believes the whole of Palestine is for Jewish people."
Speaking to European journalists, he reminds us that while the EU supports the two-state solution, most governments only recognise the State of Israel.
The Oireachtas has expressed its support for doing so but has yet to finalise the process.
Asked what Europe should do, Dr Barghouthi says the EU should take sanctions against Israel.
He points out the repeated destruction of humanitarian aid by Israel.
Since 2016, Israel has destroyed more than €2m worth of aid, including from Ireland.
In January, Tánaiste Mícheál Martin told The Irish Times: "I don't think it's acceptable that on an ongoing basis, the European Union is contributing very significant aid to Palestinians and to Palestinian infrastructure, for it to be habitually destroyed."
Dr Barghouthi also urges the boycott of any products related to settlements, saying it's not enough for EU member states to label them as such, rather that they should be banned.
He ended by saying: "Europe has great leverage. Use it!"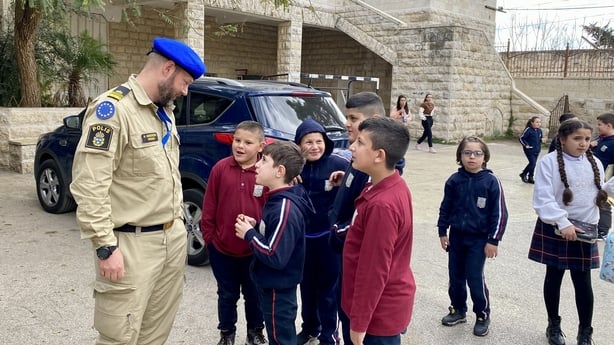 One of the bodies working to assist Palestine is EUPOL COPPS.
An EU-funded organisation, it supports the Palestinian police and the rule of law in the West Bank.
It's a technical mission, whose mandate is rather narrow. That's partly because of the way EU member states voted to set it up in 2006, but as EUPOLCOPPS says, the EU presence is quite broad in Palestine.
One of the main functions of the organisation is providing training and support to the Palestinian Civil Police (PCP).
The PCP is just one branch of police in Palestine; as with most things here, it's complicated.
Accompanying EUPOL COPPS to Birzeit, we visit a school where the PCP are engaged in community policing.
The officers are greeted by school children with smiles and excitement, which is what I'd expect, with my Irish lens.
But Palestinian mothers later explain to us that they are traditionally suspicious of anyone in uniform and it's taken time to gain their trust.
After 15 or so years in Palestine, we asked head of the mission Natalia Apostolova how it's still useful as an organisation, i.e. why isn't its work done?
She explains that the situation remains very complex.
There is no parliament in Palestine and there haven't been elections since 2006.
President Mahmoud Abbas has been in power since 2005.
"That's a lot of power consolidated in one person." She believes that if EUPOL COPPS wasn't there, other, possibly bad actors would be.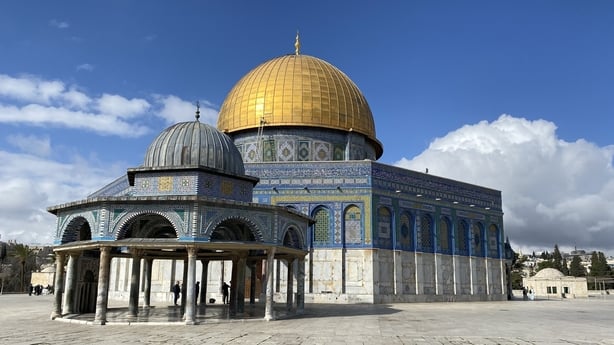 Like many others, Ms Apostolova fears the escalation of violence in the coming weeks.
The month of Ramadan begins on 23 March, while Jewish Passover begins on 15 April.
Should the Israeli unit in the Ministry of Defence which liaises with the Palestinian authority (COGAT) decide to restrict access from the West Bank to Jerusalem, she believes it will be problematic.
If that extends to restricting access to Al-Aqsa, the third-holiest site in Islam, she says it will certainly heighten tensions.
That's rather diplomatic language.
Palestinians we spoke to have also spoken of their fears for a tinderbox of religious holidays clashing.
Human rights activists, as well as Dr Barghouthi, warned of the possibility of 5,000 Palestinian prisoners going on hunger strike, most likely during Ramadan.
Palestinian Prime Minister Mohammed Ishtayeh describes the situation as "extremely dangerous," saying "we need to fill the vaccum."
While he still believes the two-state solution is possible, he's clear it's under threat.
"What do Israelis want?" he asks "they don't want two states, they don't want one state, they want to maintain the status quo – but it's deteriorating."
He says there's more land expropriation, more killings, more incursions into camps and refugee towns, including into Al Aqsa.
He warns "we are slipping into a one-state reality," adding, "those who believe in two states should take measures to protect the two states."