The charity MSF says tragedies at sea, such as the one that unfolded off the Italian coast, are likely to become more common as search and rescue boats operating in the Mediterranean are clamped down on.
Médecins Sans Frontières, Doctors Without Borders, says it is being punished for trying to save lives.
In an interview with RTÉ, Riccardo Gatti, MSF Search and Rescue Team Leader in the Mediterranean, said: "What we have seen is there were really bad weather conditions and we do not really know actually what happened, but this shows again and again how its really risky to be at sea, and how it's risky even to try to survive and reach a European country, even when there are rescue assets, the Italian coastguard and other navy assets, able to operate."
He said the shipwreck happened in an area that MSF did not normally operate "because it is the full operational search and rescue zone of Italy".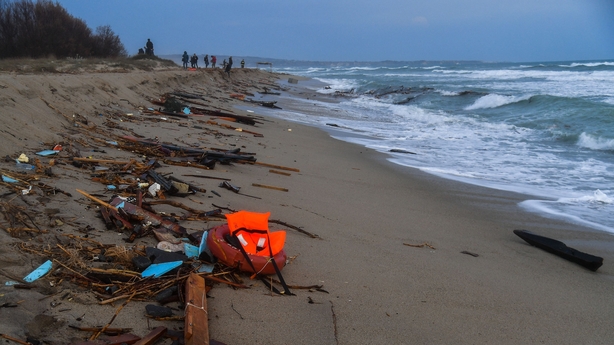 He said if the Italian government continued with its policy of avoiding search and rescue operations in the area, more lives would be lost.
"The tragedy is really just around the corner, so what we are complaining about is policies.. that in the end will increase potentially the deaths at sea because there will be no assets to rescue people that are in danger."
He added that any policy of supporting the Libyan Coast Guard to intercept people at sea and push them back to that country was not safe, saying: "There is an increasing criminalisation against migrants and the defenders of migrant rights including NGOs."
Earlier this week, the group says that Italian authorities came on board its boat the Geo Barents and impounded it on Thursday night, for allegedly breaking new government rules.
The Geo Barents ship is being detained for up to 20 days and will be fined between €2,000 and €10,000, according to the charity which says it stands accused of failing to share information, including from its voyage data recorder (VDR) on the position and movement of the ship.
It follows a new decree introduced by Prime Minister Giorgia Meloni, the leader of the far-right Brothers of Italy party, which took office in October, after promising to curb the number of migrants landing in Italy.
MSF says it is currently assessing what legal actions it can take to contest this action.