The Turkish Ambassador to Ireland has said the embassy has shipped eight tonnes of aid to Turkey in the last two days.
Mr Mehmet Hakan Olcay was speaking as the second shipment of donations was being transported from the embassy to Dublin Airport today.
He said the embassy would continue to accept donations from the public, which of comprised mainly of clothes and blankets, in the coming days.
Mr Olcay said there was list of charities to donate to on the embassy website but in the coming days the embassy would open their own bank account for people who wish to donate to the relief effort.
He said the embassy was also sourcing medical supplies and that medications to treat hypothermia and equipment such as portable X-Rays and other supplies like incubators were needed.
He said he had spoken to the Department of Foreign Affairs and they had advised him to go through the European Union mechanism to obtain these supplies.
Charities appeal for money, not goods
The provision of food, water, shelter and medical care to the hundreds of thousands who have been left homeless and injured since the earthquake in Turkey and Syria is "crucial", Caoimhe de Barra, CEO of Trócaire has said.
The charity is appealing to the Irish public for financial donations to help those impacted by the disaster.
Ms de Barra praised the Irish response and generosity and explained why financial donations are the most practical option at this time.
"People want to help and they want to help urgently.
"However, the logistics involved in moving goods across continents and the costs simply outweigh the value.
"What we really need right now is financial transfers that we can make to our local partners who are already working.
"We can procure goods locally so what we need are financial donations.
"We appreciate every offer of help no matter how large or small."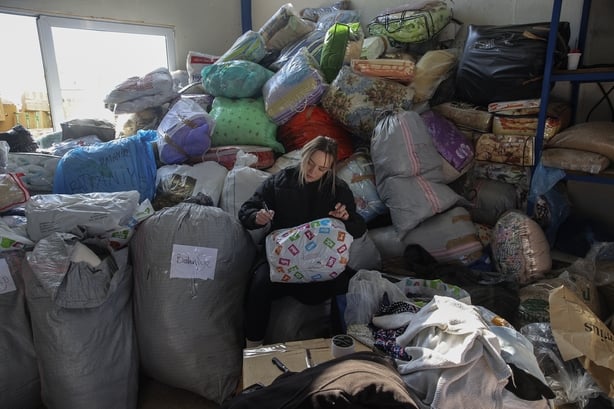 Trócaire has come together with other aid organisations, including some locally, who are working "around the clock" to help rescue efforts in Turkey and Syria, Ms de Barra said.
People said the region affected by the earthquakes in Syria have already been affected by war and many have already been displaced once before.
"Many have lost family members through the war and they are now suffering this second retrauma of being displaced again, being injured and maybe losing loved ones."
Support would help to prevent "a second wave of deaths" that could arise due to the extreme cold and lack of sanitation, she said.
The difficulty of getting aid into the regions hit by Monday's earthquake was also reported by Médecins Sans Frontières (MSF).
The organisation has helped almost 3,500 people in Aleppo and Idlib, Himedan Mohammed, head of the Syria Programme for Médecins Sans Frontières said.
He appealed for authorities to allow aid get to Syria's badly hit areas.
An MSF volunteer died when a house collapsed and many others have lost their homes and belongings, Mr Mohammed said.
"The crisis is touching everyone in north west Syria."
For an up-to-date list of official fundraising drives from the various Irish charities visit dochas.ie.
20 million people affected by earthquake - aid workers
The devastation at the epicentre of the earthquake in Turkey is being described by aid workers as "unprecedented".
As many as 20 million people could be affected, aid worker with Islamic Relief Worldwide Salah Aboulgasem,has said.
Speaking on RTÉ's Morning Ireland, he said: "The scale, the amount of damage, the numbers, the destruction. It's huge. This is unprecedented."
"The amount of people that are affected is more than 20 million.
"The death toll is rising by the hour."
In a town he visited yesterday 70% of the buildings are completely demolished and they are just "piles of rubble", he said, some measuring 15m high.
The 30% of buildings that remain will likely be destroyed as "they're no longer fit for purpose", Mr Aboulgasem added.
"There is discussion about taking the 50,000 population within that area, taking them completely somewhere else. All the survivors. That's how bad the level of destruction is.
"It's unbelievable and I've been to war zones I've been to quake zones. I've seen a lot and I must say this is a real disaster.
"We're appealing to the international community to help organisations like Islamic Relief, which is registered in Ireland. We have an office in Dublin.
"We're raising funds in Ireland and we're appealing to the generous Irish community to join their fellow humans and people that are in need in Turkey and in Syria and help us to assist them."
We need your consent to load this rte-player contentWe use rte-player to manage extra content that can set cookies on your device and collect data about your activity. Please review their details and accept them to load the content.Manage Preferences
Mr Aboulgasem said work is continuing around the clock in a race to find survivors in the critical 72 hours post-earthquake.
"We're not giving up. We're spending hours working through the rubble trying to find people who are buried underneath.
"We anticipate that there are more than 10,000 people still buried underneath rubble. We understand that there may be more.
"We're dealing in sub-zero conditions. These are the coldest months of the year. It's really challenging. It's really difficult.
"We're continuing to work, as and when we're able to have people evacuated from close to the destruction, and where the buildings have collapsed, we're putting them up in tents.
"Many people, unfortunately, as you can imagine, the scale and size many people are sleeping on the streets, they're making fires. We're trying to give them more and more blankets. We're trying to give food. We're trying to provide medical essentials.
"It's painful to meet the people, listen firsthand, look into their eyes and listen firsthand to what's going on and understand from them the struggles that they've been through."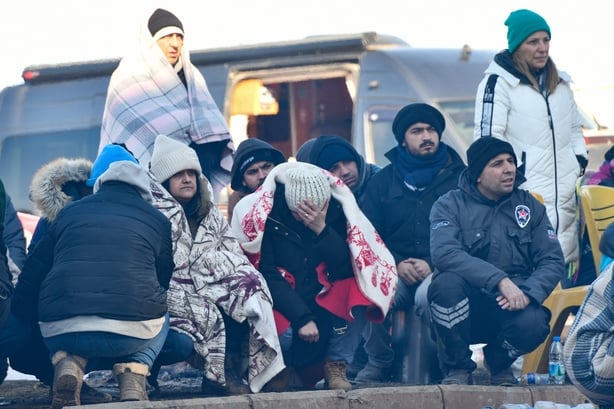 While he is based in Turkey, Mr Aboulgasem highlighted the devastation in to Syria.
"A lot of the media attention is focused because of accessibility, on Turkey.
"I must stress that Syria and northwest Syria specifically, has been badly affected by this earthquake."
There were already serious humanitarian issues in Syria due to 13 years of war, he said, including a major cholera outbreak.
The major difference between Turkey and Syria, Mr Aboulgasem said, is that despite the high level of challenges there is coordination in Turkey.
Syria is a different situation, he said.
"So, we're really appealing to everyone to keep talking about this issue."