Turkish President Recep Tayyip Erdogan has conceded "shortcomings" after criticism of his government's response to the massive earthquake that killed over 15,000 people in Turkey and Syria.
The sprawling scale of the disaster that flattened thousands of buildings, trapping an unknown number of people, has swamped relief operations already hampered by freezing weather.
Survivors have been left to scramble for food and shelter - and in some cases watch helplessly as their relatives called for rescue, and eventually went silent under the debris.
"My nephew, my sister-in-law and my sister-in-law's sister are in the ruins. They are trapped under the ruins and there is no sign of life," said Semire Coban, a kindergarten teacher, in Turkey's Hatay.
"We can't reach them. We are trying to talk to them, but they are not responding... We are waiting for help. It has been 48 hours now," she said.
Still, searchers kept pulling survivors from the debris three days after the 7.8 magnitude quake that is already one of the deadliest this century, even as the death toll continues to rise.
As criticism mounted online, Mr Erdogan visited one of the hardest-hit spots, quake epicentre Kahramanmaras, and acknowledged problems in the response.
"Of course, there are shortcomings. The conditions are clear to see. It's not possible to be ready for a disaster like this," he said.
He condemned criticism of the government's response, saying that the government would accelerate rubble removal and housing construction.
The window for rescuers to find survivors is narrowing as the effort nears the 72-hour mark that disaster experts consider the most likely period to save lives.
Yet today, rescuers pulled children from under a collapsed building in the hard-hit Turkish province of Hatay, where whole stretches of towns have been levelled.
"All of a sudden we heard voices and thanks to the excavator... immediately we heard the voices of three people at the same time," said one rescuer.
"We are expecting more of them... the chances of getting people out of here alive are very high," he added.
Officials and medics said 12,391 people had died in Turkey and at least 2,992 in Syria from Monday's 7.8-magnitude tremor, bringing the total to 15,383 - but experts fear the number will continue to rise sharply.
The World Health Organization chief Tedros Adhanom Ghebreyesus has warned that time was running out for the thousands injured and those still feared trapped.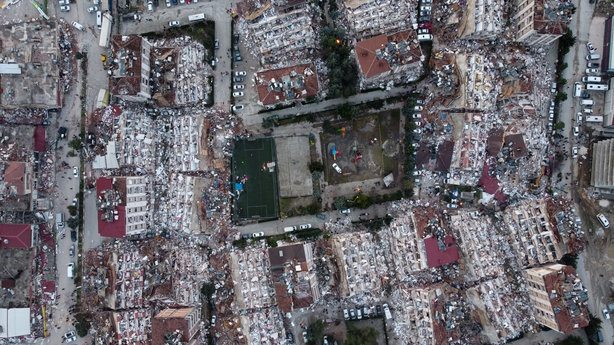 Rescuers in Turkey and in neighbouring Syria warned that the death toll would keep rising as some survivors said help had yet to arrive.
In Syria, already devastated by 11 years of war, the confirmed toll climbed to more than 2,992, according to the Syrian government and a rescue service operating in the rebel-held northwest.
Heartrending scenes of a newborn baby being plucked alive from the rubble and a father clutching his dead daughter's hand have laid bare the human cost of the earthquakes.
World Health Organization Director General Tedros Adhanom Ghebreyesus has warned that time is running out for the thousands injured and those still feared trapped.
For Mesut Hancer - a resident of Turkish city Kahramanmaras, near the epicentre - it is already too late.
He sat on the freezing rubble, too grief-stricken to speak, refusing to let go of his 15-year-old daughter Irmak's hand as her body lay among the slabs of concrete and strands of twisted rebar.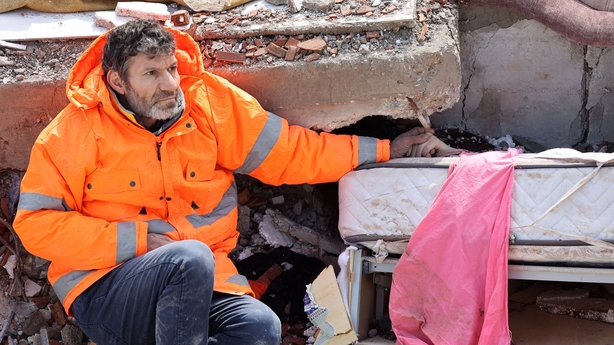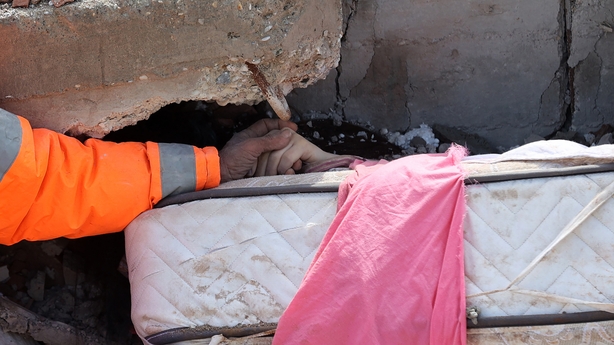 ---
Read More:
Why was the Turkey, Syria earthquake so deadly?
Turkey, Syria earthquake death toll rises, as rescue searches hindered
---
Even for survivors, the future seems bleak.
Many have taken refuge from relentless aftershocks, cold rain and snow in mosques, schools and even bus shelters - burning debris to stay alive.
Frustration is growing that help has been slow to arrive.
"I can't get my brother back from the ruins. I can't get my nephew back. Look around here. There is no state official here, for God's sake," said Ali Sagiroglu in Kahramanmaras.
"For two days we haven't seen the state around here... Children are freezing from the cold," he said.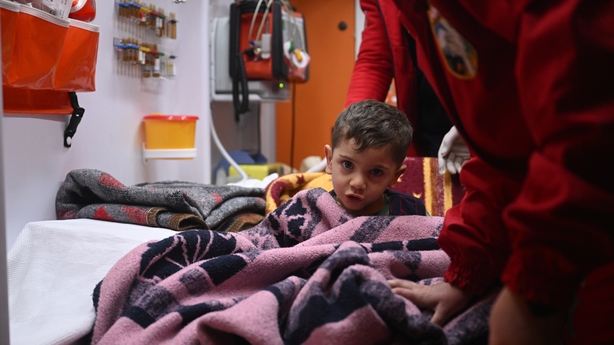 In nearby Gaziantep, shops are closed, there is no heat because gas lines have been cut to avoid explosions, and finding petrol is tough.
"Where are the tents, where are food trucks?" said 64-year-old Melek, in the southern city of Antakya, adding that she had not seen any rescue teams.
"We haven't seen any food distribution here unlike previous disasters in our country. We survived the earthquake, but we will die here due to hunger or cold here."
Across the border in northern Syria, a decade of civil war had already destroyed hospitals, collapsed the economy and prompted electricity, fuel and water shortages.
In the rebel-controlled town of Jindayris, even the joy of rescuing a newborn baby was tainted with sadness, after it was confirmed that the baby's mother and the rest of her immediate family had all died.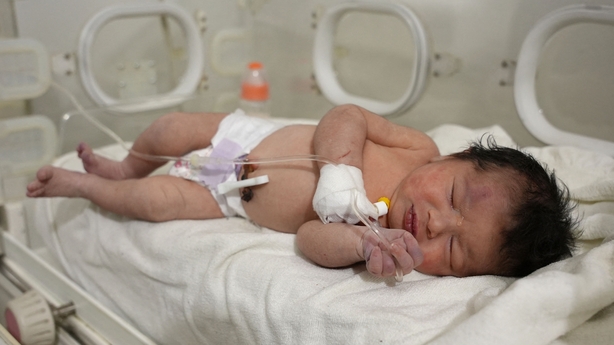 Rescue workers and residents in Jindayris said dozens of buildings had collapsed.
Standing around the wreckage of what had been a 32-apartment building, relatives of people who had lived there said they had seen no one removed alive. A lack of heavy equipment to remove large concrete slabs was impeding rescue efforts.
Rescue workers have struggled to reach some of the worst-hit areas, held back by destroyed roads, poor weather and a lack of resources and heavy equipment. Some areas are without fuel and electricity.
Aid officials voiced particular concern about the situation in Syria, where humanitarian needs were already greater than at any point since the eruption of a conflict that has partitioned the nation and is complicating relief efforts.
The European Commission is "encouraging" EU member countries to respond to Syria's request for medical supplies and food, while monitoring to ensure that any aid "is not diverted" by President Bashar al-Assad's government, the bloc's commissioner for crisis management said.
Dozens of nations including the United States, China and the Gulf States have pledged to help, and search teams as well as relief supplies have begun to arrive by air.
A winter storm has compounded the misery by rendering many roads - some of them damaged by the quake - almost impassable, resulting in traffic jams that stretch for kilometres in some regions.
The European Union was swift to dispatch rescue teams to Turkey after the massive earthquake struck close to the border with Syria.
But it initially offered only minimal assistance to Syria through existing humanitarian programmes, because of EU sanctions imposed since 2011 on Assad's government over its brutal crackdown on protesters that spiralled into a civil war.
Mr Erdogan has declared a three-month state of emergency in ten southeastern provinces. He is expected to visit some of the affected areas today.
Turkish authorities say some 13.5 million people were affected in an area spanning roughly 450km from Adana in the west to Diyarbakir in the east.
The Syrian Red Crescent appealed to Western countries to lift sanctions and provide aid.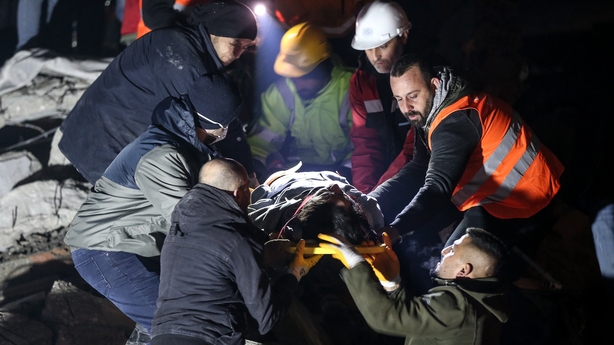 Secretary of State Antony Blinken said the United States would not work with the Damascus government.
"These funds, of course, go to the Syrian people - not to the regime. That won't change," he said.
Aid agencies have also asked the Syrian government to allow border crossings to be reopened to bring help to rebel-held areas.
The Turkey-Syria border is one of the world's most active earthquake zones.
Monday's earthquake was the largest Turkey has seen since 1939, when 33,000 died in the eastern Erzincan province.
A 7.4-magnitude earthquake killed more than 17,000 people in 1999.
Experts have long warned a large quake could devastate Istanbul, a megalopolis of 16 million people filled with rickety homes.
We need your consent to load this rte-player contentWe use rte-player to manage extra content that can set cookies on your device and collect data about your activity. Please review their details and accept them to load the content.Manage Preferences