Overwhelmed rescuers struggled to save people trapped under the rubble as the death toll from a devastating earthquake in Turkey and Syria passed 7,800, with despair mounting and the scale of the disaster hampering relief efforts.
The magnitude 7.8 quake - Turkey's deadliest since 1999 - hit early yesterday morning, toppling thousands of buildings including many apartment blocks, wrecking hospitals, and leaving thousands of people injured or homeless in Turkish and Syrian cities.
In the Turkish city of Antakya near the Syrian border, where 10-storey buildings had crumbled onto the streets, journalists saw rescue work being conducted on one out of dozens of mounds of rubble.
The temperature was close to freezing as the rain came down and there was no electricity or fuel in the city.
Turkish authorities say some 13.5 million people were affected in an area spanning roughly 450km from Adana in the west to Diyarbakir in the east, and 300km from Malatya in the north to Hatay in the south.
The destruction led to Turkish President Recep Tayyip Erdogan declaring Tuesday a three-month state of emergency in 10 southeastern provinces.
In Syria, authorities have reported deaths as far south as Hama, some 100km from the epicentre.
The latest toll showed 5,894 people killed in Turkey and at least 1,932 in Syria, for a combined total of 7,826 fatalities.
There are fears that the toll will rise inexorably, with WHO officials estimating up to 20,000 may have died.
Turkish Vice President Fuat Oktay said severe weather was making it difficult to bring aid to the regions.
'They're making noises but nobody is coming'
Freezing winter weather hampered search efforts through the night. A woman's voice was heard calling for help under a pile of rubble in the southern Turkish province of Hatay.
Weeping in the rain, a resident who gave his name as Deniz wrung his hands in despair.
"They're making noises but nobody is coming," he said. "We're devastated, we're devastated. My God ... They're calling out. They're saying, 'Save us' but we can't save them. How are we going to save them? There has been nobody since the morning."
Families slept in cars lined up in the streets.
"Every minute, every hour that passes, the chances of finding survivors alive diminishes"
Ayla, standing by a pile of rubble where an eight-storey building once stood, said she had driven to Hatay from Gaziantep in search of her mother. Five or six rescuers from the Istanbul fire department were working in the ruins - a sandwich of concrete and glass.
"There have been no survivors yet. A street dog came and barked at a certain point for long, I feared it was for my mother. But it was someone else," she said.
"I turned on the lights of the car to help the rescue team. They took out only two bodies so far, no survivors."
Extraordinary survival tales have emerged following yesterday's earthquakes, including a newborn baby pulled alive from rubble in Syria | https://t.co/NMFfYvXvx7 pic.twitter.com/xDiH0ecKHk

— RTÉ News (@rtenews) February 7, 2023
However some extraordinary survival tales have emerged, including a newborn baby pulled alive from rubble in Syria, still tied by her umbilical cord to her mother who died in the quake.
"We heard a voice while we were digging," Khalil al-Suwadi, a relative, told AFP.
"We cleared the dust and found the baby with the umbilical cord (intact) so we cut it and my cousin took her to hospital."
The infant is the sole survivor of her immediate family, the rest of whom were killed in the rebel-held town of Jindayris.
Ankara declared a "level 4 alarm" that calls for international assistance, but not a state-of-emergency that would lead to mass mobilisation of the military.
Turkey's Disaster and Emergency Management Authority (AFAD) said 5,775 buildings had been destroyed in the quake, which had been followed by 285 aftershocks, and that 20,426 people had been injured.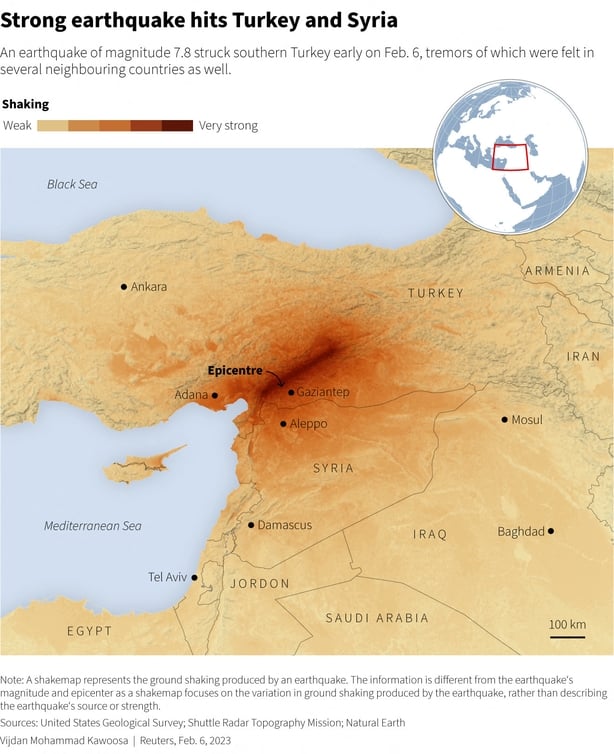 The World Health Organization was especially concerned about areas of Turkey and Syria where no information had emerged since the quake struck, its chief said.
"It's now a race against time," said WHO Director General Tedros Adhanom Ghebreyesus.
"Every minute, every hour that passes, the chances of finding survivors alive diminishes."
Biggest tremor recorded since 2021
The earthquake was the biggest recorded worldwide by the US Geological Survey since one in the remote South Atlantic in August 2021.
Poor internet connections and damaged roads between some of the worst-hit Turkish cities, homes to millions of people, hindered efforts to assess the impact and plan help.
With tight elections scheduled in just three months, Turkey's President Tayyip Erdogan's government faces a likely multi-billion-dollar reconstruction challenge just as he was ramping up his re-election campaign.
The economy, already strained by inflation at 58%, is expected to grow a bit less than previously expected this year, analysts say.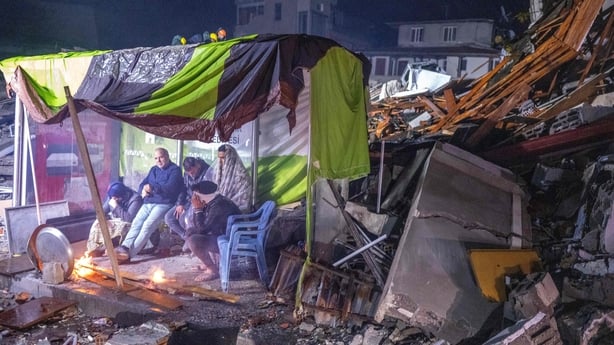 Tánaiste and Minister for Foreign Affairs Micheál Martin has announced €2 million in emergency humanitarian assistance, which will be allocated to the International Federation of the Red Cross and Red Crescent Societies and the United Nations Syria Cross-Border Humanitarian Fund.
Mr Martin said people in Ireland have been shocked by the loss of life in Turkey and Syria and the "initial allocation of €2m" will help address the urgent and immediate needs of those affected by the earthquake.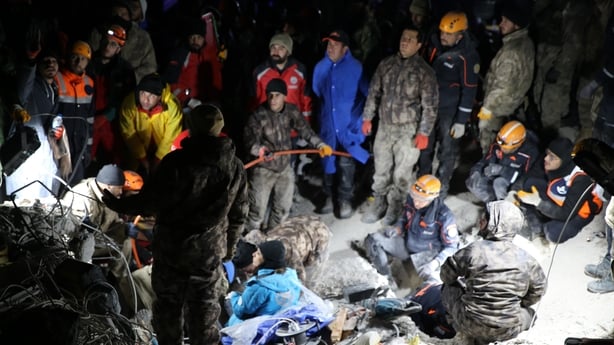 Officials said three major airports have been rendered inoperable, complicating deliveries of vital aid.
A winter blizzard has covered major roads into the area in ice and snow.
The death toll in Syrian government-held areas rose to 812, the state news agency SANA reported.
A top UN humanitarian official in Syria said fuel shortages and the harsh weather were creating obstacles to its response.
"The infrastructure is damaged, the roads that we used to use for humanitarian work are damaged, we have to be creative in how to get to the people," UN resident coordinator El-Mostafa Benlamlih told Reuters from Damascus.
Years of conflict in Syria is already shaping the emergency response, with the country's envoy to the United Nations Bassam Sabbagh seemingly ruling out reopening border crossings that would allow aid to reach areas controlled by rebel groups.
The Syrian health ministry reported damage across the provinces of Aleppo, Latakia, Hama and Tartus, where Russia is leasing a naval facility.
Even before the tragedy, buildings in Aleppo - Syria's pre-war commercial hub - often collapsed due to the dilapidated infrastructure, which has suffered from a lack of wartime oversight.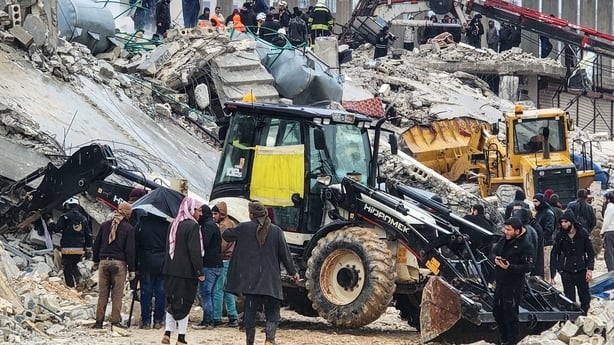 Officials cut off natural gas and power supplies across the region as a precaution, also closing schools for two weeks.
The UN cultural agency UNESCO expressed fears over heavy damage in two cities on its heritage list - Aleppo in Syria and Diyarbakir in Turkey.
At a jail holding mostly Islamic State group members in northwestern Syria, prisoners mutinied after the quakes, with at least 20 escaping, a source at the facility told AFP.
The United States, the European Union and Russia all immediately sent condolences and offers of help.
US President Joe Biden promised Mr Erdogan that the United States will send "any and all" aid needed to help recover from a devastating earthquake.
Ukrainian President Volodymyr Zelensky also offered to provide "the necessary assistance" to Turkey, whose combat drones are helping Kyiv fight the Russian invasion.
Ukraine said that it would send a team of several dozen rescue workers to Turkey, whose combat drones are helping Kyiv fight the Russian invasion.
Ukraine will send "to the republic of Turkey a combined search-and-rescue team of the State Emergency Service consisting of 87 people", including 10 flight crew members, according to its government website.
Egyptian President Abdel Fattah al-Sisi called Syria's Bashar al-Assad today to offer support, their offices announced, in the first official exchange between the two leaders.
Ahmed Fahmy, spokesman for the Egyptian presidency, said Mr Sisi "expressed his sincere condolences" in the wake of the earthquake.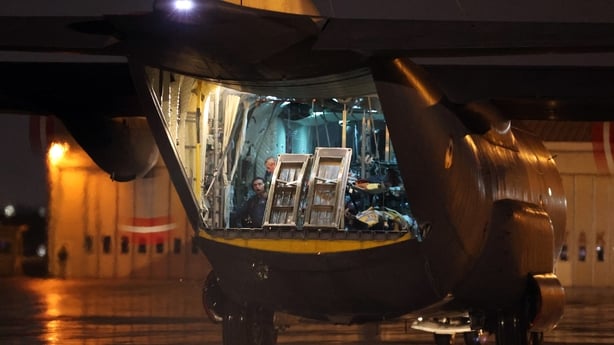 Turkey is in one of the world's most active earthquake zones. The country's last 7.8-magnitude tremor was in 1939, when 33,000 died in the eastern Erzincan province.
The Turkish region of Duzce suffered a 7.4-magnitude earthquake in 1999, when more than 17,000 people died.
Experts have long warned a large quake could devastate Istanbul, a megalopolis of 16 million people filled with rickety homes.