Events have been taking place worldwide to mark St Brigid's Day, including at the Embassy of Ireland to the Holy See.
Newly appointed Ambassador Frances Collins - who presented her Letters of Credence to Pope Francis last November - represented Ireland at the recent funeral of Pope Emeritus Benedict.
RTÉ's Social Affairs and Religion Correspondent Ailbhe Conneely found out how the embassy has been celebrating St Brigid's Day and about the role of women in the Vatican.
What events are taking place in the Holy See celebrating St Brigid?
On Monday we hosted an event entitled 'Women's Leadership and Social Justice: Rising to Global Challenges' at St Isidore's College, home to the Irish Franciscans in Rome. Caoimhe De Barra, CEO of Trócaire, addressed the Irish religious community in Rome, international diplomats and representatives of the Holy See. With support from the Government's Irish Aid programme, Trócaire works across 16 African states, including Democratic Republic of Congo and South Sudan, which Pope Francis visited this week.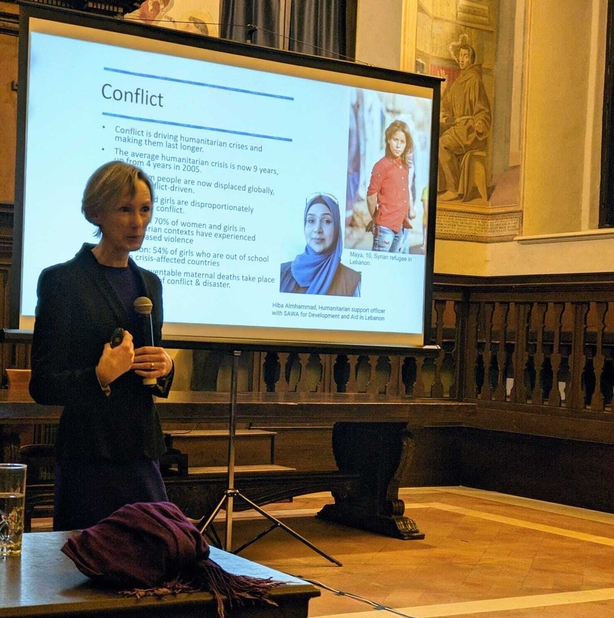 Caoimhe highlighted the inspirational work being done by women across conflict and climate affected communities to tackle the root causes of poverty, injustice and violence. It was inspiring to hear about the real and lasting change they are driving and the role Irish women leaders, like Caoimhe, are playing in supporting their efforts.
Have people in the Holy See become more aware of St Brigid in recent years?
As I expected, awareness of St Brigid is very high here at the Holy See. Our embassy has celebrated St. Brigid's Day with our diaspora community for many years. Over recent years, as other Irish embassies have across our network, we have focused increasingly on linking St Brigid's legacy to the incredible contributions women make in priority areas of Ireland's foreign policy. In this way, we show how the legacy of St. Brigid, in particular as a peacemaker and advocate for vulnerable communities, lives on today.
Has the embassy been asked to be involved in events highlighting/celebrating the Irish saint?
Usually here in the Holy See, the relevant embassy leads in celebrating their national saints' days. We are very fortunate to have two such days - St Brigid's and St Patrick's Day. We work closely with our community here in marking them. But like other Irish embassies worldwide, our plans are framed within a wider thematic programme, set by the Department of Foreign Affairs. For St Brigid's Day, our focus is very much on celebrating the creativity and leadership of both Irish women and women in our host countries so we designed an event around that theme which also resonated with our local audience.
As a new female Irish ambassador to the Holy See how do you view women's roles in the Vatican?
I have been impressed by the level of access that diplomats have with Vatican officials across the range of foreign policy issues. A key feature of Pope Francis' pontificate is his focus on dialogue and bringing people together. The Holy See has a reputation for being a listening post, a window on the world. I always liken the role of an ambassador here to our counterparts at the UN because of the range of country situations and issues which the Holy See is engaged in. Not only are you expected to listen but also to share your country's perspectives right across a broad range of policy areas.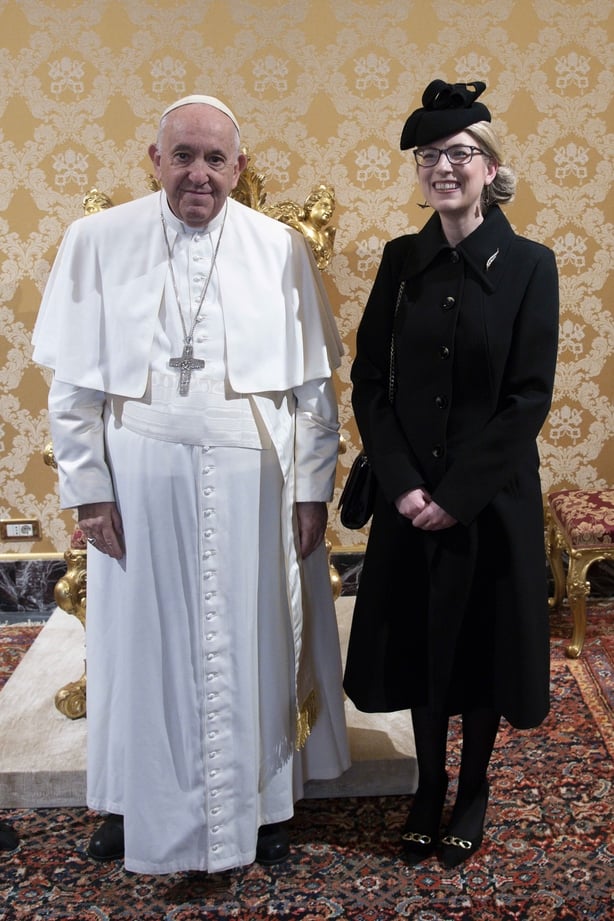 In recent years Pope Francis has appointed women to senior positions within the Roman Curia, or civil service. In 2020, for example, Francesca Di Giovanni was appointed as the Undersecretary for Multilateral Affairs in the Section for Relations with States - a key position in the Vatican diplomatic service. Pope Francis also appointed women to senior posts in the governance of Vatican City and to departments dealing with the appointment of bishops as well as on issues such as international development, the environment and migration.
Of course, as we know from the work of Irish missionaries, there are many inspirational women within the church whose work is reflected in the foreign policy of the Holy See. There is wonderful work being done by the sisters and by their umbrella organisation International Union of Superiors General (UISG). An Irish Loreto, Sr Pat Murray, is the Executive Secretary of the UISG and a past recipient of a Presidential Distinguished Service Award. The UISG is to the fore on issues such as migration, human trafficking and the environment.
What other events do you mark in the embassy?
Of course the next big one is St Patrick's Day and we are currently working with our diaspora community here in Rome to finalise our programme. The Covid-19 pandemic was very difficult here in Rome, as it was at home and elsewhere. The religious community here were very much confined to their religious houses and, like others overseas, unable to return to Ireland to see their families. So we are very much looking forward to getting back together and supporting them in reconnecting with Ireland.
Other events in our calendar for this year will be World Environment Day, where we will work with the Women's Ambassadors Network and the Holy See to highlight our need to care for what Pope Francis calls "our common home".
We will also look at events which showcase the work of our diaspora community past and present, including on the 60th anniversary of the death of Fr Hugh O'Flaherty, the subject of Joseph O'Connor's brilliant new novel 'My Father's House'. We have an embassy newsletter where we showcase the work being done by our Irish missionaries across the world.
And, as opportunities arise, we will work with the Holy See to highlight shared foreign policy priorities such as peacebuilding, transitional justice, climate change, nuclear disarmament, and effective multilateralism. We have a number of upcoming visits by various youth groups from Ireland with whom we engage to articulate Ireland's foreign policy priorities to the next generation of young leaders.