Pope Francis has urged the leaders of South Sudan to make "a new start" for peace, warning that history would remember them for their actions, as he began a three-day visit to the country.
South Sudan broke away from Sudan to become independent in 2011 after decades of conflict, but civil war erupted in 2013.
Despite a 2018 peace deal between the two main antagonists, violence and hunger still plague the country.
On the eve of the pope's arrival, 27 people were killed in Central Equatoria state, where the country's capital Juba is located, in tit-for-tat violence between cattle herders and a local militia.
"The process of peace and reconciliation requires a new start," the 86-year-old pontiff said in a speech at the presidential palace in Juba, calling for intensified efforts to end conflict in the world's newest nation.
"Future generations will either venerate your names or cancel their memory, based on what you now do," he told an audience that included President Salva Kiir, his rival and deputy Riek Machar, as well as diplomats, religious leaders and traditional kings.
"No more bloodshed, no more conflicts, no more violence and mutual recriminations about who is responsible for it, no more leaving your people athirst for peace," Pope Francis said.
The "pilgrimage of peace" is the first ever papal visit to South Sudan since the predominantly Christian nation gained independence from Muslim-majority Sudan after decades of war.
It follows four days in the Democratic Republic of Congo, where a brutal conflict in the mineral-rich east was high on the pope's agenda.
Crowds of people, who began lining the streets of Juba hours before the pope's arrival, cheered as his convoy drove along freshly tarmacked roads, with some kneeling as he waved to them.
Some wore traditional clothing or the garb of religious orders, while others ululated, blew horns and whistles, and sang hymns.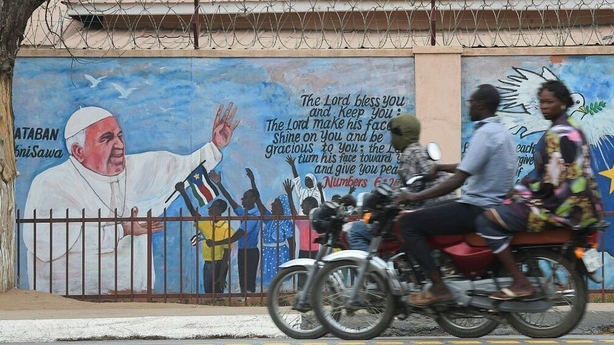 'Cement the peace'
As well as the political leaders, the pontiff is also expected to meet victims of conflict, and church officials, between prayers and an outdoor mass that is expected to draw large crowds.
The visit - Francis's fifth to Africa - was initially scheduled for 2022 but had to be postponed because of problems with the pope's knee.
The affliction has made him dependent on a wheelchair and has seen the itinerary pared back in both countries.
The Archbishop of Canterbury and the Moderator of the General Assembly of the Church of Scotland have also joined the pope in South Sudan, underlining the broad appeal of Christianity in the devout country of 12 million people.
Pope Francis promised in 2019 to travel to South Sudan when he hosted warring leaders President Kiir and Machar at a Vatican retreat and asked them to respect a hard-fought ceasefire for their people.
In scenes that reverberated in South Sudan, where 60% of the people are Christian, the Argentine knelt and kissed the feet of two foes whose personal armies had been accused of horrific war crimes.
But four years later, the country remains mired in intractable conflict.
Pope Francis tells the leaders of divided #SouthSudan that future generations will either venerate their names of cancel their memory, based on what they do now, and he issues an appeal "to leave the time of war behind and let a time of peace dawn."https://t.co/Uunb8CYYxd pic.twitter.com/UF15pOdyIn

— Vatican News (@VaticanNews) February 3, 2023
President Kiir said he hoped the visit would "push us over the line on our journey for (a) peaceful and prosperous South Sudan".
But in a sign of the challenges facing the nation, at least 21 people were killed in a cattle raid on the eve of his visit, in what authorities termed a reprisal attack in South Sudan's state of Central Equatoria.
Human Rights Watch (HRW) has urged the church leaders to put pressure on South Sudan's leadership to "address the country's ongoing human rights crisis and widespread impunity."
"They should also press South Sudan's leaders to take concrete steps to end attacks on civilians and to ensure accountability for serious abuses," Mausi Segun, HRW's Africa director, said in a statement released today.
'Brutal atrocities'
At the meeting with the pope, President Kiir announced that his government was willing to enter into peace negotiations with a coalition of rebel groups, which did not sign the 2018 agreement to end the civil war.
The government in November withdrew from the talks, which were brokered in Rome by the the Catholic Community of Sant'Egidio, which has ties to the Vatican.
Negotiations began in 2019 but have failed to curb violence in the south of the country.
The pontiff's visit follows a trip to Kinshasa, the capital of neighbouring DRC, the first time since 1985 that a pope has travelled to the deeply troubled country, which has Africa's biggest Catholic following.
Pope Francis slammed "brutal atrocities" after hearing harrowing accounts from eastern Congo, including testimony from victims of sexual violence and mutilation at the hands of militias.
---
Irish nun leads pilgrimage to see Pope Francis in South Sudan
---