As the Vatican prepares for the funeral of Pope Emeritus Benedict, security has started to ramp up in Rome.
With just a day to the funeral, increased police and military personnel are evident on the streets.
Yesterday, people continued to pay their respects to the former Pope at St Peter's Basilica and by noon, over 100,000 pilgrims had reportedly made their way through the building.
This evening, the Basilica will close to pilgrims for a final time.
While world leaders have not officially been invited to tomorrow's requiem mass, it doesn't mean they won't attend.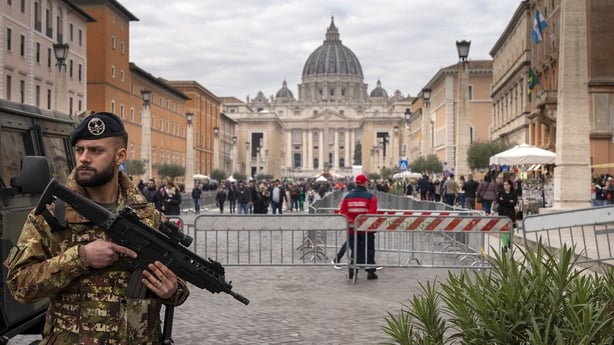 As was pointed out by one priest, people don't necessarily need an invite to a funeral.
If heads of state do turn up, it could create diplomatic difficulties for the Vatican in terms of seating arrangements.
Vatican protocol around such representation sees those longest in their roles sitting closer to the front of St Peter's Square.
Having presented her credentials to Pope Francis late last year, tomorrow's funeral will be the first major event for Ireland's Ambassador to the Holy See, Frances Collins.
She will join newer counterparts from Lithuania and the Netherlands in seated positions behind those who are in Holy See diplomatic roles for longer.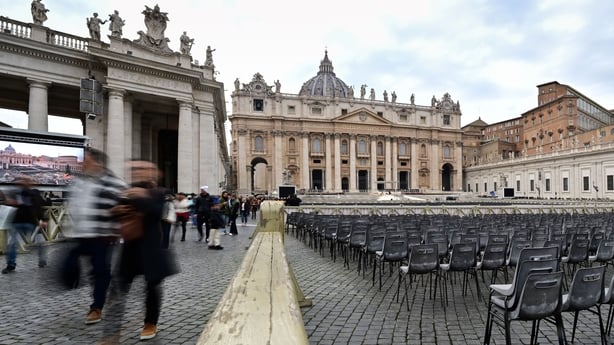 Protocol is something the Vatican does well, but tomorrow's funeral is unprecedented.
While it may resemble a papal funeral, there will be differences, some of them evident, others more subtle.
Usually, a papal funeral is presided by the dean of the College of Cardinals, but in this case Pope Francis will lead it.
The dress code will be "business". This is a remove from the normal coat and tails for men for example.
While the coat and tails stipulation for meeting a pope has been relaxed in recent years, the business-wear edict is viewed as an interesting direction by the Vatican.
Yesterday, it released the booklet for the mass which includes readings in Spanish, Latin, English and Italian.
The Vatican said elements more relevant to the death of a reigning pope had been taken out and some portions added.
Pope Emeritus Benedict requested that he wanted a simple funeral and ultimately it will echo funerals of all Catholics - a requiem mass with the committal and blessings of the remains followed by a burial.
There to witness it along with dignitaries, will be members of the clergy.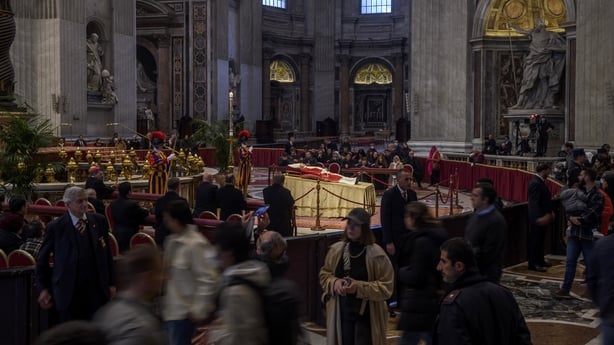 Most of those travelling from Ireland, will be accommodated at the Irish College in Rome.
Speaking to RTÉ News, the Vice Rector, Fr Edmond Cullinan, said the role of the Irish College is to give hospitality to bishops and others who come to be part of the event.
He described the funeral as "a very historic moment" in the life of the Church.
"The thing about Pope Benedict - he made an important contribution theologically...his whole theology is Christ-centered and that's a good contribution he made."
The death of Pope Emeritus Benedict has offered a moment of reflection for the Catholic Church.
While his resignation caused a stir in 2013, it also opened the door to future resignations which Pope Francis has not ruled out.
Realistically, with popes living longer, the Vatican needs protocol in this regard also, and sources say consideration is likely to be led by Francis.
In the meantime, focus is on providing a dignified, solemn and simple ceremony tomorrow.
Right now, there is no great sense of mourning in Rome - testament perhaps to the long life lived by Pope Emeritus Benedict, his short time in the role and his staunchly conservative views.
Numbers filing into the Basilica have so far exceeded those estimated by city authorities representing the most devout catholics who have a true devotion to Benedict, to curious tourists absorbing this moment in history.
The chance to see the Pope Emeritus lying in state will end this evening before the funeral mass at 9.30am local time tomorrow (8.30am Irish time).
It will conclude with the remains of the Pope Emeritus being taken to grottos under St Peter's Basilica where his coffin will be put inside a zinc coffin, then a wooden case and buried.
He will be laid to rest in the tomb where St John Paul II had been buried before his beatification, a man with whom Cardinal Joseph Ratzinger worked with in the Vatican, for almost a quarter of a century.
Follow live coverage of the of the funeral mass of Pope Emeritus Benedict here and on RTÉ One, the RTÉ News Channel and RTÉ Player from 8am tomorrow.