Apple expects lower shipments of its premium iPhone 14 than previously anticipated following a significant production cut at a virus-blighted plant in China, dampening its sales outlook for the busy Christmas season.
Demand for high-end smartphones assembled at Foxconn's Zhengzhou plant has helped Apple remain a bright spot in a technology sector battered by consumer spending cutbacks amid surging inflation and interest rates.
But the factory in central China, which employs about 200,000 people, has fallen victim to China's zero-Covid-19 policy, with many workers fleeing the site.
Reuters last month reported that iPhone output could slump as much as 30% in November at Foxconn's Zhengzhou factory - one of the world's biggest - due to Covid-19 restrictions.
China has reported its highest number of new Covid-19 infections in six months, with disruption to the world's second-largest economy spreading nationwide since October.
At the weekend, health officials said they would stick with strict coronavirus curbs, disappointing investors hoping for easing.
"The facility is currently operating at significantly reduced capacity," Apple said yesterday without detailing the scale of the reduction.
"We continue to see strong demand for iPhone 14 Pro and iPhone 14 Pro Max models. However, we now expect lower iPhone 14 Pro and iPhone 14 Pro Max shipments than we previously anticipated," it said in a statement.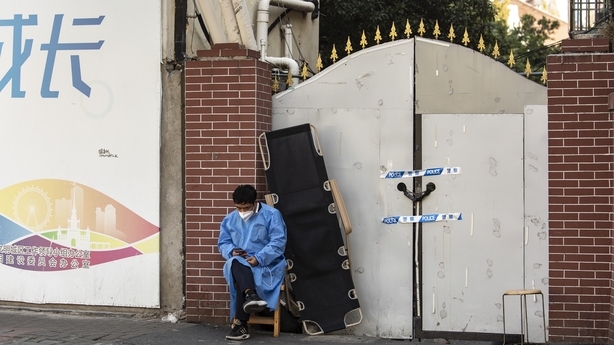 Virus high despite grinding lockdowns
Over the weekend the Chinese government quashed hopes that its strict zero-Covid policy - in which spot lockdowns, quarantines and mass testing are employed to quash outbreaks - might be relaxed any time soon.
But a torrent of lockdown-related scandals where residents have complained of inadequate conditions, food shortages and delayed emergency medical care have chipped away at public confidence.
The country has logged more than 5,600 new Covid cases - almost half in Guangdong province, a manufacturing hub in the country's south home to major ports.
China's National Health Commission vowed Saturday to "unswervingly" stick to zero-Covid, dashing a major stock market rally last week on the back of unsubstantiated rumours that Beijing would imminently loosen its strict virus policy.
But a number of high-profile incidents have chipped away at the Chinese public's support for the approach.
The death by suicide of a 55-year-old woman in the locked-down city of Hohhot, Inner Mongolia sparked widespread outcry over the weekend after authorities admitted that lockdown protocols delayed their emergency response.
The region has been in the grip of a major outbreak since late September, when a new Omicron variant was first detected.
Shortly before the woman jumped from a window, relatives had reported to community workers that she suffered from an anxiety disorder and had shown suicidal intent.
Audio of the woman's daughter begging community workers to unseal her door that had been welded shut went viral on Chinese social media, drawing attention to mental health crises exacerbated by weeks-long lockdowns.
"Who has the right to weld building gates shut? Who has the right to restrict others' freedom to live? What if there is an earthquake or fire, who is responsible afterwards?" read one comment on the Twitter-like Weibo platform.
Local officials have vowed to punish community workers who forcibly seal household doors and building gates with locks, despite it being widespread practice in locked-down areas.
The incident came days after a toddler in the locked-down city of Lanzhou, northwest China's Gansu province, died of carbon monoxide poisoning after the slow response of emergency medical services delayed hospital treatment.
In a viral social media post that was later deleted, the boy's father blamed lockdown controls and community workers for obstructing their access to hospital, while district authorities later apologised for the incident.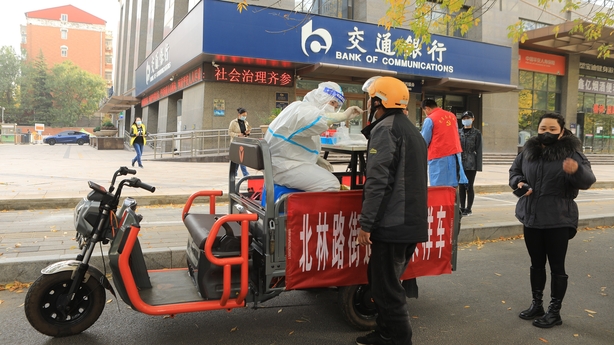 Meanwhile, market researcher Trend Force last week cut its iPhone shipment forecast for October-December by two million to three million units, from 80 million, due to the factory's troubles, adding its investigation found capacity utilisation rates around 70%.
Apple, which began selling its iPhone 14 range in September, said customers should expect longer waiting times.
Foxconn cuts outlook

Foxconn has declined to disclose the number of infections or comment on the conditions of those infected.
Today, it said it was working to resume full production at Zhengzhou as soon as possible. A person familiar with the matter told Reuters that Foxconn's target is by the second half of November.
At the request of the local government, Foxconn said it would implement measures to curb the spread of Covid-19, including restricting employee movement to between their dormitory and factory area.
The manufacturer has also began a recruitment drive, offering workers who left the plant during 10 October to 5 November a one-off bonus of 500 yuan ($69) if they returned.
It also advertised salaries of 30 yuan an hour, higher than the 17 to 23 yuan base salaries that some workers told Reuters they received.
The Zhengzhou Airport Economy Zone, which houses the iPhone factory, entered a seven-day lockdown on Wednesday with measures included barring residents from going out and only allowing access to approved vehicles.
Foxconn said the provincial government "has made it clear that it will, as always, fully support Foxconn".
"Foxconn is now working with the government in concerted effort to stamp out the pandemic and resume production to its full capacity as quickly as possible."