British Prime Minster Boris Johnson has said the UK is ready to take measures if necessary to "fix" the Northern Ireland Protocol with the EU.
He told a news conference in New Delhi that the protocol "really does not command the confidence of a large, large component of the population in Northern Ireland".
"We have to address that, we have to fix that," he said.
"We think we can do it with some very simple and reasonable steps. We have talked repeatedly to our friends and partners in the EU. We will continue to talk to them.
"But, as I have said many times now, we don't rule out taking steps now if those are necessary."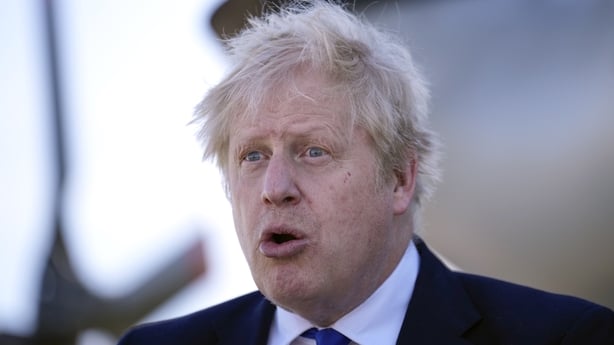 His comments come after a report in the Financial Times that claimed the UK government is planning legislation that would allow it to scrap parts of the protocol.
It is understood a new Bill could be announced as part of the Queen's speech, which sets out the government's programme of legislation. This is due on 10 May.
The EU and UK have been at loggerheads over the implementation of the protocol for months. London has been increasingly defiant, saying that EU proposals to make the protocol more manageable do not go far enough.
On Wednesday, the Brexit opportunities minister Jacob Rees-Mogg said London had the right to take unilateral action on the protocol if the European Commission did not move further.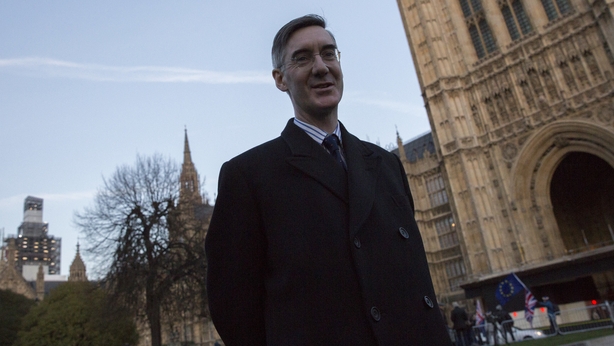 RTÉ News understands that British government lawyers have drafted legislation that would repeal a key provision of the EU Withdrawal Act, which enshrines the Brexit withdrawal treaty, including the Northern Ireland Protocol, in UK law.
By overturning Article 7a of the Act, ministers could then disapply parts of the protocol without facing action in the UK courts. This could include absolving the UK from carrying out checks on goods entering Northern Ireland from Britain - a key requirement of the protocol.
Such a move would be a clear breach of the Brexit treaty and international law.
The Financial Times has also reported that if the Stormont Assembly voted to keep the protocol in the consent vote in 2024, UK ministers could disregard the outcome, if this anticipated Bill were to become law.
The EU and Irish Government are expected to be furious at this latest reported move at a time when Europe is heavily preoccupied with the war in Ukraine and the associated energy and cost of living crises.
A spokesperson for the European Commission said the UK was "bound" by the legal obligations of the Withdrawal Agreement, and said that "only joint solutions" could provide certainty to people and businesses in Northern Ireland.
Asked about the Financial Times report, spokesperson Dan Ferrie said: "We are fully committed to working jointly with the UK government to find long lasting solutions in Northern Ireland to bring about long lasting certainty and predictability for people and businesses in Northern Ireland. Only joint solutions can do that - jointly agreed solutions.
"It's important to underline as well that our agreements - the Withdrawal Agreement, the protocol on Ireland and Northern Ireland - are legal obligations to which the UK are bound as much as we are," Mr Ferrie added.
He said that the EU had agreed changes to EU law in record time to ensure the free flow of medicines to Northern Ireland from Britain.
"Last October we came forward with a number of serious wide-ranging solutions for Northern Ireland. We've been working on them since and our intention is to continue working on these solutions with the UK over the coming weeks," he said.
This morning, Northern Ireland Office minister Conor Burns also said that Britain may have to take unilateral action to address problems in Northern Ireland caused by Brexit arrangements.
Speaking on LBC radio, Mr Burns restated the government's long-held position that unless the European Union was willing to engage in changing the existing deal, Britain might have to trigger powers set out within the Brexit deal to unilaterally apply safeguarding measures.
"That may be what we have to do," he said.
West unites against Russia despite NI Protocol threat
It comes as the Vice President of the European Commission Valdis Dombrovskis said there is enough flexibility in the European Union's approach to ensure the protocol is implemented as agreed.
Asked if renewed British threats to disapply part or all of the Northern Ireland Protocol – possibly through legislative change, as reported by the Financial Times – could undermine Western unity against the Russian invasion of Ukraine, Mr Dombrovskis said the EU had offered the British plenty of ways to make the protocol work.
Speaking in Washington, he said: "From the EU side we have shown lots of goodwill and lots of flexibility in proposing the UK so-called bespoke arrangements on providing additional flexibilities and procedural easings in the implementation of the Northern Ireland Protocol."
He made the remarks after a meeting with the US Commerce Secretary Gina Raimondo, which largely dealt with coordinated sanctions and export controls on Russia over its invasion of Ukraine.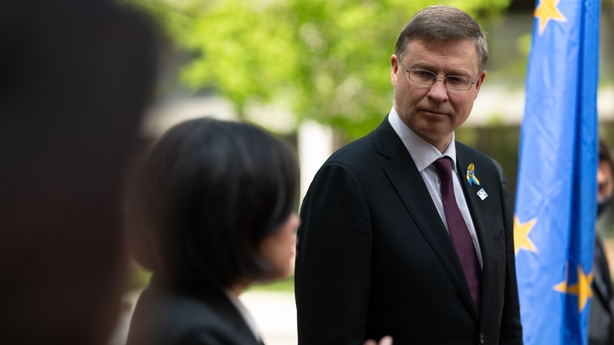 Secretary Raimondo had noted the unprecedented unity of action by the US and its European allies, including the EU and the UK.
She said: "It is clear that our joint actions are having an effect.
"We estimate that together, we have cut off over half of Russia's high tech imports, including semiconductors telecommunications equipment, lasers, avionics and maritime technologies."
Asked about the latest Brexit threat, Secretary Raimondo said: "At this point of time we have an unprecedented level of cooperation and collaboration with the EU, and I think with the UK, and we have aligned with such speed and determination in coming together on export controls and sanctions, to bring this war - Putin's war - to an end.
"And so I think that what you can hear loudly and clearly is that we're aligned like we never have been in recent times, and we're going to continue to work together in the spirit of unity, to stick up for our democratic values, the rule of law and our shared values around freedom."
Excellent meeting with @CommerceSec Raimondo.

Thanks to our joint collaboration, our sanctions have had a massive impact, hitting Russia's high-tech imports & reducing its ability to wage war.

We'll align further on export controls at the Trade & Technology Council in May. pic.twitter.com/aiAHlI0E8O

— Valdis Dombrovskis (@VDombrovskis) April 21, 2022
Secretary Raimondo and Executive vice President Dombrovskis were meeting as the Trade and Technology Council, a EU-US body set up last year to coordinate a joint approach to shaping global regulations on high technology products.
She said the joint work in the body allowed the EU and US to move very rapidly in introducing export controls on technology products that she said have weakened Russia's military industries, and its abilities to wage war.
"We believe that because of our joint US-EU export controls we have reduced high tech exports to Russia by more than half. No one of our countries acting by itself would have had that impact.
"The Russian military is struggling to find spare parts for tanks, satellites, rocket launching systems. We have denied them almost all semi-conductors, night vision goggles, avionics," she said.
She also hinted at more action to come, adding more products to the banned list and cracking down on countries that are not compliant with the technology export bans, though she said this was not directly the work of the TTC.
There will be a full meeting of the TTC council in Paris next month.
Secretary Raimondo said the TTC's work will include "updating and aligning our tech standards for things like cybersecurity, artificial intelligence, and shaping policies in areas like data governance and competition, supporting transatlantic supply chains".
She urged US politicians to pass the "Chips Act", to ensure more semi-conductors are manufactured in the USA "and on allied shores", in order to overcome supply chain difficulties and security of supply concerns.
Additional reporting: Sean Whelan, Reuters, PA