As Hungary's general election approaches tomorrow, its incumbent prime minister Viktor Orbán has been engaged in an impressive tightrope walk between East and West, a performance the polls suggest he could pull off.
But whilst this balancing act seems to be playing well now, he'll struggle to keep up this precarious performance in the long-term.
Widely seen as the closest ally of Russian leader Vladimir Putin in both the EU and NATO, he has adopted a safety-first stance when it comes to the war raging in neighbouring Ukraine.
His complete unwillingness to drag Hungarian people into the conflict, has already drawn direct criticism from the Ukrainian President Vlodymyr Zelenskyy who told Hungarians: "You have to decide for yourself, who you are with."
Mr Orbán has voted in favour of most EU sanctions against Russia, but is directly opposed to sanctions on energy imports, on which Hungary is particularly reliant.
He has refused to supply any military aid across its border and whilst he has condemned the war, he has done so, without directly naming Vladimir Putin.
This hasn't impressed many of his closest Eastern European neighbours.
The prime minister is also facing an opposition that has united for the first time during his twelve years in power, to try to defeat him.
The opposition candidate for prime minister, Peter Marki-Zay, is an independent who says the six-party alliance are determined to replace "the most corrupt regime Hungary has known in a millennium."
They are within touching distance, as most recent polls have shown the governing nationalist party Fidesz just two or three percentage points ahead.
However, the latest Median poll, conducted in late March and published by website Hvg.hu on Wednesday this week, puts support for the Fidesz party more comfortably ahead, with 40% of the vote, up from 39% in late February.
This poll shows the opposition alliance at 32%. Close to 20% of voters are still undecided.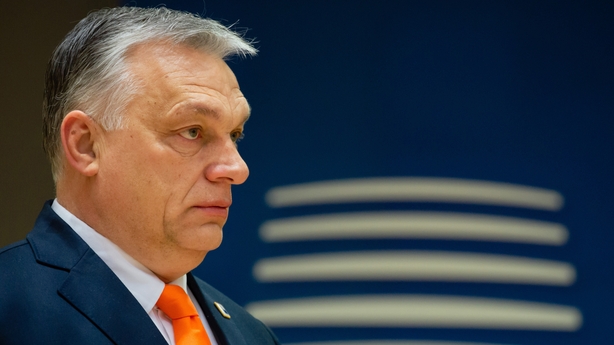 The six parties in the opposition straddle a wide political spectrum: the Democratic Coalition, the Socialist Party, liberals, greens along with the formerly far-right Jobbik party, which has moved to the centre.
"United for Hungary" is hoping that one of a number of missteps could ultimately throw Mr Orbán off balance.
However the rag tag nature of the group and Hungary's electoral system means they are unlikely to succeed.
Whilst strongman leader Mr Orbán looks set to return to power, he'll face four big challenges which could throw him off balance.
Challenge 1: Appearing to side with Russia in an unpopular war
"The war was originally thought to be an open goal for the opposition," says Peter Murphy, an Irish journalist based in Budapest, who works for the news agency AFP.
Instead, the opposition's message doesn't seem to have resonated as strongly with the general public.
Opposition candidate Mr Marki-Zay has said that Hungary must decide between two worlds: Mr Putin's Russia or the liberal West.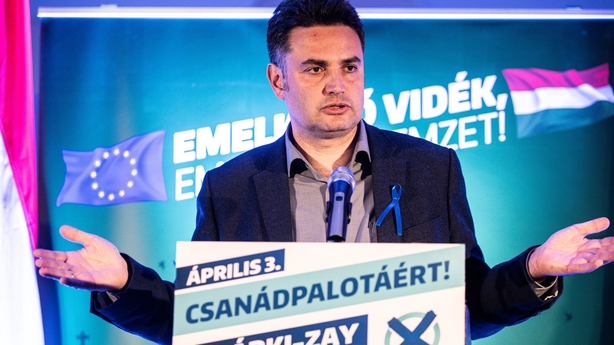 He has often sought to cast Mr Orbán as Hungary's Putin and in a recent interview with the New York Times, he said: "Putin and Orbán belong to this autocratic, repressive, poor and corrupt world…. we have to choose Europe, West, NATO, democracy, rule of law, freedom of the press, a very different world. The free world."
But instead of this tactic inflicting expected damage on Mr Orbán, his ambivalent stance on the war seems to have worked to his advantage.
"The presumed wisdom, when the war broke out, was that this was going to be really bad for Orbán, because he'd be unable to hide his close connections to Putin," says Mr Murphy.
"He'd been in Moscow visiting Putin, just three weeks before the war broke out and there was no way he could hide that."
But following several days of confused communication, he says the Fidesz election team went back to the drawing board and came back with a new message to turn things around.
This message played on the fears of Hungarian families that by taking a stance on the war, their young people could be sent off into combat, in support of their neighbours in Ukraine.
"What they did was really effective.… the solution they found is that rather than casting the whole narrative as a kind of East versus West, which is what the opposition has done, Orbán recast the whole thing, saying the opposition is 'pro-war,' we're 'pro-peace," says Mr Murphy, who adds that this was a particularly impressive feat for a man who has constantly portrayed himself as fighting battles with a list of perceived enemies.
Whilst other European leaders have been queueing up to associate themselves with Ukraine's war-time leader Volodymyr Zelensky, not so Mr Orbán.
And in his video address last Friday to a summit of EU leaders, Mr Zelenskyy made a direct appeal to Mr Orbán to take a clearer stance on the war with Russia.
He said: "Listen, Viktor, do you know what's going on in Mariupol?"
Referencing Budapest's own experience of war in the 20th century, Mr Zelensky referred to a memorial of bronze shoes on the banks of the Danube river.
The sculpture pays tribute to the Hungarian Jews, executed by German and Hungarian fascists in World War II. They were required to take their shoes off, before they were killed.
Mr Zelenskyy said: "Mass killings can happen again in today's world. That's what Russia is doing today."
In response to his speech, protesters in Hungary, many of them Ukrainian, gathered over the weekend to place new shoes, close to the memorial, in a show of solidarity with those suffering in Ukraine.
The opposition leader tweeted a picture of the photograph and said the people of Hungary had heard President Zelensky's words: "We shall never forget. I look forward to the day when I can meet you here in person on the banks of the Danube, to exchange thoughts on the EU future and peaceful coexistence of our nations."
The people of 🇭🇺 heard your words, Mr. President @zelenskyyUa ! We shall never forget. I look forward to the day when I can meet you here in person on the banks of the Danube, to exchange thoughts on the 🇪🇺 future and peaceful coexistence of our nations.
(Photo credit: Euronews) pic.twitter.com/cWDhRx7Q3h

— Márki-Zay Péter (@markizaypeter) March 28, 2022
However, the criticism of Hungary did not play out as well among traditional Fidesz party voters, particularly those who get their news from State media.
"In pro-Orbán circles, Zelensky has been attacked very fiercely with articles saying: 'Hands off Hungary'; leave us alone; it's nothing to do with us; we've been helping the refugees. Why are you bullying us?," says Mr Murphy who adds that some pundits have gone even further in their attack on President Zelensky, branding him an agent of the US, who started the war.
Despite a relatively strong message, the opposition doesn't have the same media platform to get its message out, either through state-sponsored media or through the thousands of election billboards that have appeared across Hungary.
The opposition alliance says it has 2,000 billboards nationwide, compared with more than 20,000 for Fidesz.
"The opposition have been very clear, condemning Russia's aggression in Ukraine and essentially framing the election as a choice between ensuring that Hungary belongs to Europe and the West or risking that it falls, not directly in the hands of Putin, but becomes associated with Putin," says Zsuzsanna Vegh, a researcher at the European University of Viadrina in Frankfurt and an Associate Researcher at the European Council on Foreign Relations.
Challenge 2: Alienation within the EU
One of the problems facing Mr Orbán's government is that the more that it sides with Russia, the more it risks becoming isolated within the EU.
Relations have cooled recently with its closest allies, the Visegrad alliance of four Central European countries, which as well as Hungary, include Poland, the Czech Republic and Slovakia.
"Trust is already very much broken," says Ms Vegh.
A meeting of defence ministers from the Visegrad group which was planned for this week was called off, over concerns expressed by Poland and the Czech Republic over Hungary's stance on Russia's war in Ukraine.
Ms Vegh says Hungary will need the support of these regional allies, particularly when it comes to its battle with the EU over rule of law disputes.
In February, both Hungary and Poland lost their court challenge to an EU rule, that allows billions of euros of funding to be conditional on the application of democratic standards.
Both the governments of Hungary and Poland have been widely accused of backsliding on rule of law standards in recent years and both had been relying on each other to argue their corner in order to protect their standings within the European Union:
"If the Orbán government stays in power, we can very much expect the continuation of the illiberal course domestically, and in order to protect the country's voting rights in the European Union the Orbán government is reliant on the support of the Polish PiS (Law and Order) government," says Ms Vegh.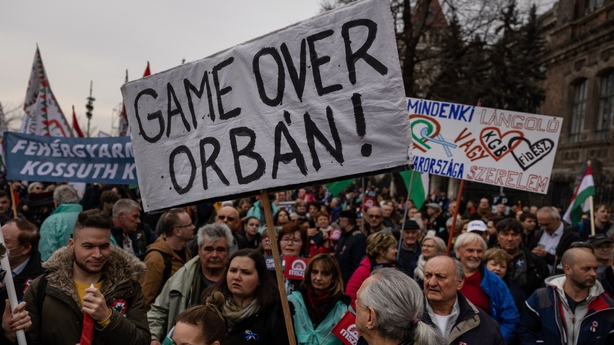 Many commentators have noted the contrasting stance between Poland and Hungary in its response to the war in Ukraine and the ensuing refugee crisis.
"Poland has been showing a very committed and constructive face towards Ukraine on a matter that is difficult for the European Union and for NATO," says Ms Vegh.
"This is an opportunity for Poland to somewhat redeem itself within the eyes of the Western allies, showing leadership in this crisis situation."
She says the opposite has been true of Hungary.
"Whereas we see Poland driving efforts, Hungary is very silent."
She says this is due to a different foreign policy direction the country was pursuing, before the Ukrainian conflict broke out.
Called "Eastern opening" or Keleti Nyitás, it looked towards Turkey and Asia, particularly China, to reduce Hungarian dependency on the West.
"Viktor Orbán is definitely in a difficult position now, because outright condemning Russia would essentially be an admittance of the failure of his foreign policy," says Ms Vegh.
But a weakened Russia, as this conflict drags on, could also further damage Hungary, which is hugely reliant on Russia for 85% of its gas and over 60% of its oil.
During Covid-19, it was also an exception in the EU, when it turned to Russia's Sputnik vaccine instead of relying only on the Western-made vaccines approved by the EU.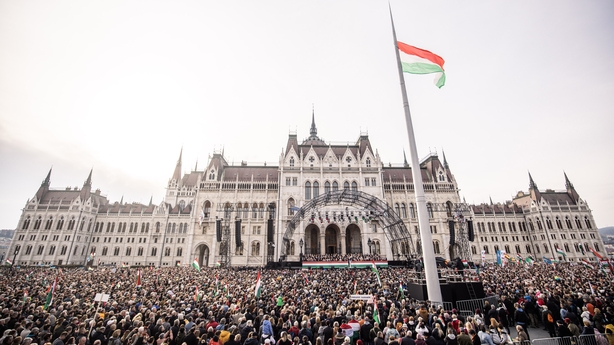 Challenge 3: An overspend and an economy out of control
In the early new year, ahead of this election Mr Orbán's government announced a giveaway budget, totalling almost €5 billion.
Since then, big rises in the cost of living and energy prices, partly due to the conflict in Ukraine, have left a big hole in the public finances. This will cause problems for whoever wins the election.
"This would be more of a challenge for an opposition government than for a Fidesz government," says Ms Vegh, particularly as Hungarian institutions are now heavily dominated by Fidesz appointees, following twelve years in power.
"It would make it difficult to push through any new budget or political programme," she says, potentially leading to early elections.
But Peter Murphy says this pre-election spending spree, could also spell trouble for Mr Orbán himself, even if he wins decisively.
"There is a theory abounding that whoever wins the election is going to get kicked out in six months, because of the crises that are just going to engulf whoever wins," he says.
The giveaway budget has included handouts to pensioners, and a hike in the minimum wage as well as tax rebates for young families.
Hungary's Finance Minister Mihaly Varga has already raised the prospect of a post-election budget overhaul, as Hungary's budget deficit grew last month to 1.585 trillion forints or €4.3 billion.
The impact of the war, dealing with a growing number of Ukrainian refugees and a lack of access to the EU's pandemic recovery fund, due to the ongoing row over democratic standards, are all likely to overwhelm the Hungarian economy.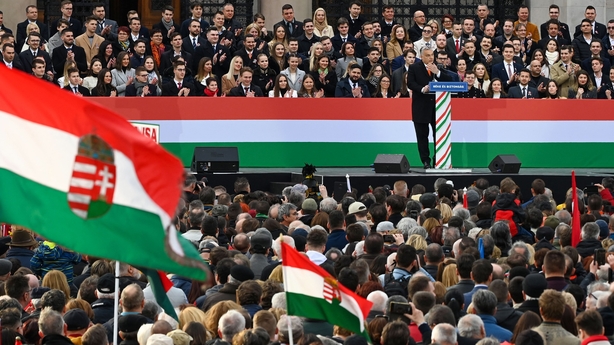 Challenge 4: A divided society and an uncertain outcome
A referendum on LGBTQ issues in also taking place in Hungary tomorrow, at the same time as the election.
Before the war in Ukraine broke out, it had been expected to be the "hot topic" issue that would dominate the campaign.
Instead, Mr Murphy says: "It has now become almost entirely irrelevant."
Voters are being asked to give their view on legislation brought in by the Fidesz party that limits the ability of schools to include homosexuality and transgender issues in their teaching.
The Fidesz party has framed it as a child protection measure, but Brussels has said the new law is discriminatory and contravenes European values of tolerance and individual freedom.
"It was a political product that was cooked up to try to create another target," says Mr Murphy.
Ms Vegh agrees, saying: "This referendum is more about gathering support for Fidesz policies, some of which they have already adopted, rather than a genuine choice for people."
Instead of voting, some human rights groups in Hungary are encouraging voters to spoil their referendum papers, so the 50% threshold of voters needed to validate the referendum is not met.
Regardless of the outcome, it is yet another issue that is dividing the Hungarian public along party lines.
"The Hungarian population has never been as polarised over politics as it is now, with the opposition parties as one block and against the government party," says Ms Vegh.
"The current elections are very important and can be a turning point for Hungary."
She says if the Fidesz government gets back in, it is likely to become more extremist, "with ideological radicalisation, which we have definitely observed over the past four years, as well as further demolition of democratic institutions and checks and balances."
Amidst fears of abuses, the election is being closely watched for any signs of fraud.
The Organisation for Security and Co-operation in Europe (OSCE) has a full-scale monitoring mission in Hungary, only the second time it has done this inside a European Union country.
It says some of the concerns it identified during the 2018 election, have still not been addressed.
It is deploying 200 short-term observers in multinational teams of two, to monitor the opening of polling stations, the voting, the counting of ballots, and the tabulation of results.
A further 20,000 volunteer poll observers are being mobilised by the opposition to polling stations across Hungary.
Mr Murphy says the first-past-the post electoral system in Hungary means that a possible outcome of this election could be that the opposition wins the popular vote, but not the majority of the 199 National Assembly seats.
106 single-mandate constituencies are decided this way, with a further 93 MPs elected from a single nationwide constituency on a list system, mostly through proportional representation.
"That would really reveal the distortions in the system," he says, adding that people could take to the streets if the result is uncertain.
Observing the current atmosphere in Budapest, he says: "There's going to be a social crisis, things are just really beginning to bubble, not to mention if there is an unclear result, or one that is not accepted.
"You struggle to see a handshake happening on Sunday night. It's difficult to see this ending in a non-messy way."
The results of this election are expected to be known by late on Sunday evening.
Additional reporting Reuters and AFP