The general staff of Ukraine's armed forces have described Sunday as "a difficult time" for the military, saying Russian troops "continue shelling in almost all directions".
In an English-language post on Facebook, the general staff said defence force members in the Vasylkiv military air base south west of Kyiv were resisting artillery strikes and Russian attacks.
Earlier in the day, the focus of fighting on day four of Russia's invasion appeared to be around Ukraine's second biggest city, Kharkiv, which lies close to the Russian border in northwest Ukraine.
Russian forces have pressed into Ukraine from the north, east and south since beginning their invasion on Thursday, but have encountered intense resistance from Ukrainian troops, which has likely surprised Moscow, according to Western sources.
Russian forces in lightly armoured vehicles broke into the city of Kharkiv earlier today, according to the head of the regional administration, Oleg Sinegubov, with a reporter in the city hearing machine gun fire and explosions.
Mr Sinegubov later claimed that Ukrainian forces had repelled the attack and were back in control, with wrecked and abandoned Russian armoured vehicles later visible on the street.
In the south, the Russian defence ministry claimed that its troops had besieged the Ukrainian cities of Kherson and the city of Berdyansk in the southeast.
It also claimed that Russian troops had taken control of Genichesk, a port city along the Sea of Azov, and an airfield near Kherson.
None of the claims could be independently verified.
Russia has so far not succeeded in fully taking any major Ukrainian city and does not appear to have full aerial superiority, although its forces have been bearing down on the capital Kyiv.
"You are beginning to see the weaknesses on the battlefield... the fact that they haven't been able to occupy a city and hold on to it, that tells you something," Eliot A Cohen from the Center for Strategic and International Studies (CSIS) in Washington said.
---
Read More:
Ireland to 'constructively abstain' from EU arms package for Ukraine
'It is my duty': Ukrainians leave Ireland to fight
EU announces Russian aircraft, state media banned from bloc
---
A US official, speaking anonymously to reporters in Washington, said Russia had now deployed about two-thirds of the 150,000-strong combat force it had positioned on Ukraine's borders.
The apparent Russian plan to quickly seize the two largest cities, Kyiv and Kharkiv, has faltered because of "creative" resistance from Ukrainian troops and the Russians' own fuel and logistical support issues, the Pentagon believes.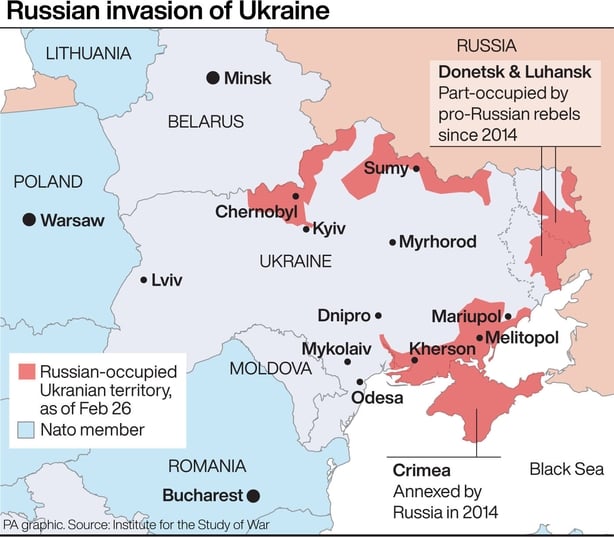 The main Russian force remains halted around 30 kilometres north of the capital, which remains in Ukrainian hands despite overnight firefights.
Border talks to take place
Ukraine said it would hold talks with Russia at its border with Belarus - near the Chernobyl exclusion zone - after a phone call between President Volodymyr Zelensky and Belarusian leader Alexander Lukashenko.
"The politicians agreed that the Ukrainian delegation would meet the Russian one without preconditions at the Ukraine-Belarus border, near the Pripyat River," Mr Zelensky's office said in a statement.
Mr Zelensky has said he will not hold talks with Russia on the territory of Belarus, where some Russian troops were stationed before invading on Ukraine's northern border.
But Kyiv said Mr Lukashenko assured Mr Zelensky that "all planes, helicopters and missiles stationed on Belarus territory will remain on the ground during the travel, negotiations and return of the Ukrainian delegation".
Russian President Vladimir Putin has said that a Russian delegation was currently in the Belarusian city of Gomel.
Moscow has wanted to hold the talks in Kremlin-aligned Belarus.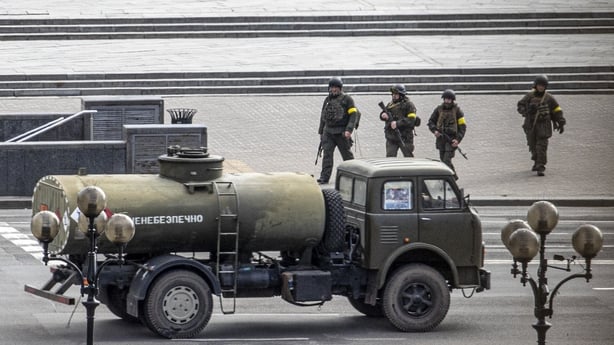 Mr Zelensky, refusing to travel to Minsk, said Kyiv had proposed "Warsaw, Bratislava, Budapest, Istanbul, Baku" as options to Russia.
Claims and counterclaims
The conflict has been marked by radically different versions of events from both sides.
Ukraine has claimed that 4,300 Russian troops have been killed and that many soldiers are surrendering.
The Kharkiv governor claimed that forces were abandoning their vehicles "in the middle of the road" and groups of them were surrendering to the army.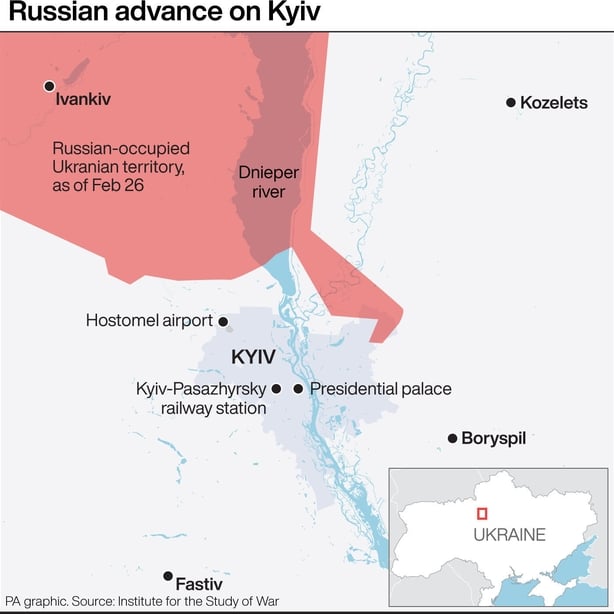 "Since the beginning of the attack on Ukraine, they have not received food and water," the governor claimed.
Russia admitted fatalities for the first time this afternoon, but did not say how many.
Defence ministry spokesman Igor Konashenkov claimed that Ukrainians were surrendering "en masse."
The Russian army said it had destroyed 975 military facilities in Ukraine and shot down eight fighter jets, seven helicopters and 11 drones.
What's next?
Western sources agree that days of fierce fighting loom for control of Kyiv with President Zelensky - who had insisted on staying in the capital - in physical danger.
Western intelligence officials believe that Putin's aim appears to be to divide Ukraine in two by taking control of Kyiv and the territory east of the Dnipro river.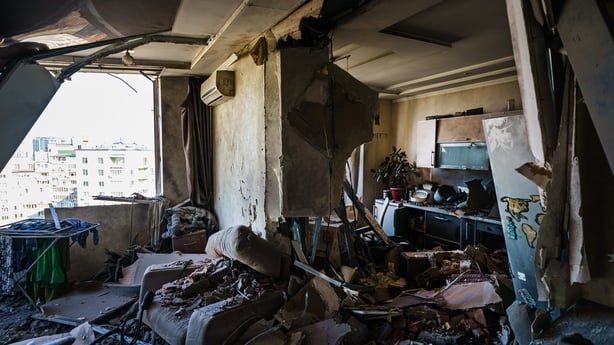 Fears are growing about the fresh firepower that Russia might bring to bear on territories currently defended by the Ukrainian army, with one-third of its invasion force on the border waiting, according to the Pentagon.
"That's a lot of combat power," the US official said.
He added that Russian forces appeared to be positioning to launch a siege on cities it has not quickly captured, specifically Chernihiv northeast of Kyiv, putting large populations of civilians at risk.
For a siege to be successful, the official said, "you basically by design are going to be targeting civilian infrastructure and causing civilian harm".