A group of volunteers living in Ireland have started a journey to Ukraine to help defend their home country.
The men - including husbands, fathers and sons - departed from Dublin Airport this evening for Krakow in Poland.
They plan to travel by car to the Ukrainian border to join the civilian resistance against the Russian invasion.
Pavlo Serdiuk, who is living in Cork, said: "it's my duty, you know, to my country. It's in war now, so I have to go there and do what I can."
Speaking to RTÉ News at Dublin Airport, the 23-year-old said: "I'm not going lie. I am scared to go there. The closer you get there, the more scared you are, but it is what it is."
Another man who lives in Dundalk with his family, who is known as Stanislov, said it is "heart-breaking".
"It is emotional, not just for today, it's emotional for the last three days when I made the decision," he said.
"There was plenty of tears in the house."
Vadym Binko was joined at the airport by his wife and young son and daughter.
"I have lived in Ireland for over 20 years. I love Ireland. My kids are Irish and my wife is here too. But Ukraine for me is my house as well," he said.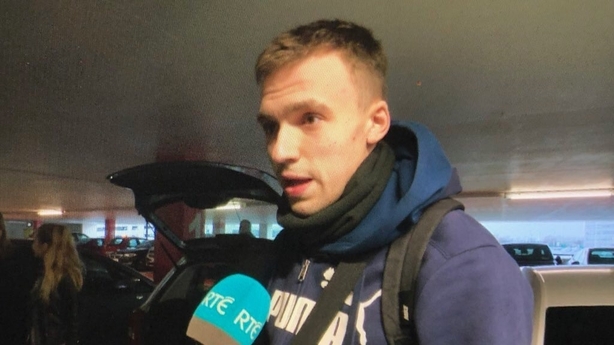 Maryna Binko said she felt scared for her husband but she said "at the same time, I feel that it is the thing which we must do and we need to support him as family."
Maksym Savych, who previously served in the Ukranian army for six years, said "it's important to go home to help fight the Russians".
He said he decided to go to the frontline "to help my friends, my family and my country".
Roman Protsenko, a father of two, said he was very emotional leaving his family to go to Ukraine.
However, he said "we are very united at this moment and we are very strong."
"They are on our land," he added.
When asked how she felt about her husband's decision, his wife Tetyana said "how do you think I feel? Of course I don't want him to go but I understand it."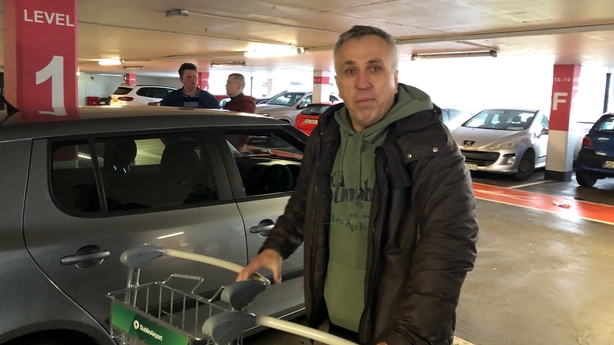 The men received donations of essential supplies from other members of the Ukrainian community in Ireland, as well as from Irish people.
The rations included helmets, flak jackets, batteries, sleeping bags and money.
The group travelling from Ireland are among those who have responded to an appeal from the Ukrainian President Volodymyr Zelensky for all those who can return to Ukraine, to come back to defend the country.