An Irish woman who spent eight months working at a Medicins Sans Frontieres hospital in Afghanistan has told an Oireachtas Committee today that some children now arriving at their feeding centre in Helmand Province are malnourished from the very first day of their lives.
Sarah Leahy from Dublin worked at the 300-bed Boost hospital in Lashkar Gah on the frontline of fighting in Afghanistan last year. Over the period of January to September 2021, she witnessed the transition of the government there as the Taliban gained power.
She told the Joint Committee on Foreign Affairs and Defence that the healthcare system in the war-torn country now risks total collapse, due to a lack of international support. Children under five are some of the worst affected due to acute malnutrition.
"The ripple effect of sanctions and other measures placed on Afghanistan's new government is being felt deeply nationwide," she said.
One of her colleagues, a local doctor called Mohammed who had worked at the hospital since 2010 told her of "a family who came from a town called Musa Qala, which was under Taliban control as far back as 2020 and from where only a few patients have ever reached us," she said.
"The family were very poor and struggled to find food while the young mother was pregnant. This is the same for many families now. There are no jobs and everything in the market is very expensive."
"When the baby was born, the young mother became very weak and couldn't breastfeed her child. The little girl was malnourished from the very first day of her life. Although we treat many patients for around three weeks, this little girl has now been with us in the feeding centre for three months. She is still weak, but I hope she will improve with our care," she told the Committee.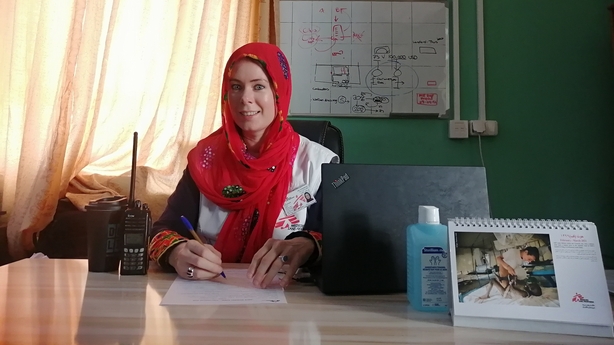 She said one of the main concerns at the hospital was that they were now running out of beds.
"At the moment, it's two families, one mother and one child to every hospital bed," she said.
The 300-bed hospital has at least 700 patients a day but sometimes must deal with up to 900 or even 1,000 patients daily.
Rules under the Taliban regime mean that if a woman comes to hospital, she must now be accompanied by a male family member.
"Because women can't come to the hospital unaccompanied ... they bring their children as well to the hospital, so this often puts huge pressure on the hospital."
She said feeding everyone in the hospital meant the kitchen could have to provide over 4,000 meals a day.
However, she said only the sickest could be admitted and many had travelled to the hospital on foot - sometimes journeying for hours to get help for their children. Those who could not be admitted were offered other supports from hospital, she said.
As well as a shortage of beds and equipment, MSF is struggling to find enough doctors to work there too.
Ms Leahy told the Committee that the banking sector was paralysed and civil servants and others were not being paid and had no access to their life savings.
MSF has managed to remain in Afghanistan operating across five different locations, but the organisation says it is important that punitive measures against the Taliban are not allowed to make the crisis worse or potentially irreversible.
This week US and European diplomats began talks with representatives of Afghanistan's Taliban rulers on how to alleviate the ongoing humanitarian crisis.
Norway is facilitating the meeting although it and its NATO allies do not formally recognise the new administration.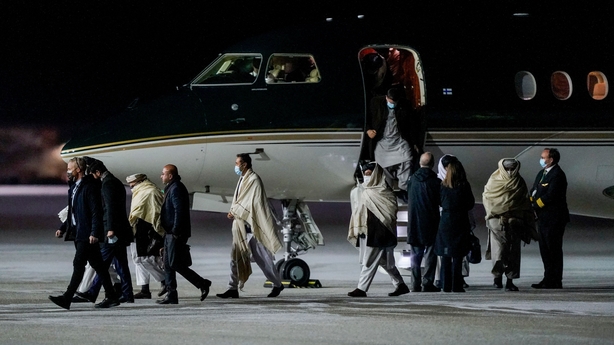 However, with millions of Afghans at risk of starvation this winter as poverty deepens, the US has spoken of the need for "clear-eyed diplomacy".
The talks have been criticised by some Afghan exile groups but Norwegian Foreign Minister Anniken Huitfeldt said the country's 39 million people were being overwhelmed by an economic collapse, the Covid-19 pandemic and drought.
"One million children may die of hunger if aid does not reach them in time, and an unfathomable 97% of the population may fall below the poverty line this year," she said.
At today's Oireachtas Committee, former justice minister and Committee chair Charlie Flanagan said the work done by MSF had been carried out in the most difficult circumstances and in an ever-changing environment.
Committee Member, Deputy Sorca Clarke for Sinn Féin said she had been struck by the testimony given, which she said had been an eye-opening experience and she congratulated the charity on recently reaching its 50th anniversary at the end of last year.
MSF Ireland Executive Director Isabel Simpson said that despite reaching this anniversary there was little to celebrate as humanitarian needs remained as great as ever. She told the Committee that the Covid-19 pandemic had made the situation even more complex for communities and medical staff on the ground at all its project locations.
She called on Ireland to support the TRIPS waiver proposal at the World Trade Organization (to waive intellectual property rights protections to vaccines); to ramp up production and distribution of Covid-19 vaccines; and other medical tools such as antigen tests and PPE "in the interests of bringing a truly global end to the pandemic".
She said 12 Irish staff were currently working in projects overseas, many having stayed abroad during the pandemic. The charity has 16 staff based in Dublin and she said 100% of its income was generated privately here through "the very generous support of the Irish public".
Additional reporting: Reuters