Minister for Foreign Affairs Simon Coveney has said he is hopeful that progress can be made in February between EU and UK negotiating teams on the Northern Ireland Protocol.
In relatively upbeat remarks about the talks this morning in Brussels between the EU's chief negotiator Maroš Šefčovič and his UK opposite number Liz Truss, Mr Coveney said the mood was "quite good".
"Everyone is conscious that February is important in the context of these discussions, and I think that hasn't changed," he told reporters.
He also paid tribute to the commitment of the British Foreign Secretary to the process.
"I think it's important to really welcome Liz Truss's personal engagement in these discussions. She travelled directly from Australia to Brussels to meet Maroš Šefčovič today, and I think that says a lot in terms of her interest in trying to advance things," he said.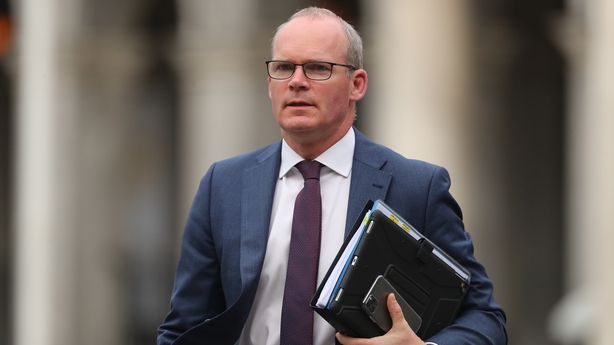 Mr Coveney said that the two chief negotiators would hold a meeting of the EU UK Joint Committee in February to assess progress.
He said this was a good sign as it "created a platform for some form of agreement at that point".
Following a meeting with Mr Šefčovič, Minister Coveney said there were big gaps between both sides.
The focus in the coming weeks would be on agri-food checks and customs formalities. Both sides had different perspectives on how to reduce the scale of checks.
"When I speak to businesses in Northern Ireland, what they want is a reduction in checks," he said.
"They want differentiation between goods that we can show are staying in Northern Ireland in terms of purchase on consumption, and goods that otherwise might be coming south across the border into the EU."
Mr Coveney said the sharing of data by the UK would be key in reassuring the EU that the integrity of the single market was not being threatened.
"We need to show a bit of patience here and allow the negotiating teams to try to advance areas where they can find agreement," he said.
He added: "I hope we will be able to make progress in that space. And I think if we do, there are opportunities for compromise in February."
In a joint statement issued earlier today, Ms Truss and Mr Šefčovič said there was a "constructive atmosphere" and they will meet again next week.
Officials will carry on talks this week before Mr Šefčovič and Ms Truss meet to take stock of the situation.
Ms Truss said the "teams continue intensive discussions".
The joint statement said today's meeting "took place in a constructive atmosphere with the aim to advance the talks".
The joint statement said Ms Truss and Mr Šefčovič "reaffirmed their shared desire for a positive EU-UK relationship underpinned by our shared belief in freedom and democracy, and co-operation on common global challenges".