The European Union's top diplomat Josep Borrell has expressed his frustration that the bloc has not been able to react properly to what he said were "large scale human rights violations" in Ethiopia.
He said the EU had not been able to stop "mass rapes using sexual violence as a war arm, killings and concentration camps based on ethnic belonging".
He said this was due to a lack of unanimity in the European Council.
The United Nations Human Rights Council will hold a special session on Friday on the "grave" situation in Ethiopia at the request of the European Union, according to a UN statement issued today.
The request was supported by the required one-third of the forum's 47 member states as well as by observers including the United States, it said.
A draft EU resolution being presented condemns violations committed by all sides in the conflict in Ethiopia's northern Tigray region, which UN rights chief Michelle Bachelet said last month may amount to war crimes.
If adopted, it would set up an international commission of human rights experts on Ethiopia to investigate further and report back after a year.
Minister for Foreign Affairs Simon Coveney, who was also in attendance at the meeting, said this ongoing crisis in Ethiopia was one Ireland had wanted to bring to the fore.
Minister @simoncoveney is attending today's 🇪🇺 Foreign Affairs Committee. Among the items on the agenda:

➡️ EU-Africa Relations
➡️ Ukraine
➡️ Belarus
➡️ Ethiopia#FAC pic.twitter.com/SerOxmsTrs

— Ireland In The EU (@IrelandRepBru) December 13, 2021
Speaking ahead of today's summit, Mr Coveney said it was "having a devastating impact on people across Ethiopia. Responding to the acute humanitarian crisis must remain our priority and unimpeded humanitarian access is a critical and urgent requirement".
He said Ireland believed that proposals for additional collective financial and political measures to incentivise the parties towards a ceasefire and political dialogue should be considered, adding that: "Regional leaders have a vital role to play in promoting peace and we strongly support the efforts of African Union Envoy, former Nigerian President Obasanjo, and of President Kenyatta of Kenya to mediate a way forward."
Mr Borell said that the migrant crisis in Belarus was an example where member states had worked together "through intense diplomatic reach out," to be able to stop the flow of migrants to European borders.
He said these people had "been cheated" and sent there with false promise of making their way to Europe.
"This shows when we act together united we can achieve results," he said. EU foreign ministers meeting in Brussels have agreed that any Russia aggression against Ukraine would trigger economic sanctions on Moscow.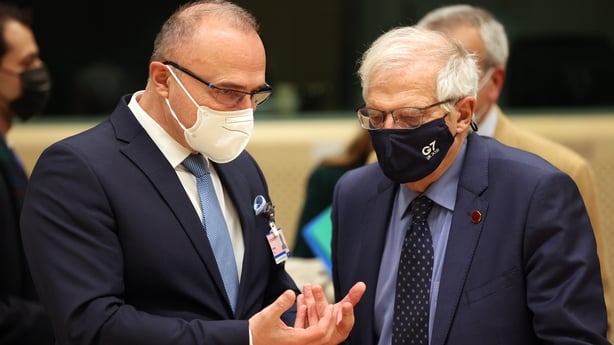 In a speech, Mr Borrell said: "The European Union stands united in support of Ukrainian sovereignty and territorial integrity.
"The ministers, all of them, have been very clear today that any aggression against Ukraine will come with political consequences and with a high economic cost for Russia," he said.
Addressing the meeting, he said he understood the situation that Ukrainian people were in.
"In this kind of situation, you have to expect the best and prepare for the worst and that's more or less what we are doing."
He added that in order to "expect the best," the EU was now in deterrent mode and he said members must try to work together to avert a crisis.
"To try to avoid any kind of military action to start happening, because once it is started it is very difficult to stop," he said.
Commenting on a decision this month to by the European Council to give €31 million in security aid to Ukraine's armed forces, he said: "We are supporting, but the most important thing now is to prevent, to deter, to persuade."
The issue of a possible boycott of the forthcoming Winter Olympics in Beijing was not discussed at today's meeting.