The World Health Organization has warned that the new Covid-19 Omicron variant poses a "very high" risk globally, despite uncertainties about the danger and contagion levels of the new strain.
The UN health agency said the Covid strain first discovered in southern Africa was a "highly divergent variant with a high number of mutations... some of which are concerning and may be associated with immune escape potential and higher transmissibility".
"The likelihood of potential further spread of Omicron at the global level is high," WHO cautioned in a technical note.
To date, no deaths connected with the Omicron variant have been reported, it added.
But even if the new variant does not prove more dangerous or deadly than previous ones, if it spreads more easily it will spark more cases and more pressure on health systems, and thus more deaths, the organisation said.
"If another major surge of Covid-19 takes place driven by Omicron, consequences may be severe," it said, concluding that "the overall global risk related to the new VOC (variant of concern) Omicron is assessed as very high".
We need your consent to load this rte-player contentWe use rte-player to manage extra content that can set cookies on your device and collect data about your activity. Please review their details and accept them to load the content.Manage Preferences
WHO said countries should enhance their surveillance to try to get a clear overview of where and how fast it is spreading.
It also urged accelerated vaccination against Covid, especially among vulnerable populations who have yet to receive any jabs.
But it has cautioned against imposing travel bans, fearing that blocking travel from countries where new variants are first spotted could be unfair and dissuade surveillance.
"With the Omicron variant now detected in several regions of the world, putting in place travel bans that target Africa attacks global solidarity," said WHO regional director Matshidiso Moeti.
Minister for Health Stephen Donnelly said "it is likely" that the new Covid variant is in Ireland.
Today, Scotland announced six cases of the Omicron variant, while Portugal and Switzerland also detected it.
Australia halted plans to reopen its international borders to skilled workers and students, and a growing list of countries have already imposed travel restrictions on southern Africa.
Pfizer working on Covid vaccine targeting Omicron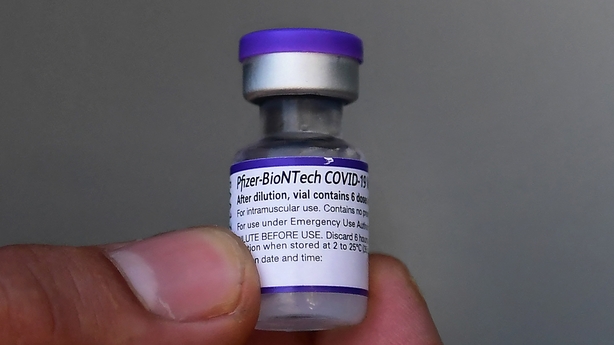 Pfizer has already started working on a version of its Covid-19 vaccine specifically targeting the Omicron variant in case the current inoculation is not effective against the new strain.
The company's CEO Albert Bourla told CNBC that his company on Friday began testing the current vaccine against the Omicron variant.
"I don't think the result will be the vaccines don't protect," Mr Bourla said.
But the testing could show that existing shots "protect less," which means "that we need to create a new vaccine," Mr Bourla added.
"Friday we made our first DNA template, which is the first possible inflection of the development process of a new vaccine," he said.
Mr Bourla likened the situation to the scenario earlier this year when Pfizer and its German partner BioNTech developed a vaccine in 95 days when there were concerns the previous formula would not work against Delta, though that version ultimately was not used.
The current vaccine is "very effective" against Delta, the executive said, adding that the companies expect to be able to produce four billion vaccine doses in 2022.
Mr Bourla said he was also "very confident" that Pfizer's recently unveiled antiviral pill would work as a treatment for infections caused by the mutations, including Omicron.
Among newly-infected, high risk patients treated within three days of the onset of symptoms, Pfizer's pill has been shown to cut hospitalisation or death by nearly 90%.
South African doctor discusses Omicron symptoms
Dr Angelique Coetzee, a South African doctor who raised the alarm over the Omicron variant, said the infection appears to be presenting in younger people with very mild symptoms.
However that picture might change going forward, she warned.
She said that she has diagnosed five people with covid today - three under the age of 13 and two under the age of 35 - and none were very ill.
Dr Coetzee, the chair of the South African Medical Association, said none of the patients she saw today were vaccinated, but patients that she saw on Friday were vaccinated and also presented with very mild symptoms.
She told the News at One that the virus is quite transmissible but, for now, the virulency of the new variant is mild.
Dr Coetzee said she believes the travel restrictions are unjustified.
This variant is only recently detected, she said.
She said around 40% of adults in South Africa have been vaccinated and she would like to see more people vaccinated.
Call for systematic approach over vaccine delivery to developing countries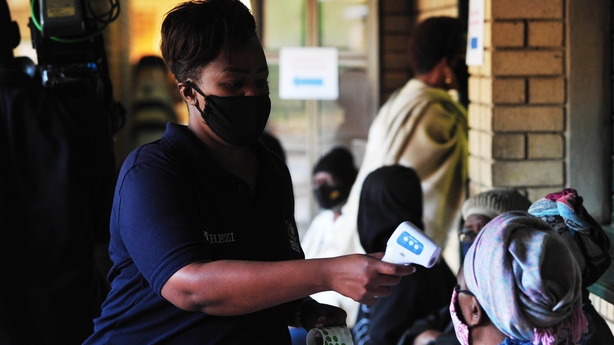 The Executive Director of UNICEF has called for a much more planned and systematic approach in the delivery of vaccines to developing countries, otherwise the current process is more likely to lead to the sort of variants that are being faced now.
Speaking on RTÉ's News at One, Peter Power said certainty of vaccine supply and massively increased volumes are needed.
He said UNICEF also needs advance notice of ten weeks and when the vaccines arrive in the country, they have a shelf life of four weeks which, he said, is just not happening at the moment.
Mr Power said a lot of the vaccines which have been donated to Covax have a very, very limited shelf-life and it is very difficult to administer these in countries with very fragile health systems.
He said the vaccines donated by very wealthy countries have been welcome but have been "delivered on a very ad hoc basis and a very bilateral basis".
Covax is co-led by the WHO, the Gavi vaccine alliance and the Coalition for Epidemic Preparedness Innovations, with UNICEF using its vaccine logistics expertise to handle the delivery flights.
Under Covax, the 92 poorest countries can access jabs for free, with donors covering the cost.
'No evidence' to suggest Omicron causes more severe illness
The head of the molecular pathology department at Lancet Laboratories in Johannesburg, where the Omicron variant was discovered, has said that a substantial rise in the positivity rate of Covid was noted over a two to three-week period.
Speaking on RTÉ's Morning Ireland, Dr Allison Glass said South Africa had previously been in a low prevalence period.
Symptoms seen in Omicron cases are mild and, as yet, there is no evidence to suggest this variant causes more severe illness than previous versions, she said.
Dr Glass said infections in vaccinated people have been noted but these people are reporting either no or mild symptoms.
She said she was optimistic that the vaccine will continue to provide protection against disease and especially severe disease.
Not a lot of information on new variant yet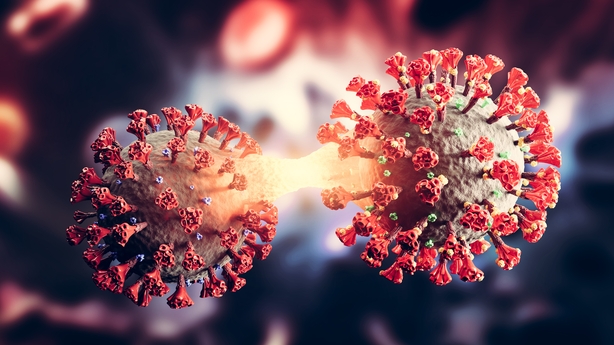 Meanwhile, a Professor of Clinical Microbiology with the Royal College of Surgeons in Ireland, said air travel means it is inevitable that there will be cases of Omicron in Ireland.
Speaking on RTÉ's Morning Ireland, Professor Fidelma Fitzpatrick said there is not a lot of additional information about the new variant yet and the detail behind the decision to make it a variant of concern remains to be seen.
While there has been an increase in cases, she said, it is unknown yet as to whether it can outcompete the current Delta strain.
Prof Fitzpatrick, a Consultant Microbiologist with Beaumont Hospital, said sequencing gives additional information and asks how alike all the various strains of Covid are.
She said that around 10% of Covid tests are routinely testing for sequencing, adding that sequencing is expensive and time consuming whereas PCR testing can be done in every lab.
---
---