Thousands of migrants are camped out close to the Poland-Belarus border in dire conditions aiming to cross into the European Union, in a crisis that began over the summer, and one the EU says was engineered by Minsk in retaliation for sanctions.
The daytime temperature in Kuznica hovers around five degrees, but at night, temperatures will soon fall below zero, as thousands of people sleep in tents or under the cover of trees, their children wrapped up against the cold.
Most are said to be Iraqi Kurds, trying to enter Europe to make a new life. They are often dismissed as "economic migrants" who may not be granted asylum in the EU, yet they are willing to travel thousands of miles from home, infants in tow, to try to improve their lives.
The border crisis has been escalating in recent weeks, currently centred on the frontier between Belarus and Poland.
"We will not hold anyone. We are not their final destination after all. They are headed to the enlightened, warm, cosy Europe" - Alexander Lukashenko
Thousands of people (estimates vary from 2,000-3,500) are waiting on the Belarus side of the Polish border, where some have been filmed attempting to breach fences made of barbed wire or razor wire.
Poland says it now has 20,000 border guards, soldiers and police officers stationed in the area, where the Kuznica border crossing has been closed.
On Tuesday, authorities used water cannon and teargas on people, with some retaliating by throwing stones and other improvised missiles.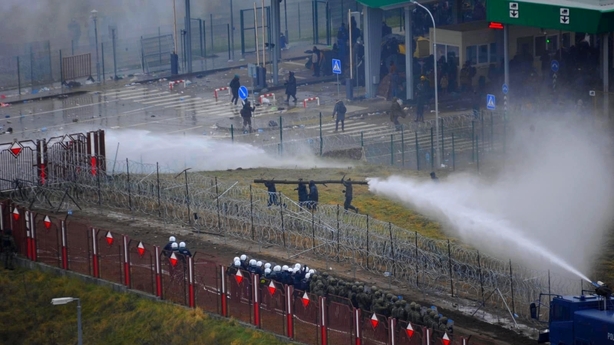 Other EU countries that share borders with Belarus, like Latvia and Lithuania have been complaining of increased, irregular flows of migrants since the summer.
By 1 August, Lithuania had detained 287 people attempting to cross the border, more than the number detained in 2018, 2019 and 2020 combined.
The member states argue that they are not just protecting their own borders with Belarus, but that they are guarding the frontier to the European Union. Europe has been critical of Poland for not using the European border agency, Frontex, to assist them, and there have been calls for European funding not to be used on razor wire.
---
Read More:
Belarus agrees to hold talks with EU over border migrant crisis
Poland fires tear gas, water cannon at migrants on Belarus border
Belarus threatens EU gas supplies over new sanctions
---
However the EU has in recent weeks been speaking with a more united voice, with the EU's High Representative for Foreign and Security Policy, Josep Borrell, accusing the Lukashenko regime of "turning human beings into projectiles hitting the border."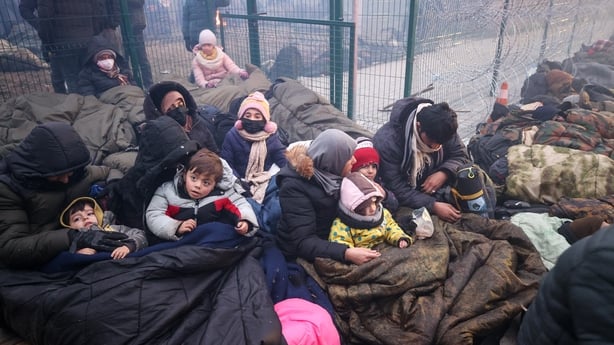 For months, EU member states have accused Belarusian President Alexander Lukashenko of using migration as a weapon to hit back at the EU for its imposition of sanctions on the country.
The regime stands accused of coordinating flights for people to Minsk via Turkey from places like Iraq and Syria, helping them with visas and even busing them to the border. Witnesses told Reuters that thousands of people were assisted by travel agencies in the Middle East working in partnership with tour operators in Belarus.
Flights from Istanbul to Minsk on Belarusian airline Belavia more than doubled between February and March of this year, while a similar increase was seen on the same route operated by Turkish airlines.
In October, both airlines flew a combined 124 times to Minsk.
The EU has recently moved to counter that. Amid pressure from Brussels, Baghdad suspended flights from Iraq to Minsk this autumn. While earlier this month, Belavia and Turkish Airlines confirmed they would no longer take passengers from Yemen, Iraq or Syria to Minsk, except for diplomats.
Today, Lebanon has instructed its airlines to restrict flights to Belarus, while Belavia has stopped allowing citizens from Afghanistan, Iraq, Lebanon, Libya, Syria and Yemen to board flights from Uzbekistan's Tashkent to Minsk.
The airlines had previously argued they could not turn passengers away based on their nationalities as they were flying with legitimate visas.
The issue was further complicated from an Irish perspective by the fact that Belavia's fleet is significantly made up of planes leased through Ireland. Previously, Ireland had said that the leasing of aircraft for flying such migrants couldn't be interrupted for contractual reasons, however this stance has changed.
Since October 2020, the EU has progressively imposed restrictive measures against Belarus. The measures were adopted in response to what the EU called the "fraudulent nature of the August 2020 presidential elections", and the intimidation and violent repression of peaceful protesters, opposition members and journalists.
'Europe's Last Dictator'
Further sanctions were approved after Belarus ordered a Ryanair plane bound for Vilnius in Lithuania to be re-routed to Minsk, falsely claiming it had received a bomb threat. Upon landing, Belarusian authorities arrested 26-year-old Roman Protasevich, a vocal critic of the regime. At the time, Lukashenko threatened Europe saying "we stopped drugs and migrants. Now you will eat them and catch them yourselves."
In July, after the new sanctions were imposed by the EU on Belarus, state media quoted Lukashenko as saying: "If someone thinks that we will close the border with Poland, Lithuania, Latvia...and become a filtration camp for fugitives from Afghanistan, Iran, Iraq...they are mistaken at least.
"We will not hold anyone. We are not their final destination after all. They are headed to the enlightened, warm, cosy Europe.
"On the one hand, Europe invited them (there are not enough workers). On the other, they have destroyed these countries. They effectively ruined Afghanistan and withdrew their troops."
Often referred to as "Europe's last dictator", Alexander Lukashenko is known for crushing dissent in Belarus, which he has presided over since 1994 when the office of president was created.
But the tit-for-tat between Belarus and Europe shows how migration can be used as a tool of modern warfare, with little thought for the impact on the people affected. At least eight, possibly 11 people, have died near the border in recent weeks.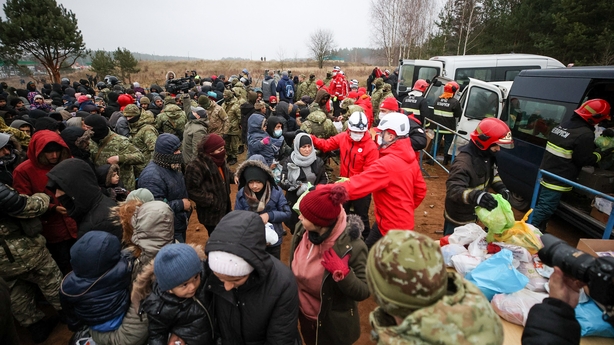 The matter is further complicated by the close relationship between Belarus and Russia. Moscow denies any direct role but has offered to mediate, while also demonstrating support for Lukashenko by staging military exercises jointly with Belarus near the border. Last week, Russia sent nuclear-capable bomber planes to overfly Belarus in a show of support for its close ally Minsk.
On Monday, for the first time since the brutal suppression of protests following his contentious election victory last year, Alexander Lukashenko held a phone call with German Chancellor Angela Merkel to discuss the growing crisis.
Critics said the call legitimised a discredited regime, but the call was repeated yesterday.
Following that call, the EU announced it would send €700,000 worth of food, blankets and other aid to those stranded on the border. European Commission President, Ursula von der Leyen, announced the aid, while saying it was up to Lukashenko to halt a crisis that Europe believes he created deliberately.
"We are ready to do more. But the Belarusian regime must stop luring people and putting their lives at risk," she said. Belarus denies fomenting the crisis but says it cannot help end it unless Europe lifts sanctions it imposed on the country.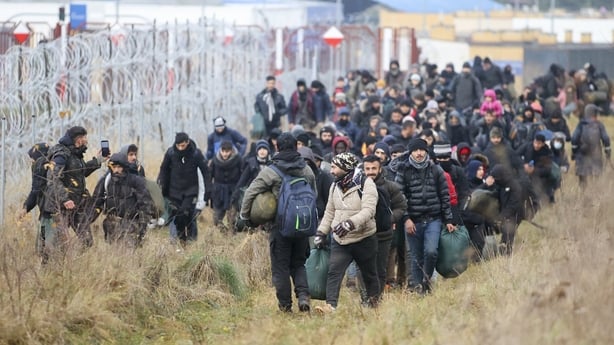 While the focus this week has been on events at the Polish border, Lithuania said people had begun setting up a camp on its border with Belarus on Tuesday.
According to Lithuanian border guard officials who spoke with the migrants, the Iraqis were immediately detained by Belarusian officials after arriving at Minsk airport and then forcibly brought to a location on the Belarus border at Lithuania's Salcininkai district.
Yesterday, the Lithuanian Border Guard released CCTV footage which appeared to show migrants walking along the border accompanied by armed men and cars on the Belarus side, 8km from where they tried to set up the camp.
Latvia meanwhile says all but 6km of a planned 37km of fencing has been completed at its border with Belarus.
37km of temporary fence is being installed, which is about one-fifth of the Latvian-Belarusian border. In many places it is physically impossible to install a fence due to rivers and bogs. Only the most critical places have been selected for the fence.
With airlines changing their policies on flying people from certain Middle Eastern countries to Minsk and migrants being offered repatriation flights, the situation seems to be less volatile than was seen on Tuesday when people were pounded with water cannon deployed by Polish authorities.
In turn, Poland says several of its officers were wounded by missiles thrown across the border.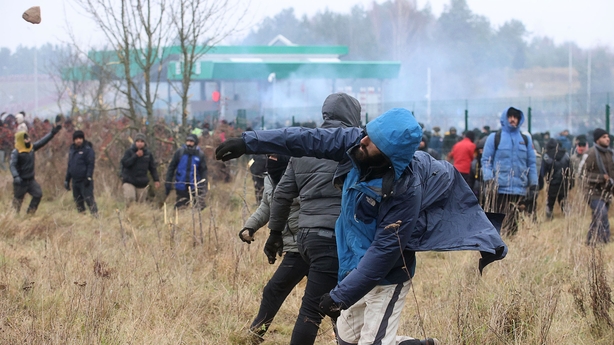 But this is just the latest example of the "weaponisation of migration", where people are stuck in the middle of greater geo-political disagreements.
In this instance, it would appear Belarus is attempting to exploit the situation in its quest for the removal of sanctions.
Last week, EU ambassadors agreed that Belarus' decision to encourage Middle Eastern migrants to enter Poland can legally be considered a "hybrid attack" that serves as a basis for a new round of sanctions on Minsk, diplomats said.
Belarus denies any wrongdoing and says it, not the EU, is a victim of a "hybrid attack" using unconventional warfare tactics.
Poland's Defence Minister Mariusz Blaszczak told Polish public radio yesterday that the crisis at the border was likely to last months, saying he hoped not years.
"We have to be prepared that this situation on the Belarusian border won't settle swiftly," he said.