Minister for Integration Roderic O'Gorman has met with some of the 300 Syrian families currently in Jordan who are due to re-settle here next year.
The minister said Ireland remains committed to a pledge to bring 2,900 Syrian refugees here by the end of 2023.
He travelled to Jordan this week where he met with one family of three, who are expected to arrive in Ireland in the New Year, to join family in Portlaoise, Co Laois.
"They expressed to me how difficult it has been for them living here with that high degree of uncertainty.
"They have family members who have already gone to Ireland and are already integrated...and they expressed their real hope to be able to move to Ireland and start to rebuild their lives for themselves and particularly for their young nine-year-old son, who I met as well," he said.
In total 300 Syrian refugees will travel from Jordan to begin new lives in Ireland next year, joining a similar number selected to travel from Lebanon during an earlier mission by the Irish Refugee Protection Programme last month.
More than 750,000 refugees live in Jordan - the second largest number per capita in the world
Many live in towns and cities and want to return to neighbouring Syria one day.
Over 80,000 live at the Za-atari camp, which the minister visited yesterday, along with officials from the UNHCR.
Half of the residents there are children and one in three households in the camp are headed by a woman.
Minister O'Gorman spoke with Nadia, a single mother who arrived at the camp in 2013 after fleeing her home in Dara'a, Syria.
Her husband died in Syria and since then she has been the sole provider for her seven daughters and four sons. There are currently no plans for her resettlement.
Although five of her daughters are now married, she explained to the minister how she still feels the pressure to provide for her family. She works as a seamstress in the camp and has a small shop where she does clothing repairs.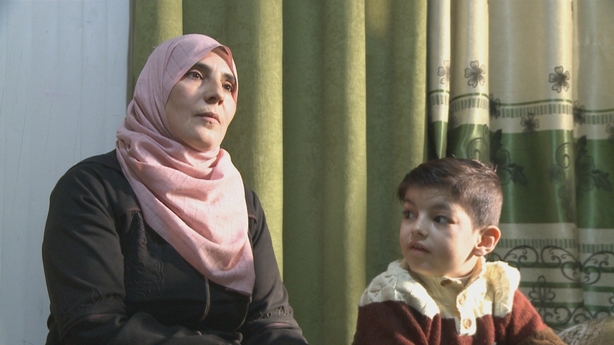 The minister said he was struck by how concerned she was for the future of her children.
"Her sense very much is for her children, that's her big worry. Can she be sure they'll get educated, can she be sure they'll have future?"
He said such a future was something Ireland could offer to the families selected to travel here next year.
This current mission was delayed due to the Covid-19 pandemic, and many families from Jordan had already hoped to be on their way to Ireland at this stage.
Despite the long wait, Mr O'Gorman said: "We're getting back on track now...a mission to Jordan this week, a mission to Lebanon last month, we're determined to reach that target."
Explaining how the process works, he said families are selected to come to Ireland based on a vulnerability assessment by the UNHCR, before his department and the Irish Refugee Protection Programme work to assess their ability to integrate into life in Ireland.
"There's also a team from An Garda Síochána here that review the families from a security point of view as well, so after those two sets of interviews have taken place, we ascertain whether each family will be a good match for coming to Ireland," he said.
He said work would continue to help more refugees from Afghanistan, adding: "We've issued over 500 emergency visas offering places on the Irish Refugee Programme for Afghan refugees, but we've been very clear that the support we're providing to Afghanistan won't in any way undermine our commitment to bring 2,900 Syrian refugees to Ireland by the end of 2023."
Most of the refugee population in Jordan live in towns and cities there and hope to return to Syria one day when they feel it is safe to do so.
However, some of the poorest and most vulnerable are housed in camps and have typically been living there for eight years or more.
There are very few chances to be resettled in EU countries like Ireland.
"Around 80% refugees are living below the poverty line," explained Jenny Ghikas, director of resettlement with the UNHCR in Jordan.
"Of the 750,000 refugees in Jordan, we estimate that 80,000 have a need for resettlement but the places are less ... so in reality less than 1% have access to this resettlement as a solution," she said.
The UNHCR is calling on Ireland and other EU countries to expand their resettlement programmes to help take some of the burden from Jordan.
"The prolonged nature of the Syria refugee crisis, which is now in its 10th year, has had a negative impact on the environment for refugees in Jordan and it does mean that there is an exhaustion of the resources that are necessary for basic needs," said Ms Ghikas.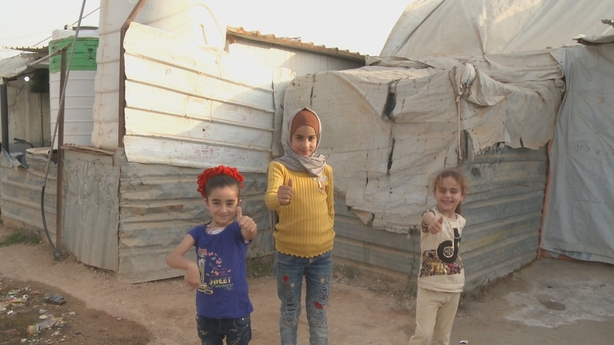 Reflecting on his visit, Minister O'Gorman said he was struck by the scale of the camp, which is powered for 12 hours a day by huge solar panels that dominate the skyline there.
"We were standing on top of the power station there and literally it stretches as far as the eye can see," he said.
"The second thing you're struck by is the number of children, the number of young people."
He said the work Ireland was doing, through allowing families to arrive particularly through Community Sponsorship, would allow families to put down long term roots here.
"The parents I met today, they have huge ambition for their children, and I know those parents who I've met, who will be coming to Ireland...will support their children and see the huge benefits that our education system can provide," he said.