A small boy asks his mother, "Mummy, can men also be Chancellor?" So the joke goes in Germany, where Angela Merkel has held the role for 16 years.
Germany's first female Chancellor, Dr Merkel has shattered the glass ceiling, yet admits she's disappointed at the level of gender inequality in German politics, where just 31% of seats in the outgoing parliament are held by women. (For context, that's the same as the European average, but in Ireland, women hold just 22.5% of seats in Dáil Éireann.)
Speaking last month, Merkel said: "We have not yet achieved equality between women and men in Germany. Much remains to be done."
Merkel has become a feminist icon for her long-held position as the most powerful woman in the world, but has only recently counted herself a feminist, infamously avoiding the term in 2017 when urged to do so at an event with then-director of the International Monetary Fund (IMF), Christine Lagarde and Ivanka Trump, daughter of the former US President.
"I don't want to decorate myself with a title I don't actually have," Merkel said back then.
However, as her time in power draws to a close, Merkel has reconsidered her position, saying: "I have thought my answer through more and so I can say 'Yes: we should all be feminists'."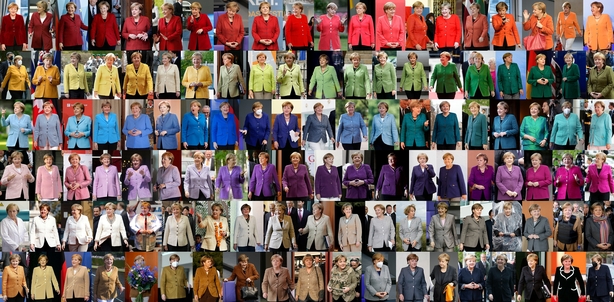 German feminist activist Alice Schwarzer told news agency Reuters: "She is admired by women all over the world; this is her main legacy.
"That a woman showed what she is capable of and does this with dignity and resolve.
"She hasn't spent the last 16 years carrying out great feminist deeds.
"To be fair she had quite a few other things on her plate," Schwarzer said, noting Merkel had supported policies that helped women like expanding state-funded childcare.
"The very fact of her existence is a feminist statement."
---
Read more:
Germany readies for election that will end Merkel era
Enda Kenny: Merkel can look back at her career with pride
---
Growing up in communist East Germany
Born in Hamburg in north-western Germany in 1954, Angela Kasner grew up in East Germany, where her father took up a position as a Protestant minister in the town of Templin.
Her experience of growing up in the communist country was to shape her, and even influenced her view of the Irish border, when it came to Brexit negotiations - more on that later.
The young Kasner was especially good at Mathematics and Russian and has been known to converse with Russian President Vladimir Putin in his native tongue, although it is said that Putin's German is better than Merkel's Russian.
Going on to study Physics in Leipzig, the 23-year-old married physicist Ulrich Merkel, but the marriage didn't last, and they divorced four years later, in 1981.
Merkel eventually received her PhD in quantum chemistry in 1986 and worked for a time in the East German Academy of Sciences in Berlin.
Stefan Kornelius is political editor with the Süddeutsche Zeitung newspaper and wrote a biography of the Chancellor.
He says Merkel was always ambitious, but up until this point, not politically, but she realised her qualifications, while impressive, would not enable her to compete with scientists from West Germany.
"She had a very brilliant academic resumé, but the standards were simply not matching with what happened in the West so she couldn't compete in terms of research and knowledge ... so she took the chance.
"She basically shopped for the right political party.
"She went from party to party looking for her home.
"But actually she always kept some inner distance to party politics, even with the CDU, she was never really part of the hearts and bones of that party.
"She was always more the brain."
After the fall of the Berlin Wall, Merkel joined the fledgling opposition party Demokratische Aufbruch (Democratic Awakening).
In the first all-Germany elections in 1990, Merkel won a seat for the Christian Democratic Union (CDU) and rose quickly through the ranks of the centre-right party, becoming Federal Minister for Women and Children in 1991.
Three years later, she was appointed Minister for the Environment, a position she held during the first UN climate conference in 1995, which marked the beginning of international CO2 reduction initiatives.
At the time, Minister Merkel wrote: "The greenhouse gas emissions do not only have to be stabilised but have to be reduced as quickly as possible", in a statement that now seems vastly ahead of its time.
Merkel went on to push for the reduction of CO2 emissions while Chancellor, and in 2007 secured agreement by the G8 group to accept the science of the Intergovernmental Panel on Climate Change.
Furthermore, she pushed for targets to be agreed by the European Union, which led to her being dubbed the "Climate Chancellor" by the German press but not all observers agree with the moniker.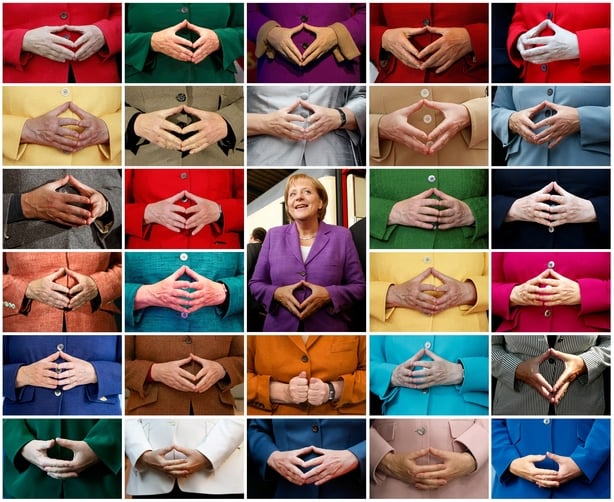 In 2000, Merkel was chosen to lead the CDU, eventually becoming Chancellor in 2005.
Fellow world leaders at the time included George W Bush, Jacques Chirac and Tony Blair, while in Ireland, Bertie Ahern was Taoiseach.
During her 16-year tenure, Chancellor Merkel faced major challenges; the Eurozone crisis first among them.
As the global financial crisis threatened the European project, Chancellor Merkel came to represent the face of austerity for those predominantly southern member states whose economies suffered greatest losses.
While Germany was relatively unscathed by the financial crisis due to its strong export economy which benefited from a weakened Euro.
Merkel was lambasted by protesters in Spain and Greece, where she was often depicted with an Adolf Hitler-style moustache.
In an interview with German broadcaster ZDF, former Greek Finance Minister Yanis Varoufakis said: "Merkel buried the idea of Eurobonds and closed the coffin.
"Now countries like Italy, Spain and Greece will be forced to pile up new debts on the markets or with the European Stability Mechanism.
"So Frau Merkel has stayed true to herself but in a way that is extraordinarily negative and destructive for the EU."
Former Taoiseach Enda Kenny, who got to know Merkel in Brussels before they both assumed their eventual roles, said: "Angela Merkel herself was blamed in many cases for what might be the ruination of Greece, the expulsion of Greece from the European Union and the Eurozone.
"At the end of the day, when the Bundestag voted for the third bailout it was the support that she got from her Minister for Finance that enabled that to go through, and Greece has since learned its lesson no more than we did, to have prudent management of an economy, investment in the right quarters, job creation, and so on.
"So in that sense, I remember the European Council meeting where she was really strident, in saying that we do not want this to fracture and break up now. And so, a third bailout, instead of a temporary expulsion, was what happened in terms of Greece."
When it came to the treatment of Ireland during its bailout programme, Mr Kenny says one issue that's often missed in commentary about the period is then Finance Minister Michael Noonan's relationship with his German counterpart, Wolfgang Schäuble.
"He was a really influential finance minister at European level.
"And when it came down to us, Schäuble actually said that, you know, the Irish were prepared to take charge of their programme.
"So while to all intents and purposes you had lost your economic sovereignty with the Troika, the IMF and European Commission being here, we still maintained, because of that kind of relationship, an element of working independence in having to make difficult decisions."
Merkel decides to keep borders open
From a global and career perspective, the next major challenge faced by Angela Merkel was the refugee crisis, exacerbated by the Syrian conflict.
In 2015, as a wave of migrants, especially those from Syria, (and to a lesser extent Afghanistan and Iraq) made their way to Europe, Merkel made the decision to keep the borders open.
In a plea to the German populace, she said "Wir Schaffen Das" or "we can do it" as close to one million people applied for asylum.
Merkel was named person of the year by Time magazine and seen as a beacon to many asylum seekers, but the move was not popular with everyone, and saw the far right Alternative für Deutschland (AfD) party grow in popularity, eventually becoming the third biggest party in parliament in 2017.
But the issue eventually fell off the top of the political agenda and AfD lost support, and now commands about 11% of votes as Germany heads to the polls on 26 September.
Anas Modamani, a young Syrian refugee whose selfie with the Chancellor went viral in 2015 told AFP news agency that Merkel "saved his life" and despite a subsequent social media backlash against him, he is hugely grateful for the new chance afforded him in Germany.
As Modamani sees it, Merkel was the only European leader to worry about the fate of Syrians fleeing the war and the Assad regime.
"The other countries didn't want us," he said in fluent German.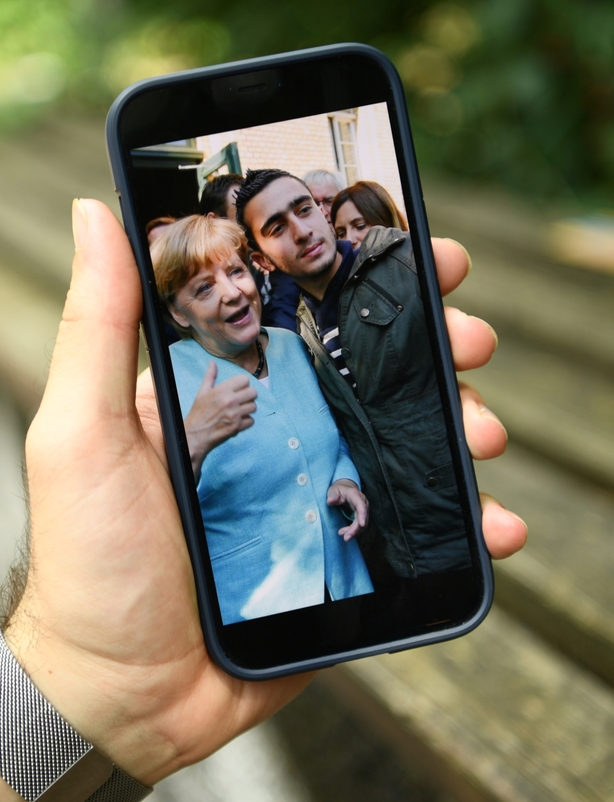 Brexit provided another challenge, perhaps the most difficult, of Merkel's career.
Again, Enda Kenny has a unique perspective on the period.
Mr Kenny confirmed the story that he had drawn a map for Angela Merkel, showing her the complexities of the Irish border.
Confirming he once drew a map for Angela Merkel showing the border on the island of Ireland, Enda Kenny says having grown up in East Germany, Ms Merkel was really interested in the 'looseness' of the border, with limited physical border infrastructure | https://t.co/SGUYk6lg5x pic.twitter.com/pq0Y6vxwNt

— RTÉ News (@rtenews) September 23, 2021
When it came to negotiations on a Withdrawal Agreement between Britain and the EU, Tánaiste Leo Varadkar says "she was always very perceptive and understanding of Ireland's perspective.
"One of the things that is always beneficial in dealing with a German chancellor is that they're the head of a federal government, so it's natural for them to take into account the concerns of smaller states as well as the bigger ones, and that helped a lot.
"Also, I was able to build on the relationship that she had with Enda Kenny previously."
Mr Varadkar says Merkel's visit to Dublin in April 2019 was "particularly useful".
She met a number of people from border communities during the visit, which he believes was very helpful in informing the Chancellor about the uniqueness of the border situation.
Much has been and will continue to be written about Angela Merkel's legacy once she officially steps down when the next German government is formed.
Stefan Kornelius says there's always debate over how Merkel handled the Eurozone crisis and the refugee question, but he says there's another facet of her tenure which he believes she'll be remembered for.
"We've seen over the past 16 years how Germany rose in influence and power and importance."
He says the rise of Germany has usually caused tension in Europe, "historically even led to war".
"Now for those 16 years, Europe accepted that kind of rise.
"Merkel built up that trust that the neighbours basically think ... she's a fair trader, she's somebody who is not hurting us who isn't not one-sided.
"That kind of trust led to Germany's rise and Germany's power.
"I think it's just her biggest achievement and it will be the most difficult one [for her successor to emulate]."
Lack of equivalent successor
Speaking of Merkel's legacy, Irish-born Natalie Dunne, who's half German and lives in rural Baden-Württemberg remembers the "Wir Schaffen Das" moment best, saying she "definitely respected her for that".
Ms Dunne says the biggest issue now is the lack of equivalent successor from any party.
The mother-of-three says none of the other candidates to succeed Merkel are particularly exciting, and most importantly, "they certainly don't have the type of profile that Merkel does".
"Strong, reliable, not easily fazed, but still very witty.
"And most importantly with a strong standing around the world."
On her sense of humour, Stefan Kornelius paints rather a different picture of Merkel than the one Irish audiences might be familiar with, saying "she's extremely sort of normal, she's down to earth".
He agrees she's very factual and a stickler for detail "but on the other side, also can be extremely sarcastic or ironic, not in a biting or or demeaning sense, but while joking away".
He says she's known to be a whizz at impressions, and would do them (perhaps wisely in the absence of cameras) in her early days as Chancellor.
She was particularly good at mimicking Pope Benedict and French President Nicolas Sarkozy.
Was he ever witness to these impressions?
"Oh yeah, I mean they were funny and she's quite good.
"But what's really remarkable is that quick wit she has. She can really shoot back immediately."
Many Germans view the departure of Merkel, known affectionately as "Mutti" (German for Mummy/Mammy) with trepidation, but some, especially younger voters, are hoping for someone to properly tackle climate change.
While Merkel succeeded in making gains internationally in terms of climate targets, at home, she's seen as having dropped the ball.
"I think the biggest topic is climate change and not just Merkel, the whole government missed the moment," 18-year-old Maxim told Reuters.
As almost 200 Germans died in flooding last July, which has since been linked to human-induced climate change, the issue is likely to dominate voters' minds as they head to the polls on Sunday in Germany.
Merkel has also indicated she would like to continue to work on environmental issues, hinting she may still have a role to play in the EU's climate protection plans, entitled "Fit for 55".
Additional reporting AFP and Reuters