Former taoiseach Enda Kenny has paid tribute to German Chancellor Angela Merkel for her role in defending Ireland's position following the Brexit referendum.
In an interview with RTÉ News, Mr Kenny also spoke in detail about her role in the Irish bailout, saying that while she was motivated by protecting German banks, she had held other EU leaders back who wanted to make the bailout conditional on Ireland raising its corporate tax rate.
He said: "Some of the [EU] partners around that table would have been very quick to make propositions that were simply not acceptable to Ireland in any circumstances. Angela Merkel, as Chancellor, had a restraining role from what some of the others might want to have implemented - and quickly.
"For instance, [during] the first meeting I attended at the European Council, very shortly after having been elected as taoiseach, there was the demand for an increase in Ireland's corporate tax at the time."
Speaking as Chancellor Merkel prepares to formally relinquish her tenure as the longest-serving German leader since Bismarck, Mr Kenny suggested that Ireland's experience of the bailout had heightened Ms Merkel's protective attitude towards the country following the Brexit referendum.
"She among all the other [EU] leaders understood fully what was really important from an Irish perspective and stood by that," Mr Kenny said.
On the secret of Angela Merkel's longevity as German Chancellor, Enda Kenny says she was repeatedly reelected because the German people liked her style: 'Steady, strong, clear, and decisive.' | https://t.co/SGUYk6lg5x pic.twitter.com/nn9ZniONjd

— RTÉ News (@rtenews) September 23, 2021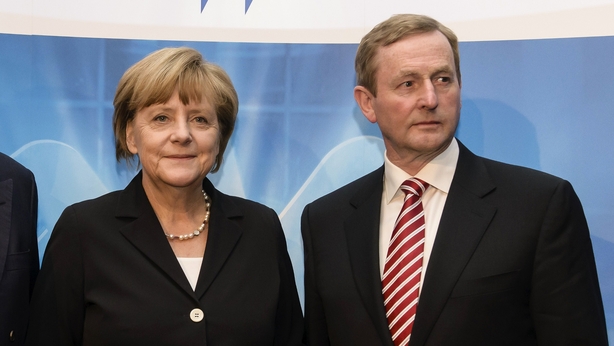 "She was really supportive of Ireland, as a country that was an example to others, of how, if you make difficult decisions in the interests of having a thriving economy, of job creation, this can happen. And she would not stand for any hard border. She stood for the full implementation of [the] Good Friday [Agreement]," he said.
Referring to the Irish bailout, Mr Kenny acknowledged that Chancellor Merkel was motivated by the need to support German banks which were exposed to Irish property debt.
"Of course, she was going to have to protect her own position insofar as German and French, [insofar as] German banks were concerned in particular," he said.
Mr Kenny, who has not spoken publicly about his time in office since stepping down in 2017, said the working relationship between former finance minister Michael Noonan and his German counterpart Wolfgang Schäuble was key to how the Irish bailout was managed.
He said that Mr Schäuble effectively granted Ireland a degree of independence in implementing the bailout, because the State was adapting to the strictures of the EU-IMF programme.
"When it came down to us, Schäuble actually said that, you know, the Irish were prepared to take charge of their programme.
"So while, to all intents and purposes, you had lost your economic sovereignty with the Troika, the IMF and European Commission being here, we still maintained, because of that kind of relationship, an element of working independence in having to make difficult decisions.
"But at the same time his influence and cooperation with Michael Noonan was an important element for me, as taoiseach, to be able to relate to the German Chancellor, who had all of these problems on her table as well."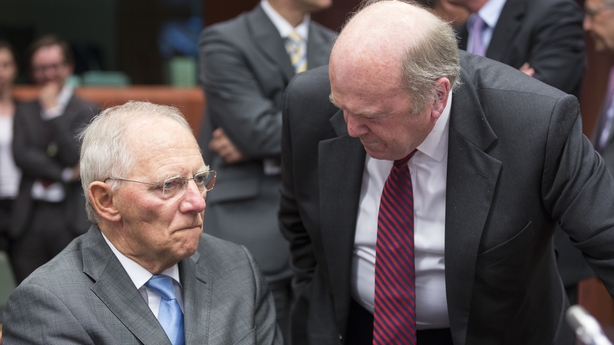 Mr Kenny, who was speaking to RTÉ News, said Ms Merkel had made it clear to him that certain flexibilities on the Irish bailout would not be accepted by the German Bundestag.
"She said on many occasions 'this will not go through on a vote in the Bundestag. It's not acceptable.' The constraint upon a German Chancellor is effectively the Bundestag, if they don't accept it," he said.
Mr Kenny said that while Chancellor Merkel had been accused of bringing about the "ruination" of Greece through the bailout programme which she supported, she had intervened at the July 2015 European Council to insist on a third bailout, effectively keeping Greece in the eurozone at the last minute.
"The thing was that at European Council meetings, papers would be circulated, indicating that Greece was on the road to recovery," he said.
"And another couple of billion would put them in the right spot. And then you had a case where three [Greek] elections were fought on the basis of [a promise of] debt reduction, that the national debt would be written off. This was never going to happen.
"Angela Merkel herself was blamed in many cases for what might be the ruination of Greece, the expulsion of Greece from the European Union and the eurozone. At the end of the day, when the Bundestag voted for the third bailout, it was the support that she got from her Minister for Finance that enabled that to go through.
"I remember the European Council meeting where she was really strident, in saying that we do not want this to fracture and break up now. And so, a third bailout, instead of a temporary expulsion, was what happened in terms of Greece."
Mr Kenny confirmed that after the Brexit referendum, he had drawn a map of Ireland for Ms Merkel, marking out the dozens of minor road crossings over the Irish border, in order to illustrate the risks that Brexit posed to the peace process.
Confirming he once drew a map for Angela Merkel showing the border on the island of Ireland, Enda Kenny says having grown up in East Germany, Ms Merkel was really interested in the 'looseness' of the border, with limited physical border infrastructure | https://t.co/SGUYk6lg5x pic.twitter.com/pq0Y6vxwNt

— RTÉ News (@rtenews) September 23, 2021
"She herself having been reared in East Germany and understanding what that border was, which was a fence all the way to the North Sea, she was really interested in the looseness of the situation here, where there wasn't a defined fence line, or a border obstruction, between the Republic and Northern Ireland," he said.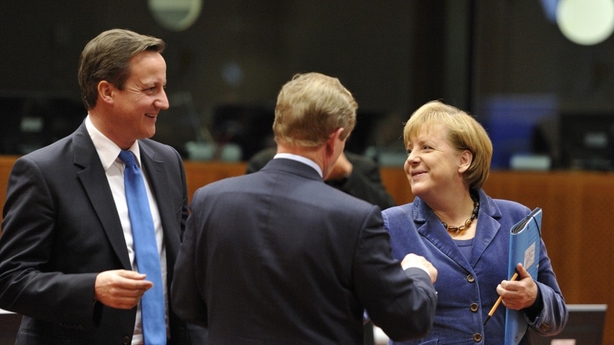 He said both he and Ms Merkel had agreed three things with former British prime minister David Cameron, which were, he said, "sacrosanct".
They were the full implementation of the Good Friday Agreement, the protection of the Common Travel Area, and that there would be no hard border.
"She was very supportive of all of that, and on any occasion where the issue of Ireland came up in terms of this referendum," he said.
"She among all the other [EU] leaders understood fully what was really important from an Irish perspective, and stood by that."
Mr Kenny said he had gotten to know Ms Merkel when both politicians were in opposition and were members of the centre right European People's Party (EPP).
"I found her to be very quiet," he said.
"I found her to be a person who was interested in listening to problems, and I mean listening to them. And based on her own background as a physicist, minutiae and detail were very important.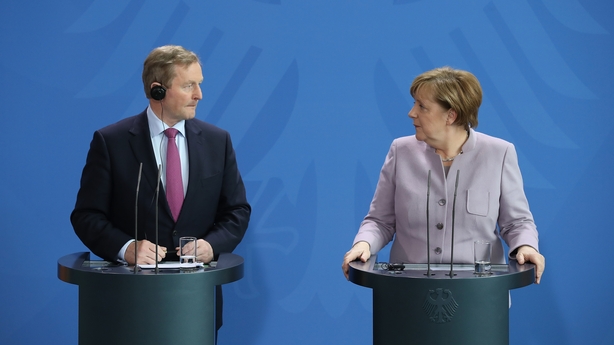 "And I learned a lesson with Angela Merkel, that there was no point in going with a half-baked proposal. If you're looking for support, it is far better to have it worked out and be prepared. Be prepared to be asked detailed questions about whatever it might be."
He said she had "put her thumbprint on European progress and on European history".
Asked what advice he would give Ms Merkel on her retirement, Mr Kenny said: "For me, if you're out of politics, be out of politics. Because when you have responsibilities it's a totally different matter. No doubt, Angela Merkel would have many people in many countries knocking on her door.
"She says, in her own words, 'I am going to do nothing'." Enda Kenny on Angela Merkel's retirement plans. He adds: "She can look back with pride in an overall sense at her achievements as German Chancellor." https://t.co/SGUYk6lg5x pic.twitter.com/F5DDFFbEzf

— RTÉ News (@rtenews) September 23, 2021
"I wish her every good fortune, good health in her retirement, together with her husband, who is a wonderful man. She can look back with pride and an overall sense of her achievement as German Chancellor."