What has this pig got to do with labour, transport, energy, Covid and Brexit problems that are causing mayhem in Britain's food supply chain?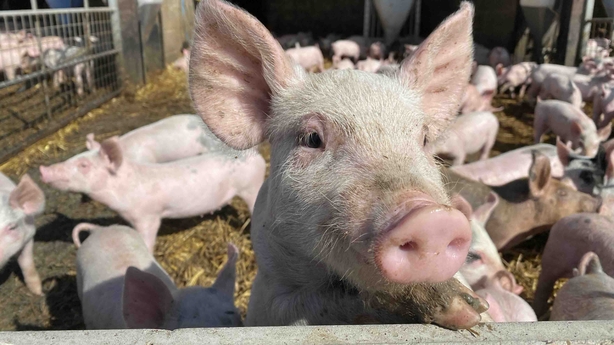 Well, it is certainly not the pig's fault, but he and his friends are now at the sharp end of a series of problems hitting the chain that connects farm to fork.
First, it is the truck driver shortage - thousands of EU drivers have quit the British market this year, affecting animal transport and food distribution to supermarkets. That's led to late deliveries or no deliveries as transport is effectively rationed.
Covid has also hit the transport industry, with tens of thousands of new drivers unable to take HGV driving tests until very recently. There is a huge backlog of people awaiting tests.
The British government has responded by reducing the number of HGV tests from two to one, to free up more testing slots. It has also sanctioned longer working hours for drivers - a temporary waiver, but one it has extended this week until after Christmas.
Trade unions are not impressed, with Unite, the main driver union, saying it's dangerous and will not fix the deeper problems affecting the truck driving business, including low pay, anti-social hours and poor facilities for drivers.
---
Read more:
Two more UK energy suppliers stop trading on gas price hit
UK may offer loans to energy companies after gas price jump
---
Then there is a labour shortage in meat plants. They are down between 10% and 15% on normal staff levels - part Covid, part Brexit.
This means fewer pigs in particular are being processed, leaving farmers with a problem of housing and feeding animals that are not supposed to be here, a problem the British Pig Association says is growing by 15,000 animals every week. That is 100,000 or so since the start of August.
"The biggest change here are a series of structural changes and lifestyle changes, which I suspect were going on before the Covid outbreak and probably before the Brexit vote, we just didn't spot them."
Poultry processing has also been hit, with the chicken restaurant chain Nando's running out of chicken at some outlets last month. Turkey farmers worry about finding temporary staff and drivers to deal with the Christmas season.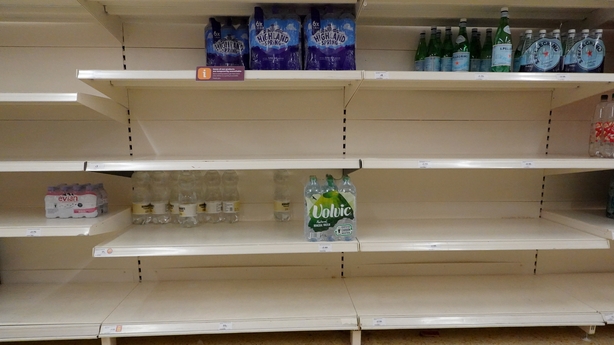 This week's problem is gas - the price has tripled since the start of the year - expensive for consumers, expensive for industries that rely on gas - such as the fertiliser industry. Two big plants here shut down because the gas price is too high.
But a by-product of that industry is carbon dioxide gas - widely used in the food industry for everything from putting the fizz in fizzy drinks to food packaging so it lasts longer on the shelves. And the two plants that shut down supply about half the CO2 in Britain.
Fergus Howie farms some 3,000 pigs in Essex. He also operates his own processing plant at the farm, so is better placed to control the problems besetting the wider industry. But he is still having to cope with those problems - notably the transport crunch.
A refrigerated trailer unit is parked outside one of the farm buildings, storing sausages and bacon that should have been shipped to Singapore a fortnight ago, but the driver shortage means it's staying here until October.
The existing cold stores at Fergus's plant are full, and trying to get consignments out to customers - supermarkets in southeast England and nationwide restaurant chains - has become a real chore. He has got a big order of sausages for a major sports event at a north London stadium in a couple of weeks, but the transport crunch is a source of worry he can do without.
The labour shortage situation in the meat plants is bad enough.
"The abattoirs are taking 25% fewer pigs each week because of the staff shortage. If you are a producer sending 400 pigs a week to the abattoir, that's 100 pigs every week that are left on your farm that you haven't got accommodation for, so if you do that for ten weeks, that's a thousand pigs you have to care for and feed with nowhere for them to live."
And he says older pigs that get fed more get heavier - and that is not so good in the UK, where the buying system penalises producers if the carcasses contain too much fat. So pigs are costing more, but are getting a lower price on top of everything else.
Because some abattoirs use CO2 to stun the animals, the shortage of the gas is adding to the throughput problem at meat plants right at the start of the processing chain - as well as at the end, where packaged meat is often packed in a "modified atmosphere" using CO2 as a means of extending the shelf life of freshly-butchered meat.
According to Fergus, fresh meat has an untreated shelf life of four days - about the time it takes to get from the slaughter house to the supermarket - in effect it would arrive on its sell-by date. With the rise of packed fresh meat sold through supermarkets, CO2 has become a critical part of the supply chain.
We need your consent to load this rte-player contentWe use rte-player to manage extra content that can set cookies on your device and collect data about your activity. Please review their details and accept them to load the content.Manage Preferences
The British government is going to subsidise the two big fertiliser plants to make CO2 for the next three weeks, at a cost of up to £20 million.
Industry analysts do not see any immediate fix for the gas price surge, which is acute in Europe, but is driving the global market price ever upward.
"The only thing that will get people back into the industry at the level we need will be significant wage increases."
The impact of the gas price surge is felt most keenly in the UK, because of all the other factors hitting industry - Covid dislocation, Brexit and structural problems in the workforce. But it is likely to ripple out into other European economies, which - apart from Brexit - face many of the same problems.
Ian Wright, Chief Executive of Britain's Food and Drink Federation - the umbrella group for firms and associations in the UK's food and drink industry, says Covid and Brexit have revealed deeper problems in the UK labour market.
"I think Brexit is the backdrop to this - similarly I think Covid has had a major effect. But the biggest change here are a series of structural changes and lifestyle changes, which I suspect were going on before the Covid outbreak and probably before the Brexit vote, we just didn't spot them.
"And both of those two really seismic events have accelerated these social changes, and we haven't been quick enough as an industry, or as a supply chain, to notice them until they manifest, and now we've got to do some catching up."
He stresses that Britain is not going to run out of food, but the transport shortage in particular means that retailers are going to have to make some hard decisions on what they can stock over the Christmas period, and not everything will make it onto the supermarket shelves.
A recent shortage of bottled water in supermarkets in southeast England was not due to a water shortage. It was due to supermarkets choosing to prioritise the use of available trucks by filling them with higher-value and more time sensitive food over big, bulky but not so profitable-per-truckload bottles of water.
Food and drink is a big employer in the UK - the FDF claims the sector employs 13% of the workforce. It is also a significant exporter, and the biggest market for British food and drink products is Ireland, which is worth more to Britain's food and drinks companies than the US and China combined.
But the effects of Covid and Brexit have hit that export trade hard, with British exports to Ireland down by 27% compared with 2019 - before Brexit and Covid. Imports from Ireland to the UK were down 24% over the same period, according to the FDF "Trade Snapshot" published last month.
But the labour shortages - made worse by Brexit - will be harder to fix, and possibly more costly.
Ian Wright says: "The only thing that will get people back into the industry at the level we need will be significant wage increases. Now that will be admirable for those people, but it will lead to food price inflation, and we are starting to see food price inflation taking off for the first time in forty years."
"I think by the end of the year we could see it close to double digits".
Back on Fergus Howie's farm there is another problem to worry about. Fergus grows his own feedstuff for the pigs, and barley straw to use for their bedding material.
But the gas price rise that has driven the big fertiliser plants to shut down, has led to a shortage of fertiliser, which has driven the price up. Either he pays it, or he buys in feed - both raising the cost of raising the pigs in the first place.
No wonder he calls it a perfect storm.