Michael D Higgins was hailed as a "wise man" by Pope Francis when they met at the Vatican today as part of the President's four-day trip to Rome.
The two discussed the Covid-19 pandemic and climate change, among other topics.
Following the meeting, Pope Francis said: "Today I didn't just meet a man, a President. I met a wise man of today. I thank God that Ireland has such a wise man at its head."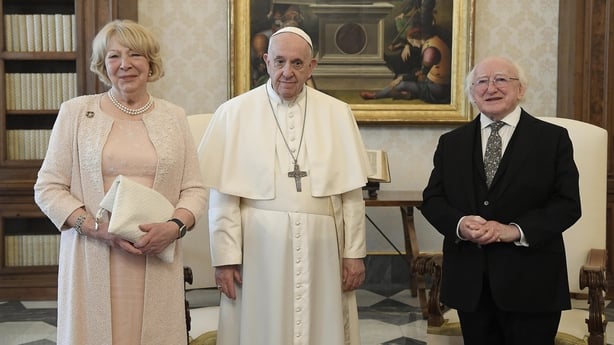 President Higgins, who was accompanied by his wife Sabina, said his meeting with Pope Francis in Rome this morning went well, adding that they "got through so much".
They talked about the forthcoming 26th United Nations Conference on Climate Change (COP26), due to to take place in Glasgow.
They also discussed Laudato Si - Pope Francis' second encyclical, published in 2015, in which he lamented global warming and irresponsible development.
President Higgins and Pope Francis also discussed the Covid-19 pandemic response and how people were using cultural arguments to defeat rights arguments, particularly in relation to women's bodies.
The two leaders last met in 2018, when President Higgins welcomed the pontiff to Ireland.
Today, the President presented His Holiness with a special 'Fisherman's Stick' from Inis Mór, the largest of the Aran Islands.
The stick, made by artist Lochlainn Cullen, is composed of blackthorn wood, grown and crafted on the island, and adorned with cotton knots.
The knots are arranged in a spiral called 'St Mary's Hitch', consisting of three strands which are interwoven into one, representing the divine trinity.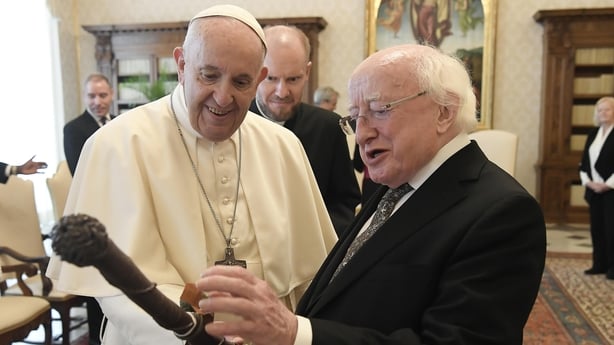 President Higgins said of the Pope: "We discussed the present [and] he was very moved, about the fishermen and their circumstances - what it meant for this Irish-speaking island on the edge of Ireland."
They also spoke about delivering a message of hope and about friendship. They had a 40 minute conversation and "it flew".
President Higgins said the Pope had "looked well" during their private audience in the Vatican.
Earlier, Michael D Higgins defended his decision not to attend a church service in Armagh next month marking the centenary of Northern Ireland.
We need your consent to load this YouTube contentWe use YouTube to manage extra content that can set cookies on your device and collect data about your activity. Please review their details and accept them to load the content.Manage Preferences